United States Wagner, Der Ring des Nibelungen: Soloists, Ian Robertson (chorus director), San Francisco Opera / Donald Runnicles (conductor), War Memorial Opera House, San Francisco. 12-18.6.2018. (HS)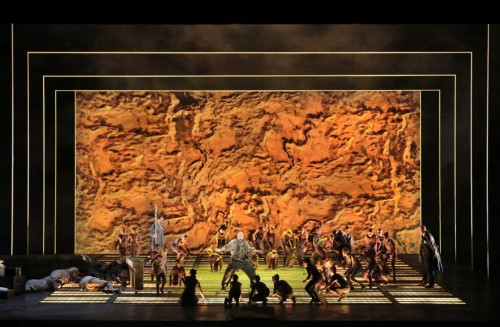 Das Rheingold
Wotan — Greer Grimsley
Loge — Štefan Margita
Alberich — Falk Struckmann
Fricka — Jamie Barton
Erda — Ronnita Miller
Mime — David Cangelosi
Fasolt — Andrea Silvestrelli
Fafner — Raymond Aceto
Donner — Brian Mulligan
Froh — Brandon Jovanovich
Freia — Julie Adams
Woglinde — Stacey Tappan
Wellgunde — Lauren McNeese
Flosshilde — Renée Tatum
Die Walküre
Brünnhilde — Iréne Theorin
Wotan — Greer Grimsley
Sieglinde — Karita Mattila
Siegmund — Brandon Jovanovich
Fricka — Jamie Barton
Hunding — Raymond Aceto
Siegrune — Laura Krumm
Grimgerde — Renée Rapier
Ortlinde — Sarah Cambidge
Gerhilde — Julie Adams
Rossweisse — Lauren McNeese
Schwertleite — Nicole Birkland
Helmwige — Melissa Citro
Waltraute — Renée Tatum
Siegfried
Siegfried — Daniel Brenna
Brünnhilde — Iréne Theorin
Mime — David Cangelosi
The Wanderer — Greer Grimsley
Alberich — Falk Struckmann
Fafner — Raymond Aceto
Erda — Ronnita Miller
Forest Bird — Stacey Tappan
Götterdämmerung
Brünnhilde — Iréne Theorin
Siegfried — Daniel Brenna
Gunther — Brian Mulligan
Hagen — Andrea Silvestrelli
Waltraute — Jamie Barton
Gutrune — Melissa Citro
Alberich — Falk Struckmann
First Norn — Ronnita Miller
Second Norn — Jamie Barton
Third Norn — Sarah Cambidge
Woglinde — Stacey Tappan
Wellgunde — Lauren McNeese
Flosshilde — Renée Tatum
Production:
Director — Francesca Zambello
Associate Director — Laurie Feldman
Choreographer — Denni Sayers
Set Designer — Michael Yeargan
Costume Designer — Catherine Zuber
Lighting Designer — Mark McCullough
Projection Designer — S. Katy Tucker
Original Projection Designer — Jan Hartley
Fight Director — Dave Maier
There was plenty of great singing in the return of Wagner's Der Ring des Nibelungen at San Francisco Opera. The big roles — Wotan, Alberich, Brünnhilde, Sieglinde, Siegmund and Siegfried — were more than capably handled. Director Francesca Zambello's compelling production called particular attention to the women characters and amplified an underlying concern with despoiling the environment.
But in the first of three complete cycles, completed last Sunday afternoon, the star of the show was the guy with a spotlight on him in the orchestra pit. Donald Runnicles shaped the music with breathtaking pulse and attention to both broad sweep and fine details of the score. The San Francisco Opera orchestra responded with magnificent playing, its finest work in the 35 years I have been attending regularly. Communication with the singers on stage resulted in nearly every word reaching the audience without losing an ounce of thrust and sheer richness of sound from the orchestra.
Runnicles conducted complete Rings every time the cycle was mounted here starting in 1990, which has clearly enhanced the bond between him and the musicians. It was thrilling to behold, and not just in the often-extracted orchestral set pieces such as the 'Ride of the Valkyries' and 'Siegfried's Funeral Music.' The connections among orchestra, sets, props and singers in the Siegfried forging scene made the hair on the back of my head stand up, to name just one example. The long musical arcs breathed like a live being in each act and throughout each opera.
This is the first return of Zambello's production, a co-commission with Washington Opera that made its San Francisco debut in 2011. She has revised some of the details, mostly in video projections, to expand upon Wagner's underlying theme of encroaching environmental destruction, adding a layer of rampant industrialization. Over the four operas, the Rhine River diminishes until it is virtually gone, and electrical towers replace forests. The clearing where Siegmund fights Hunding is the space under a concrete highway interchange. The monster that Siegfried downs to win the gold is not a dragon in a cave but a sort of proto-Transformer steam shovel in an abandoned factory. (He kills it by severing one of its internal wires.)
Zambello also emphasizes any mistreatment of women. We witness Hunding manhandling Sieglinde and see her bruises, for example. But we also see Freia gaze longingly at Fasolt when she is returned to her family of gods in Das Rheingold, a response not likely to appear in other productions. The villain in Götterdämmerung, Hagan makes a clumsy pass at his sister Gutrune when he is momentarily alone with her. If anything, these glosses deepen the characters, giving something extra to ponder. They never get in the way of Wagner's narrative or, more importantly, the music.
The whole cast of Das Rheingold got the vocal side off to a brilliant start. Just as Wagner establishes leitmotifs, the building blocks of Rheingold, the array of characters introduce themselves to us and propel the drama that will unfold over the saga's 20 hours (including intermissions)—from the trio of Rhinemaidens splashing in the river up to the chief god Wotan and his adversary, the Nibelung leader Alberich.
We also see some of the singers for the first time in Rheingold and, as is traditional (and practical), a number of the them come back to handle different roles in later operas.
In Rheingold each created vivid personalities, none making more of an impact on the first night than Štefan Margita's oily, insinuating Loge, the trickster god Wotan calls upon for advice on how to handle his contracts and weasel the Rhine gold from Alberich. Margita's nimble stage presence, often at the periphery, and his cutting, sinewy tenor made him the most compelling figure whenever he was on stage.
As Fricka, mezzo-soprano Jamie Barton made up for a less than fiery personality with magnificent vocal tone and musical presence, both here and in Die Walküre.  The voice of the evening was mezzo-soprano Ronnita Miller, whose serene presence and rich sound made the role of Erda especially compelling, both here and in Siegfried. Barton also returned as Waltraute in Götterdämmerung, beautifully sung but not quite there dramarically. Joined by current Adler Fellow Sarah Cambidge, Barton and Miller returned as Norns in a seamlessly done first scene in Götterdämmerung.
Baritone Brian Mulligan unfurled a resplendent baritone as the thunder god Donner and returned in Götterdämmerung as a weak-willed but smoothly sung Gunther. Tenor Brandon Jovanovich first appeared as Froh, the god of spring and happiness, saving his vocal resources for the bigger role of Siegmund the next evening. He made a nice pairing with Karita Mattila's Sieglinde, an example of dramatic soprano making the most of her resources. They looked and sounded fine together, both voices tilting toward the lyrical side, but delivering enough power to ride the orchestra's waves of passions into a terrific finale.
Character tenor David Cangelosi may have overplayed Mime a bit, both in the first and third operas, but he sang with more suppleness and precision than many have done in this role.
Soprano Stacey Tappan and mezzos Lauren McNeese and Renée Tatum brought brilliant vocalizing to the three river nymphs, finding a polished blend infused with rhythmic vitality. The trio returned in the last opera, their corseted dresses dusty and gray, for another fine scene. Tappan returned in Siegfried as the Forest Bird; in this production she's a full-fledged 'free spirit,' rather than an offstage voice. In Zambello's words she's 'a girl [Siegfried] meets on the way to meeting a woman.'
Julie Adams' soprano made Freia as alluring as she needed to be, vocally and physically, and she returned later as a Valkyrie.
Basses Andrea Silvestrelli (Fasolt) and Raymond Aceto (Fafner), hulking in bulky costumes, delivered chocolate resonance and some welcome comedic gestures in their roles as the giants who built Valhalla for Wotan. Aceto's Fafner returned in Siegfried and Silvestrelli lent his luxuriant voice and powerful stage presence to Hagan, the bastard son of Alberich who devises a plan to regain the gold and ends up murdering Siegfried, the hero Wotan hopes will regain it for him. He commanded the stage and delivered the music flawlessly.
As Siegfried, tenor Daniel Brenna reprised the role in which he triumphed in 2016 when this production was revived at Washington Opera. His clear, plangent voice never tired over the course of two long operas in as many days (Götterdämmerung being a matinee). Hair tousled, galumphing like a bratty teenager, Brenna created an indelible character—his voice never strident, always wielding an affecting sweetness. When it came time to power up, he was equal to the task, in a smart, riveting performance.
The other major characters who span several operas include Wotan and Alberich, the chief antagonists, and Brünnhilde, the Valkyrie who attempts to save Siegmund only to be thwarted by Wotan. Before he banishes her to years of sleep behind a wall of fire, she saves Sieglinde and the unborn Siegfried—who then rescues her and marries her. (Incest runs rampant in this saga.)
Making his company debut, bass-baritone Falk Struckmann created an indelible presence as Alberich. He rose to the occasion for his renunciation of love – so he could steal the gold for the titular ring – and rang out the curse on it after Wotan wrests it from him. He played a nasty foe to Wotan in their confrontation at Fafner's cave. Much of his singing had a rough edge to it—disappointing if you agree with Wagner that the vocal music of the Ring should feel like bel canto singing, but great if you're ready to see Alberich as an unalloyed villain.
No character is entirely bad or good, and the most memorable performances revealed that ambiguity. Greer Grimsley did exactly that with Wotan (and the same character named The Wanderer in Siegfried), delivering a tireless torrent of pointed sound. The bass-baritone's stony black tone never wavered, not even at the end of Die Walküre's long Act II monologue, nor at the very end of the final scene with Brünnhilde, when often the best Wotans struggle. And he could pare down his voice to a soft, affecting caress in quieter moments—at the start of his Act II narrative and in an affecting farewell to Brünnhilde.
He was engaged with whomever was on stage with him. We could feel the ups and downs in emotion from moment to moment, and he created a long arc from Das Rheingold's clever optimist to The Wanderer's defeat.
Swedish soprano Iréne Theorin stepped in for an indisposed Evelyn Herlitizius as Brünnhilde only a month before this first cycle. Not quite as volcanic as some big-voiced dramatic sopranos nor as indefatigable, she managed her voice by powering down on lower notes, especially in the marathon that is Götterdämmerung, so that the shining high notes could sail out freely and thrillingly. She matched the lyricism of Brenna's sound, especially in their Siegfried love duet. Her curse scene in Götterdämmerung never quite caught fire, even though Silvestrelli was doing his part.
The Immolation Scene, which concludes the saga, brought together all of the production's positive elements. Theorin caressed a calm central section before nailing thrilling high notes in her final phrases. Zambello populated the stage with women — the Rhinemaidens, several of the Gibichung wives, including Gutrune — building Siegfried's (and Brünnhilde's) funeral pyre with plastic trash from the litter-clogged Rhine, lighting a real fire that flared upstage, clumsily suffocating Hagen to death.
After all that, with Runnicles guiding the orchestra through a glowing 'redemption' leitmotif — the most affecting music of the entire cycle — a nine-year-old girl brings an ash tree sapling to plant in a small patch of soil downstage. And the curtain falls on one this opera company's true triumphs.
After the singers took their bows at the very end, a scrim rose revealing the entire orchestra and chorus to a thunderous ovation. Runnicles personally brought co-principal horn Kevin Rivard, who played Siegfried's horn music flawlessly from backstage, into the light for a solo bow.
Harvey Steiman