United States Heroes Take Their Stand: The Silkroad Ensemble/Colin Jacobsen and Kayhan Kalhor (music directors), Ahmad Sadri (creator), presented by Cal Performances, Zellerbach Hall, University of California, Berkeley. 4.5.2019. (HS)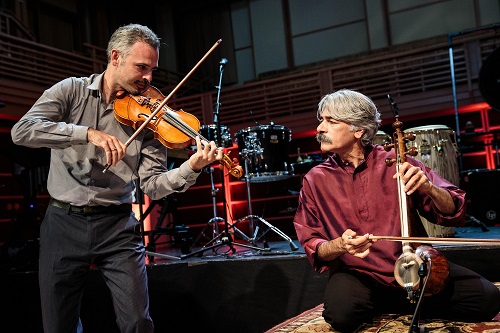 The Silkroad Ensemble
Jeffrey Beecher (bass)
Nicholas Cords (viola)
Sandeep Das (tabla)
Haruka Fujii (percussion)
Johnny Gandelsman (violin)
Colin Jacobsen (violin)
Kayhan Kalhor (kemancheh)
Karen Ouzounian (cello)
Shane Shanahan (percussion)
Kojiro Umezaki (shakuhachi)
Kaoru Watanabe (shinobue, nohkan flutes, taiko, narimono)
Wu Man (pipa)
Wu Tong (sheng, suona, vocals)
Aparna Ramaswamy (dancer)
Pauchi Sasaki  — Elektra
Kaoru Watanabe — June Snow
Colin Jacobsen — Arjuna's Revelation
Jason Moran — Moderato 400
Kayhan Kalhor — The Prince of Sorrows
Since its founding in 1998 by Yo-Yo Ma, the Silkroad Ensemble has effectively woven together music and musicians from diverse cultures. Its recordings have gained immense popularity, and the awards have flowed.
It has also presented some of the most energizing performances I have experienced, parlaying the music of nations from the British Isles and Galicia to China and Japan in the same way chefs take inspiration from cuisines around the world, to bring extra vigor to their creations.
Even as many of its founding members, including Ma, have gained too much popularity to maintain a steady relationship with the group, Silkroad has maintained its essence with an expanding cast of diverse artists. It's still bringing cultures together in compelling new music.
Heroes Take Their Stand, inspired by tales of ordinary individuals making extraordinary sacrifices for justice, leverages the group's basic idea of mixing styles in a collection of five new works. It also makes a larger point than 'See what happens when we all get along?'
Friday evening, after a world premiere tour last week through Southern California, the program lifted the roof off Zellerbach Hall at University of California Berkeley (one of the work's co-commissioners).
For an audience unfamiliar with the details, it helps to read the program notes first, which outline the underlying stories. The projected images didn't come close to laying it all out, and, truth to tell, there wasn't much obvious synergy between visuals and sound except for a striking dance to a section of the Baghavad Gita in the third work, Arjuna's Revelation. The most exciting part involved the freshness of the synergies within, which after all, is Silkroad's raison d'être.
Percussion plays a major role everywhere, beginning with the first work, Elektra, based on Sophocles's version of the tale. A taiko-inspired opening, played on modern drum skins by Kaoru Watanabe and Haruka Fujii in a dramatic faceoff, leads to a fanfare from Wu Tong on an outsized Chinese suona, a double-reed horn. It then develops into a series of percussion-centric conflicts as Nommi Sasaki's slow-motion synapses light up the background.
In June Snow, the pipa artist Wu Man created delicate intricacies with the Japanese shinobue flute played by Watanabe. The inspiration was the Yuan dynasty classic story of Dou E. — framed for murder by her bullying husband, before being executed, she promises to prove her innocence by bringing snow in summer. The visuals create patterns of Chinese characters that sometimes resemble falling snow.
Sandeep Das's superb tabla playing combined with violinist Colin Jacobsen in Arjuna's Revelation, evocative of Indian rhythms and melodic lines, tinged with other cultural references. With classic moves of Indian dancing, Ramaswamy reflected on the emotions of the tale — whether it's worth it for five brothers go to war against hundreds of cousins, even if their cause is just. No projections necessary here. The dancing was enough.
Jason Moran, jazz pianist and composer, melds colorful percussion with pipa and Wu Tong's sheng, a Chinese forerunner of the harmonica that looks like a miniature bassoon in Moderato 400. Moran meditates on a 1955 speech by Martin Luther King at an African-American church in Birmingham, Alabama, and Rev. King's point that white moderates downplaying the horrifying effects of racism to keep things calm are a greater threat than overt racists. The score is a mass of contradictions, right up to the final section, a luminous nod to spirituals, sung with depth and soul by Wu Tong. Grainy black-and-white film of a flood suggests a comparison with the coming civil rights movement.
The Prince of Sorrows, the set's longest and most ambitious effort, showed the prowess of Kayhan Kalhor, one of the group's founders. The story from the 10th-century Persian Book of Kings touches on moments of seduction, jealousy and war, all of which are fascinating, but indecipherable unless you know the tale already. The projections received separate credits for design, animation, illustration and calligraphy, but didn't deliver a coherent narrative. The string ensemble, however – including Kalhor's kemancheh, a three-string upright violin, playing against a prerecorded track of Persian drums and flutes – spoke volumes. Pounding percussion subsided at the end for a final moment of shimmering beauty.
Another visual aspect worth noting: To minimize breaks between pieces – so interminable when instruments and music stands must be moved on and off to accommodate different orchestrations – Silkroad uses a system of modules, each with a different set of instruments, seating, and stands. Stagehands slide off drum sets and replace them in a few seconds, which other ensembles might choose to emulate.
In the end, though, the brilliance of Silkroad's Heroes lies in the genius of immensely talented artists freely drawing from their respective cultures to make something new and exciting. After 21 years they are still finding new ways to do it.
Harvey Steiman