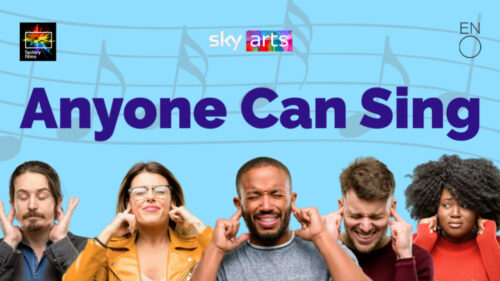 ANYONE CAN SING ON SKY ARTS
SERIES OVERVIEW – In the first episode ten less-than-great singers arrive in London to have their voices assessed by English National Opera voice coaches Nicky Spence, Sarah Pring and Michael Harper.
The coaches whittle them down to six, and a twelve week intensive training programme begins. The six discordant participants discover all the joys of singing as they build the skills and confidence they need to perform to a live audience in just three months. Working with the English National Opera's world-class vocal coaches – Nicky Spence, Sarah Pring and Michael Harper – our would-be singers take on an intensive training programme, tackling masterclasses in everything from vocal technique and breathing to stage presence and movement. Along the way, we will see them face a series of musical challenges with the help of singing superstars such as Katherine Jenkins, culminating in a final group performance on stage at the London Coliseum in front of a live audience.
INTRODUCING THE VOCAL COACHES
NICKY SPENCE – Nicky's unique skills as a singing actor and the rare honesty of his musicianship have earned him a place at the top of the classical music profession, where he is one of English National Opera's inaugural Harewood Artists. Described in The Times as 'a tenor who combines heroic tone and a poetic sensibility that takes the breath away', Nicky has recorded prolifically and is a regular recitalist in London though he can mostly be found on the International stages of Opera de Paris, Covent Garden and the Metropolitan Opera, New York. In 2020 he won the BBC Music Magazine Vocal Award and Gramophone's Solo Vocal Award for his critically acclaimed recording of Janáček's The Diary of One who Disappeared with Julius Drake, and he was nominated for Singer of the Year by the Royal Philharmonic Society.
SARAH PRING – Sarah began her career at Glyndebourne, gaining the Sir John Christie Award, and the Esso Touring Award. She has sung alongside some the world's finest singers and with greats such as Plácido Domingo, the late Dimitri Hvorostovsky and Jonas Kaufmann. Sarah has enjoyed huge success with most of the British National Opera companies including English National Opera, and has performed in Europe and beyond with Welsh National Opera, Scottish Opera and Opera North, as well as being a frequent visitor to the Royal Opera House, Covent Garden. Sarah has been a professor of singing at the Guildhall School for 15 years, helping many students into the profession.
MICHAEL HARPER – Michael is an international singer, teacher and workshop facilitator. He has sung opera and concerts throughout Europe, in China and in the U.S. and has performed title roles in Giasone, San Giovanni Battista and The Waiter's Revenge. He is currently a Principal Study Tutor in the School of Vocal Studies and Opera at the Royal Northern College of Music, a Patron for the National Opera Studio's Diverse Voices programme, and a Trustee for the Saga Trust, British Library.
KATHERINE JENKINS (GUEST MENTOR) – Welsh Superstar Mezzo Soprano Katherine Jenkins OBE officially became the world's most successful Classical singer after she was crowned 'The Biggest Selling Classical Artist of the Century' by Classic FM in 2020. She further cemented her title by gaining her 14th Number 1 Album – smashing the record books since signing to Universal Classics at the age of 22. Then a schoolteacher, Katherine burst onto the music scene in 2003 when she performed at Westminster Cathedral in honour of Pope John Paul II's Silver Jubilee. Awards and accolades followed as well as invitations to sing for Presidents and Princes, having been invited to sing 'God save the Queen' at Her Majesty's diamond jubilee and perform at The Queen's 90th birthday celebrations at Windsor castle.
What drew you to this project?
Katherine Jenkins: It's such a lovely idea. It ties in with everything we've all lived through and had taken away during the pandemic. We all now realise how much we took for granted before, and it is great to see people enjoying live entertainment and throwing themselves into it again. I also love the concept of showing that everyone has a story.
This is a show for everybody. After a time when we couldn't sing together, it's such a positive, feel-good programme.
Do you believe Anyone Can Sing?
Katherine Jenkins: Yes. I've always said anyone can sing. Obviously, people can sing at different levels of ability, but the main part of singing is enjoying it and feeling part of a community. My mum joined a church choir 10 years ago, and she loves it.
Anyone Can Sing will air on Sky Arts (Freeview Channel 11) and NOW from 30 March 2022 at 8PM with episodes continuing Wednesdays for three further weeks.