United Kingdom Stenhammar, Sibelius, Dvořák: Francesca Dego (violin), Hallé / Jiří Rožeň (conductor). King George's Hall, Blackburn, 25.3.2022. (MC)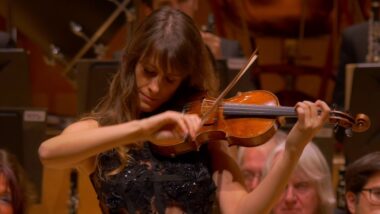 Wilhelm Stenhammar – Excelsior! (1896)
Sibelius – Violin Concerto in D minor, Op.47 (1904, rev. 1905)
Dvořák – Symphony No.7 in D minor, Op.70 (1885)
To open this King George's Hall concert in Blackburn the Hallé chose to revive Wilhelm Stenhammar's Excelsior! a concert overture, a product of his mid-twenties. From my experience Swedish composer Stenhammar seems to be known by reputation rather than actual performances of his works. One of his better-known works, Excelsior! was premiered in 1896 with Arthur Nikisch conducting the Berlin Philharmonic Orchestra, no less, yet evidently its reception was lukewarm. In the score Stenhammar had quoted a few lines from Goethe's Faust and a prominent critic described the work as overly Germanic. Following a performance in 1908 Excelsior! was ignored and wasn't performed for over seventy years. Not having previously encountered Excelsior! in the concert hall the Hallé under Jiří Rožeň made a strong case for its revival. Demanding attention is the opening with its squally and mysterious character together with the prominent high strings. For its dramatic content and contrasting moods the score reveals the composer's debt to Tchaikovsky and I am glad it was included in the programme.
An extremely popular choice today for soloists is the Violin Concerto of Finnish composer Sibelius. Now one of the musical warhorses of the repertoire and is the violin concerto I encounter most often in concert. I have also sat through many lacklustre live performances of the Sibelius including several by celebrated soloists. Back in the nineties I remember my disappointment at a performance by a famous Russian violinist of his Sibelius 'calling card'. On the other hand, in 2017 I recall being riveted by Henning Kraggerud's playing of the concerto with the Royal Liverpool Philharmonic Orchestra under Jacek Kaspszyk at Preston. Tonight's soloist Francesca Dego soon dispelled any lingering worries I may have held over the quality of the interpretation I was to hear by giving a spellbinding performance of the score, complete with the feeling of Nordic chill and tension it can produce. Italian soloist, now London based, Dego demonstrated effortlessly her remarkable technique and expressive gifts combined with what is clearly a love of the work and I was captivated lock stock and barrel. Sonorous and alluringly burnished, the tone of her instrument a Francesco Ruggeri (Cremona, 1697) flowed tellingly through the hall and I relished every single note.
Prague born Rožeň prospered conducting the Hallé in a sterling performance of Dvořák's Seventh Symphony, energised with this work by a fellow Czech. It was this much-loved score that confirmed Dvořák's status as a symphonic composer of distinction. During its composition a major motivation for Dvořák was his patriotism and the growing nationalist fervour for Czech independence. The death of his first three children in infancy followed later by the loss of his mother are almost certainly factors responsible for the undertow of somberness that imbues the score. Undoubtedly Rožeň would know the major influences behind Dvořák's colourfully dramatic work and this I sense assists him to capture the essence of the score so well. It felt as if Rožeň was taking the tempi quicker and weightier than I am accustomed, nevertheless the praiseworthy Hallé responded so resolutely if with a lower than usual amount of subtlety. Under Rožeň the players excelled, with successful emphasis on the striking contrasts of this glorious score, evoking dark depths of anguish to unwavering rebelliousness to warm and brightly lit pastoral landscapes.
In the magnificent acoustic of King George's Hall the orchestral sound was ideal and added positively to the overall concert experience. In a programme including two much loved repertoire staples and a rarely heard concert overture the Hallé under Jiří Rožeň were on tremendous form, yet it was soloist Francesca Dego who stole the show with a quite sensational performance of the Sibelius concerto.
Michael Cookson