Belgium Puccini, Il trittico (Il tabarro, Suor Angelica and Gianni Schicchi): La Monnaie Children's and Youth Choirs (chorus director: Benoît Giaux), La Monnaie Symphony Chorus and Orchestra / Ouri Bronchti (conductor). Livstreamed from Théâtre Royal de la Monnaie, Brussels, on 26.3.2022 and available on ARTE Concert (click here) until 25.6.2022. (JPr)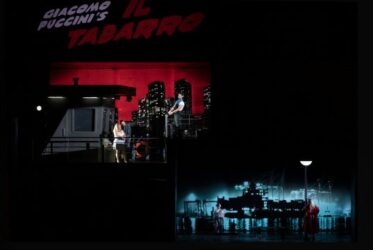 Whether Il trittico provides a great night at the opera depends on the individual concerned because two-thirds of the evening (each individual opera lasts a little under an hour) is very downbeat with the lightest of light relief hopefully provided by Gianni Schicchi bringing it all to a close at the end.
This varied trilogy of single-act operas – the darkly melodramatic Il tabarro, the emotionally overwrought Suor Angelica and (supposedly) joyously comical Gianni Schicchi, seem to have no reason to be performed together except that is how Puccini wrote them and how they were first staged at the Metropolitan Opera in 1918. Perhaps it was sheer expedience on Puccini's part due perhaps to his compositional skills being on the wane at that point in his life and he lacked anything else to fill an evening. Each of the three has moments when the composer could have – in my humble opinion – done rather better with the material he had, though he has undoubtedly left us with three operatic near miss masterpieces.
I defer to musicologist Alexandra Wilson – contributing to an Il trittico Covent Garden programme – who reflected how: 'Most importantly we need to bear in mind the fact that this was a work in which Puccini was casting a nostalgic and at times ironic eye across his career as a whole. Il tabarro harks back to the gritty Puccini last heard in Tosca, while Suor Angelica elevates the archetypal sentimental Puccini heroine to new heights. Gianni Schicchi, meanwhile, presents a veritable kaleidoscope of different musical styles, some more modern, some deliberately old-fashioned, its lightness of touch recalling the second act of La bohème. The contrasting panels of Il trittico, then, represents the different facets of Puccini's own musical personality. To understand the complete Puccini, you really do need all three.'
So putting on Il trittico in a single evening is quite a challenge, because of the trio of quite dissimilar short operas. In the end there are diminishing returns from German director Tobias Kratzer working La Monnaie for only the second time who weaves them together with a narrative of sorts. (For a review of his Bayreuth Tannhäuser click here.)
Il tabarro (The Cloak) is a drama of lust and jealousy and is probably the most neglected of the triple bill. It should be on a barge moored on the Seine in Paris where all the action happens. With a not especially Parisian cityscape backdrop, designer Rainer Sellmaier has provided an ingenious – and claustrophobic – set with two levels and four compartments: above there is the bridge and bedroom for bargee Michele and his wife Giorgetta and below we see the hold and a dockside where women of the night look for customers. Sellmaier's costumes are not quite modern day but neither the 1910 of Puccini's original setting of Giuseppe Adami's libretto. Michele is distraught over the loss of his wife's affection and still grieving over the death of their young son. His wife dreams of escaping her dispiriting life on the barge and embarks on an affair with Luigi, a stevedore with tragic consequences.
Manuel Braun provides some splendid video for Suor Angelica (Sister Angelica) where the story unfolds on the strip of bare stage in front of a huge screen on which we see his silent black and white film. It shows us the life of the nuns in the convent where Suor Angelica was sent after the birth of an illegitimate son and the nuns will be seen to virtually seamlessly move in and out of Braun's video, sometimes on stage and on screen at the same time.
Giovacchino Forzano's libretto for Gianni Schicchi is based on an incident mentioned in Dante's Divine Comedy. It begins as Buoso Donati has died and his greedy relatives – who have gathered at his deathbed – have heard rumours that all his money has been left to some monks. After this proves to be true, the lowly born Gianni Schicchi is their only hope. Lauretta, his daughter, is in love with Rinuccio, Buoso's nephew. Lauretta makes a heartfelt plea (yes, 'that' song!) for her father's help. Schicchi explains a way to alter Buoso's will and how since no one outside the room apparently knows of his death, Schicchi can dress himself in Buoso's clothes, climb into the bed in a darkened room and change the will with the notary and two witnesses present. There are now only minor requests from this 'Buoso' to the relatives while everything important is left to Gianni Schicchi. After the notary leaves, the relatives riot and set upon Schicchi. However throughout all of this he has reminded the family how seriously the authorities would view these goings-on if they were to be found out. Schicchi suggests to the audience that if they have enjoyed themselves, he may be forgiven for his crime in the 'extenuating circumstances' and Rinuccio and Lauretta stay with him whilst everybody else leaves.
It is these very last moments of audience involvement that Kratzer has seized upon, and we are certainly not in 1299 Florence as we might be but at a recording of a TV sitcom in modern times and Jérémie Cuvillier's direction for the livestream takes us right into the heart of the action. There is a crowd of spectators seated on steeply raked benches behind the singers who participate in all the unfolding shenanigans and stage assistants hold up placards with appropriate emojis and instructions to 'Oohhh' and applaud or laugh where necessary. Kratzer and Seelmaier seem to have blown most of their budget by the time they gave some thought to this final opera of the trilogy, and it is little more than a very elaborate semi-staging. There is an Eames lounge chair, a sideboard and record player, a wine fridge, a panettone and not much else until a hot tub comes for most of the family to strip to their underwear or swimwear for a bubble bath to celebrate (wrongly of course) that they will soon be wealthy.
So what does Kratzer do to interconnect the stories somewhat? In Il tabarro when Michele withdraws to his bedroom – amongst other things – he watches the end of a performance of Gianni Schicchi. Then in Suor Angelica two sisters are first seen gossiping over a graphic novel version of Il tabarro which when it eventually gets confiscated and taken to the Abbess is cast into an open fire and results in the convent burning down as the 'miracle' at the end of the opera (though the nuns seem to survive the conflagration). Finally, Buoso dies listening to a recording on vinyl of Suor Angelica and the family eventually find the will inside the record sleeve having wrecked what little is on the stage searching for it.
The three – essentially ensemble – operas were sung by a number of obviously accomplished singers with some appearing twice and Benedetta Torre's refined soprano was actually heard in each one (as Lover, Sister Genovieffa and Lauretta respectively). There was bright, strident lyricism and emotional intensity from Lianna Haroutounian as Giorgetta (when she was a convincing blowsy blonde) and as Suor Angelica when 'Senza mamma' – as she prays to be united with her dead child – was as deeply-affecting as it must be. That Péter Kálmán's Michele was rather boorish and one-dimensional – vocally and dramatically – is more Puccini's fault than that of the Hungarian baritone since Kálmán brought more life to Gianni Schicchi and clearly relished how this devious character puts his supposed betters in their place. Indeed Benedetta Torre's focussed and appealing soprano impressed across her three appearances with her appealingly persuasive 'O mio babbino caro' the highlight.
I was surprised to find out Adam Smith is an English tenor and he has a dramatic voice of considerable potential and was an ardent Luigi. Rinuccio's 'Firenze è come un albero fiorito' (a paean to Florence) was very intense and while Smith's voice was a little tested by it, he overcame this challenging aria commendably. Elsewhere catching the eye and ear were the veteran Elena Zilio in two consummate vignettes as the unbending Abbess and mercenary Zita, Buoso's cousin. If you do get to see this Il trittico – and I urge you to – look out particularly for Annunziata Vestri (also a stern Sister Zelatrice) as the wide-eyed La Frugola ('the rummager') clearly on the edge of insanity. Also wonderful is mezzo-soprano Raehann Bryce-Davis as the eerily unemotional Princess who with her haughty mien was clearly channelling the late much-missed Jessye Norman.
Covid-stricken Alain Altinoglu was replaced by his assistant the Israeli conductor Ouri Bronchti who we could see was clearly well liked by both the singers and the orchestra and undoubtedly had been closely involved during the rehearsal period for this new production. Everything I heard was of course through loudspeakers, but his orchestra sounded as if they were on top form. Together the conductor and his musicians brought attentiveness to the details, orchestral colour and atmosphere of each impeccably paced work, whether it was the heightened passions of Il tabarro, the solemn and mystical Suor Angelica or chivvying along the high jinks of Gianni Schicchi, Bronchti seemed to have perfect mastery over every idiom.
Jim Pritchard
Production:
Director – Tobias Kratzer
Set design & Costumes – Rainer Sellmaier
Lighting – Bernd Purkrabek
Video – Manuel Braun
Dramaturgy – Marie Mergeay
Chorus master – Alberto Moro
Casts included:
Il tabarro
Michele – Péter Kálmán
Giorgetta – Lianna Haroutounian
Luigi – Adam Smith
La Frugola – Annunziata Vestri
Suor Angelica
Sister Angelica – Lianna Haroutounian
The Princess – Raehann Bryce-Davis
The Abbess – Elena Zilio
Sister Zelatrice – Annunziata Vestri
Gianni Schicchi
Gianni Schicchi – Péter Kálmán
Lauretta – Benedetta Torre
Zita – Elena Zilio
Rinuccio – Adam Smith
Buoso Donati – Gerard Lavalle