Germany Brett Dean, Hamlet: Soloists, Chorus and Orchestra of Bavarian State Opera / Vladimir Jurowski (conductor). Nationaltheater, Munich, 25.6.2023. (ALL)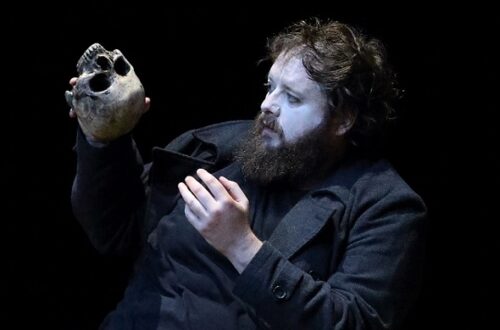 Production:
Production ­­- Neil Armfield
Set designer – Ralph Myers
Costume designer – Alice Babidge
Lighting designer – Jon Clark
Choreography – Denni Sayers, Nicholas Hall
Dramaturgy – Laura Schmidt
Choruses – Rustam Samedov
Cast:
Hamlet – Allan Clayton
Ophelia – Caroline Wettergreen
Gertrude – Sophie Koch
Claudius – Rod Gilfry
Laertes – Sean Panikkar
Ghost/Gravedigger – John Tomlinson
Polonius – Charles Workman
Horatio – Jacques Imbrailo
Rosencrantz – Patrick Terry
Guildenstern – Christopher Lowrey
Marcellus – Andrew Hamilton
Actors – Liam Bonthrone, Joel Williams
Accordionist – James Crabb
Semi-chorus – Rheinstimmen ensemble
In 2021, Serge Dorny described his intention to present works from off the beaten track, thus emphasizing the diversity of the operatic repertoire. We had powerful performances of operas by Shostakovich and Prokofiev, the 2022 edition of the July festival beginning with Penderecki's The Devils of Loudon (review click here) and this year's festival opening with Brett Dean's Hamlet, first performed at Glyndebourne in 2017.
The score by composer Brett Dean, formerly a violist with the Berlin Philharmonic, displayed an astonishing orchestral mastery. With sophisticated electronic effects, a minimalist chorus in the pit and constant instrumental variation, his orchestra was modern and expressive. One can only imagine the monumental effort required to achieve the musical excellence demanded by the work, and once again Vladimir Jurowski, who also conducted the premiere in 2017, was impressive.
The cast met the highest standards. Allan Clayton, in the lead role, gave a dynamic and striking portrayal of Hamlet. Caroline Wettergreen's coloratura was astonishing, with her mad scene the most touching and 'operatic' moment of the evening. In Gertrude, Sophie Koch may have found one of her best recent roles. Patrick Terry and Christopher Lowrey, as Rosenkranz and Guildenstern, brought a dose of delight to their puppet roles. Finally, John Tomlinson, in fine vocal form, dominated all his scenes, both dramatically and vocally.
Neil Armfield's direction was both traditional and diverse. The well-articulated action held the audience's attention throughout the evening and was easy to follow. The use of scenery, particularly the transition to the cemetery scene, was particularly ingenious. Despite the complexity of the plot, the duel with Laertes was well conveyed.
The audience enthusiastically applauded the singers, director and composer, which is rare in the world of opera. Bavarian State Opera should be encouraged to continue to contribute to modernising the operatic genre.
Despite the high standard of this production, a few observations need to be made.
Firstly, the text was difficult to understand. Very often I had to read the subtitles, despite the fact that most of the singers were native speakers of English. The orchestra, often loud, was overpowering and detracted from the artists' performance on stage. The prosody lacked continuity and there was an excess of vocal effects, to the detriment of Shakespeare's powerful lyricism, which was lost.
The second comment concerns the dramatic choices, presumably deliberate, made by the librettist and composer. The original Hamlet lasts over six hours in its entirety. Cuts are necessary. Peter Brook, in his various interpretations of the play, had reduced it to an hour and a half to two hours. However, he preserved Hamlet's many monologues, thus respecting the ambivalence and doubt that characterises the main character, which is ultimately what the play is about. In this version, Hamlet is constantly on the move, jumping, dancing … a dynamism is well suited to musical expression, but does it reflect Shakespeare's intention? That is the question…
Antoine Lévy-Leboyer