Sweden Wicked (music and lyrics by Stephen Schwartz, book by Winnie Holzman): Soloists of Gothenburg Opera, ensemble, Gothenburg Opera Orchestra / Björn Dobbelaere (conductor). Gothenburg Opera main stage, 29.9.2023. (NS)
Production:
Director – Samuel Harjanne
Set and Costume design – takis
Lighting design – Niklas Elfvengren
Choreography – Gunilla Olsson Karlsson
Sound design – Dennis Barkevall
Video design – Pxlfl
Swedish translation – Calle Norlén
Cast:
Galinda / Glinda – Anna Salonen
Elphaba – Feline Andersson
Madame Morrible – Vera Veljovic
Fiyero – Max Jansson
Nessarose – Sofia Mustaniemi
Boq – Oskar H Olsson
The Wizard – Ole Forsberg
Doctor Dillamond – David Lundqvist
The Gothenburg Opera's new production of Wicked is also the musical's Swedish premiere. The house and the production team clearly felt that no effort should be spared to make it a memorable experience, and they have succeeded brilliantly. Calle Norlén's new Swedish translation of the lyrics is excellent in carrying over the humour of the original English while adding a couple of Swedish twists. Björn Dobbelaere's musical arrangement for Gothenburg's larger orchestra also sounds magnificent.
The set design by takis is breathtaking – even before the first note there is a stunning curtain depicting the dragon clock of Oz, and once the curtain rises a central turntable and video backdrop are skilfully used to bring the locations of the story to life. The video and lighting are combined in some utterly beautiful scenes, particularly Elphaba and Fiyero's love scene, as well as the stunning Ozdust ballroom and Emerald City. The costumes were imaginative and memorable, with Galinda's amazing dresses a particular highlight. The choreography for the ensemble scenes was also impressive.
The production skilfully weaves in more sinister elements into an aesthetic that is initially playful fantasy, such as when the Wizard's guards intrude in Shiz University and in the surveillance apparatus in the Wizard's audience chamber in Emerald City. Another example is the development of Madame Morrible's (Vera Veljovic) costumes from elegant headmistress to sinister sidekick. Veljovic captured her character with poise and humour but also a streak of menace (it is Madame Morrible who conjures up the storm that drops Dorothy into Oz). Ole Forsberg was a complex Wizard, bringing out the many sides of his character, in particular his relationship with Elphaba. In 'Wonderful' the Wizard describes himself as a weak man giving the people what they want, but Forsberg also brought out his character's genuine longing to be a father.
David Lundqvist was very moving as Doctor Dillamond, the goat who is the last Animal teacher at Shiz University and someone who like Elphaba is bullied. Oskar H Olsson sensitively and humorously portrayed Boq, the Munchkin who has a crush on Galinda but ends up with Elphaba's sister Nessarose falling in love with him, with tragic results. Sofia Mustaniemi delved impressively deep into Nessarose's character, both her vulnerability and frustration at her reliance on others due to being disabled, but also her obsessive emotional demands first on Elphaba then on Boq. Sparks flew in 'The Wicked Witch of the East' in the second act, when Elphaba and Nessarose's attempt to use magic to solve her problems ended in tragedy and recrimination.
Max Jansson was delightful as Fiyero, his lovely light tenor and his charming acting making him a believable heartthrob. But he also fully developed his character as Fiyero not only starts to think but realises that he loves Elphaba rather than Galinda, and that there is something rotten in the state of Oz. Jansson's physical agility was impressive and frequently on show, without detracting from his singing one bit. His love duet with Elphaba, 'As long as you're mine', was a stunning scene both vocally and scenically where he effortlessly appeared to climb the steeply inclined turntable.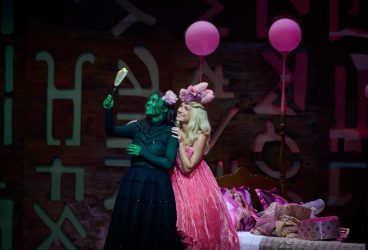 Anna Salonen's Galinda/Glinda was also a character with a long journey, although some things (such as a love of the colour pink and a certain tendency to feel that the world revolves around her) didn't change. Salonen was great at bringing out the comical elements of Glinda but was also convincing as she developed a deep friendship with Elphaba. Her expressive soprano was particularly superb in her duets with Elphaba – from the high school brat in 'What is this feeling?' to an emotional farewell in 'For good' which both Glinda and Elphaba sung movingly, but she also sparkled in her solo 'Popular'.
Elphaba is Feline Andersson's debut in a major musical role and it is a triumph. Her acting vividly captured Elphaba's introverted and prickly nature and her hatred of being bullied because of her skin colour. Her expressive mezzo also brought out her dream of a better future in 'The Wizard and I' and later her joy in being invited to Emerald City to meet the Wizard. As Elphaba develops her talent she tries to repay the people who have helped her with kindness, though the tragic unintended consequences lead to a searingly powerful performance of 'No good deed'. Andersson's voice also has the power and projection to make 'Defying gravity' a show-stopping end to Act I.
This was all the more impressive as the orchestra had a rich sound – the 36-strong orchestra is double the usual size for Wicked, giving an operatic feel. Thanks to the superb casting the singers matched the orchestra even in the big set-piece scenes, though those scenes were sometimes slightly over-amplified. Samuel Harjanne's decision to cast young and relatively inexperienced singers in the major roles is vindicated in spades in this stunning and enchanting musical.
Niklas Smith
Playing until 24 April 2024, for tickets and more information see the Gothenburg Opera website (click here).