Lend Me a Tenor – The Musical : (based on the Ken Ludwig play with book and lyrics by Peter Sham and music by Brad Carroll)  Gielgud Theatre, London 21.6.2011 (JPr)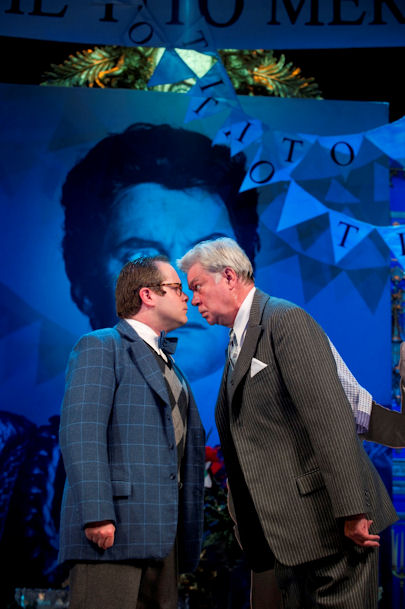 It was 1986 and all of the West End was buzzing with the imminent arrival of Andrew Lloyd Webber's The Phantom of the Opera, I had preview performance tickets but on arrival at the theatre it was announced that one of the cast was ill and the show would not go on. So what to do? In order not to waste the evening my wife and I looked around for something else to go to and we saw a farce called Lend Me a Tenor at the Globe (now Gielgud) Theatre and thoroughly enjoyed ourselves. It is now 2011 and I still have never seen Phantom, yet I was back in the Gielgud Theatre for Lend Me a Tenor ­- not quite déjà vu because this time Ken Ludwig's 'A Night at the Opera' style farce is a musical.
How I longed for a bit of Groucho during an overlong first half to the show where a convoluted plot failed to get the balance right between exposition and the songs by Peter Sham shoe-horned into the dialogue probably from the original play. It opens on stage at the Grand Opera House in Cleveland in 1934. The President and First Lady, the Roosevelts, are coming to see a gala performance of Verdi's Otello. The refrigeration has failed and the shrimps for the reception are going off and superstar tenor, Tito Merelli, is late. When he does arrive he is with his jealous wife, Maria, who announces to all about her philandering husband's love of 'boosums'. Her nagging exacerbates his 'gippy tummy' and he takes too many pills and falls into such a stupor that the financially over-extended opera house manager, Henry Saunders, and his prompter/assistant – but crucially an aspiring singer – Max Garber have to devise a plan to save the performance. Max will go on and sing Otello as Merelli and no one will find out … or so they hope.
With all the subplots including that of Henry's ingénue daughter, Maggie, who has encountered Merelli before and wants to follow that up – I repeat – the first half tends to drag. It all improves in the second half as the laughs come thick and fast because of a trio of Otellos and all the other staple fare of a bedroom farce. Henry-as-Merelli beds his company diva and Max-as-Merelli gets to seduce Maggie with whom he has always been infatuated, but who had previously shunned him. Eventually all the deception is revealed and everything ends happily; Merelli and his wife are reunited, Max and Maggie marry and even Henry, whose three previous wives are members of the Opera Guild who have plagued him the whole evening, is content the way things have turned out.
No great psychological insight here of course and it is more like a musical version of 'Confessions of an Opera Singer' at times but much fun is had by all. If it says anything it reminds you to 'Follow Your Bliss'. Max is a timid mouse yet gets a swagger and finds his voice when acting the part of the famous opera singer. There are also many sly pokes at the cult of celebrity – the unlikeliest of men get the girl not because of who they are but who someone thinks they are!
Some more negatives are the many Americanisms most of the audience will miss and it is all unashamedly non-PC and 'black face', that would not be condoned elsewhere on a London stage. There are also some comments about Jews that though of the period now verge on being anti-Semitic and could have been left out.
Brad Carroll's music is pure pastiche, borrowing from the idioms and tunes of 1930's America and leaving you wondering where you have heard it all before. There is also much Lloyd Webber, Les Misérables and the recurring themes of Tito and Max's 'coming out' song 'Be Yourself' sounds very much like 'Be Our Guest' from the cartoon version of Beauty and the Beast. This is perhaps not so surprising as Brad Carroll works as a musical advisor to Disney! Peter Sham's lyrics sometimes leave a lot to be desired and are often of the simple 'curious … furious … define it … cross the line with it' type and although 'Be Yourself' is good there is only one real show-stopping number superbly performed here by Sophie-Louise Dann as Diana DiVane, the man-eating soprano, who thinks she gets her man with a song that gloriously explores all of the history of opera and operetta in a few minutes with a mash-up of familiar arias. Her bravura performance has to be seen – and heard – to be believed. No expense seems to have been spared on Paul Farnsworth's elaborate and resplendent grand-hotel main set and there is some quaint period tap-dancing choreographed by Randy Skinner. A small orchestra plays better than most for a musical under Colin Billing.
Director Ian Talbot appeared in the original play and with his long experience keeps the farce going so wonderfully in the second half that it makes you forget the longueurs of the earlier part of the evening. Joanna Riding excels as the vengeful and wronged wife of the errant tenor. Damian Humbley gives an engaging portrayal of Max the closet Caruso; Michael Matus is a suitably vainglorious Italian tenor and Cassidy Janson is very believable as the star-struck Maggie.
Although he comes good in the end it took me a long time to warm to Matthew Kelly as Henry. His early nervous ticks seemed unnecessary, his bluster over-played and his accent comes – and mostly – goes. He cannot sing, yet all can be forgiven for his part as one of the three Otellos when all hell breaks loose towards the end. You leave the theatre with a smile on your face but are handed a 'two tickets for the price of one' coupon – so catch this musical while you can!
Jim Pritchard