United Kingdom Cole Porter, Kiss Me, Kate: Sir Trevor Nunn's 2012 Chichester Festival Theatre production, Old Vic, London, 28.11.2012. (JPr)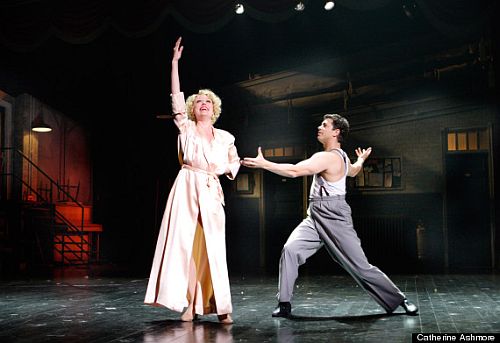 What goes on backstage forms the basis of many great twentieth-century masterpieces such as Richard Strauss's opera Ariadne auf Naxos, a play Lend Me a Tenor and a musical from the Gershwins, Crazy for You. Perhaps the best of these 'show within a show' theatrical events is Cole Porter's 1948 Kiss Me, Kate. This is always excellent material because unless you are in the know, I guess most audiences always ponder from time to time what really happens backstage before the curtain rises or falls. Cole Porter's lyrics for Kiss Me, Kate are some of his wittiest and there is a light-hearted if rather wordy, 'life becomes art' Pirandello-inspired book by Sam and Bella Spewack. However a musical with 'I Hate Men', 'Why Can't You Behave?', 'Too Darn Hot', 'So In Love' and 'Always True To You In My Fashion'' cannot fail to entrance theatregoers anywhere, anytime, notwithstanding an occasionally listless production and variable performances – as here.
Fred Graham is an egotistical and louche actor-impresario and he has adapted The Taming of the Shrew into a musical and is trying it out in Baltimore. Naturally he takes the role of Petruchio, and his co-star, playing Kate, is Lilli Vanessi, a temperamental movie actress, and his ex-wife! Fred is interested in Lois Lane a blond fledgling 'actress' in the company and when he sends her flowers and a romantic note they are delivered to Lilli by mistake, setting the stage, so to speak, for the fireworks to start. Although about to marry an American General, Lilli assumes that Fred is still in love with her (which is quite possibly true) and reads the note to discover who it was really meant for, just before she is about to perform a pivotal scene of The Shrew with Fred … and all hell breaks loose.
Alex Bourne as Fred has the rakish air of an Errol Flynn or Howard Keel from the 1953 MGM movie version of the musical, without being entirely convincing, especially in the backstage moments. Though he must be given full credit for the way he overcomes the tongue-twisting and demanding 'I've Come To Wive It Wealthily In Padua' and 'Where Is The Life That Late I Led?'. Unfortunately I never really felt any lost or rekindled love between him and Hannah Waddingham's Lilli/Kate and she is at her very best when the pair are at war. She scowls and snarls wonderfully during 'I Hate Men' and made me truly believe she actually did, there was also an affecting vulnerability to 'So In Love'. Overall however her performance was marred by a certain sense of, I believe, fatigue in her voice that unfortunately made her contribution to an early duet with Fred something less than 'Wunderbar'.
I know the blame lies with Shakespeare, but all productions of Kiss Me, Kate must face the truth that it is not a very PC story since it requires the fiercely independent and headstrong Kate to eventually become totally submissive and compliant – to help bring this about she is even put over Petruchio's knee and spanked. Admittedly Waddingham's Lilli/Kate earlier administers half a dozen solid slaps to the face of Bourne's Fred/Petruchio. Nevertheless in the book there is a lot about chastising women who should know their place, and with the sight of a black maid and dresser for the two stars it leads to some disquieting thoughts at times. There doesn't seem to be any apology made by Cole Porter – or Sir Trevor Nunn's direction – for any of this and I wondered whether the show would have benefitted from some updating, or perhaps a greater sense of irony in its performance.
The show certainly could have done with some cuts and was at least 30 minutes too long and very slow to get underway, despite the enthusiastic scene setting opening 'Another Op'nin, Another Show'. All you really need before the amusing play-within-a-play begins is to establish the relationship between Fred, Lilli and Lois and find out that Lois's boyfriend, Bill Calhoun, is an inveterate gambler who has signed Fred's name to a $10,000 IOU.
One of the best reasons to see this revival is the outstanding performance of Holly Dale Spencer as tart-with-a-heart Lois/Bianca, she is a totally natural and very engaging comedienne with a perfect sense of style for this piece that others around her could learn from. She brought a singular pained air to her "Why Can't You Behave?' duet with Bill. Adam Garcia is a fine dancer – and had previously seemed rather uninvolved as Lois's boyfriend – but finally here got some significant time centre stage. Miss Dale Spencer later gave 'Always True To You In My Fashion' a wonderfully cheery, self-confident, edge.
Act 2 begins with a performance of Too Darn Hot' led by a lithe, vibrant Jason Pennycooke in Fosse-inspired jazz dance style from the ever-reliable choreographer Stephen Mear. It all picks up considerable steam, enabling the members of the eclectically-sized ensemble to fully demonstrate their dancing prowess. Every time they are on stage David Burt and Clive Rowe simply steal the scene as a couple of striped-suited, fedora-wearing, gun-toting hoodlums who show up to collect on Fred's debt and — to their initial dismay and eventual delight — end up taking part in The Shrew. Theirs was a typically British 'Carry On Prohibition'-take on a pair of heavies but they thoroughly deserved the repeated returns they get for one more verse during the spotlit pun-filled 'Brush Up Your Shakespeare'. This song is Kiss Me, Kate's tribute to the Bard and to theatre itself.
Like most musicals of the Broadway's Golden Years this is no exception in running headlong to its end. Lilli and her boorish new admirer, General Harrison Howell (Mark Heehehan) argue over a French hat and as Kate, she submissively – and risibly – returns to Fred/Petruchio and 'All's Well That Ends Well' … oh sorry wrong play!
All credit to the dozen musicians led by Gareth Valentine who give as good an account of the score as a theatre without a pit will allow. Robert Jones's designs – that mainly involve a pastiche of a commedia dell'arte troop raising their 'scenery' – can be a little slow to set the scene at times. So, although not as good as it should have been, overall this Kiss Me, Kate will be great night out for anyone wanting an enjoyable, undemanding, evening of musical theatre and all credit to the Chichester Festival Theatre and The Old Vic for giving us a chance to see it. After last year's Sweeney Todd at Chichester and now this, I wonder what they will have for us next summer.
Jim Pritchard
For more about Kiss Me, Kate at the Old Vic visit www.oldvictheatre.com.