Spain V. Bellini: Norma, Barcelona's Symphony Orchestra, Chamber Choir from Palau de la Musica Catalana, Carlo Montanaro (conductor), Perelada Festival, 6.8.2013 (JMI)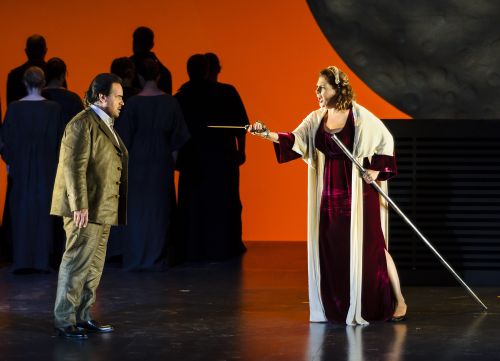 Production: Opera Oviedo
Direction: Susana Gómez
Sets: Antonio López
Costumes: Gabriela Salaverri
Lighting: Alfonso Malanda
Cast:
Norma: Sondra Radvanovsky
Adalgisa. Marina Prudenskaja
Pollione: José Bros
Oroveso: Carlo Colombara
Flavio: Jon Plazaola
Clotilde: Mireia Pintó.
Yesterday I referred to the great triumph of Piotr Beczala writing that Norma had to be very good indeed to avoid falling into the shadow of Beczala's recital. Well, this did not happen and the main event of the Perelada Festival turned out to be rather decaffeinated. An almost non-existent stage production, a poor musical performance and an irregular vocal cast made up the ingredients of a weak performance of this Vincenzo Bellini masterpiece.
The announced stage production here is the same as the one we saw last season in Oviedo. At that time I praised the work done by Susana Gómez changing with little means a semi-staged version into what was billed as a concert version. In Perelada, however, there had been no announcement of a concert version: it was sold as a stage production coming from Oviedo. In both cases we are talking about the same staging that in Oviedo offered more than announced yet here in Perelada was just the opposite. I expected, then, that this production would have been enhanced. In point of fact, this was not the case.
The French distinguish between mise en scène and mise en space and this latter concept is what should have been applied to the production both here and in Oviedo. There were no sets, only a a backdrop with a moon in the first act and in the final act only some kind of gong. The costumes, as in Oviedo, were recycled from some older productions in Oviedo, so that Norma was dressed in Tosca clothes. The only outfit different from the one at Oviedo was Adalgisa's costumes. No doubt this was due to the fact the figures of Dolora Zajick as Asturias and Marina Prudenskaja in Perelada could not be more different.
Some might consider this work as a minimalist production, so fashionable today in the opera houses, but these kinds of productions usually need outstanding stage direction. Susana Gómez did not go beyond being a traffic policeman. There was no direction of actors, as if they too were in a concert version.
Another aspect of this performance that failed was the musical direction. For the protaganist of Norma to succeed, more than a powerful voice is needed. Carlo Montanaro was both routine and boring. The Barcelona Orchestra, probably the best orchestra in Cataluña, left much to be desired last night: giving a very poor performance far below what one would expect from such a world-class ensemble. It is rare to live in a time when there are many good Normas around and our time is no exception. There is no doubt in my mind that Sondra Radvanovsky is one of the best suited sopranos for the character of the Druid priestess. Beyond her vocal suitability she came out short of emotion throughout her performance. There were, also, a few high notes at the edge of a shout in the first act. I believe she has not sung Norma since her debut in the role in Oviedo and she was better then. Norma is a very complex role, not only vocally, and my admired American soprano was much less convincing to me than what I had anticipated. Her powerful voice, and some beautiful piani were mixed, but she lacked emotion.
Marina Prudenskaja was a last-minute replacement for Ekaterina Gubanova who was to play the character of Adalgisa. Needless to say, there was quite some difference betreen these two. Ms. Prudenskaja was no more than a modest Adalgisa, quite tight at the top. The two beautiful duets that Bellini wrote for the priestesses went by with more pain than glory.
José Bros made his debut as Pollione, a rather surprising decision for him, since his light-lyric tenor is not what we usually associate with this role. Mr. Bros doesn't have a voice with enough weight for the Roman proconsul, even with his excellent phrasing. His cavatina could have been much better if he hadn't decided to hit a high note, one that he should have avoided.
Carlo Colombara was a substantial Oroveso, good in the middle register and in the low notes but too tight and whitish at the top.
The secondary characters were sung quite well by Jon Plazaola (Flavio) and Mireia Pintó (Clotilde).
Perelada Auditorium was at about 90% of its capacity. The audience was a bit cold, giving the best applause to Sondra Radvanovsky.
José Mª Irurzun