Italy Donizetti: Lucia di Lammermoor, Orchestra and Chorus Teatro alla Scala, Pier Giorgio Morandi (conductor), La Scala, Milan, 19 & 21.2.2014 (JMI).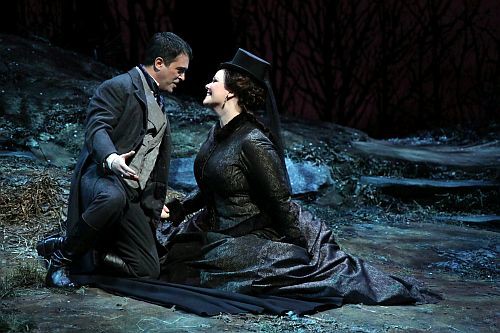 Casts:
Lucia: Albina Shagimuratova/Jessica Pratt
Edgardo: Vittorio Grigolo/Piero Pretti
Enrico: Massimo Cavalletti
Raimondo: Sergey Artamonov
Arturo: Juan Francisco Gatell
Alisa: Barbara Di Castri
Normanno: Massimiliano Chiarolla
Production: Metropolitan Opera
Direction: Mary Zimmermann
Sets: Daniel Ostling
Costumes: Mara Blumenfeld
Lighting: T.J. Gerckens
Lucia di Lammermoor is a very safe opera, one offered time and again by second-tier opera companies. It is usually a triumph, with a soprano who is easy at the top of the range. But when a major opera house such as La Scala stages it, one is entitled to expect something special and not the Lucia you might see at other venues. However, only the second or alternate cast was consistent with the history of the theatre. The suitability of the first cast was far more debatable.
In recent years La Scala has mounted Pier'Alli's stage production; the most recent performance took place in 2006. Now they are offering the staging by Mary Zimmermann; it comes from the Metropolitan in New York where it had its premiere in 2007. This is a realistic production with sets that allow for rapid scene changes in the three acts: a wooded landscape in the first act, a large room in the palace of Ashton for the wedding of Lucia, a room with a long staircase for the mad scene and, finally, an empty stage with crosses at the back that evokes Ravenswood Cemetery. The costumes appear to move the action to the second half of 19th century.
The stage direction is appropriate and includes the presence of a ghostly figure as a double Lucia, already present in the fountain scene and reappearing in the final scene with Edgardo dying in her arms.
Little was required musically to improve upon the weak impression left by Daniele Rustioni in Il Trovatore. Pier Giorgio Morandi was on the podium for Lucia, and his reading was just controlled and routine. To his credit I must say that at least the orchestra sounded better than at Il Trovatore, but it still was not what we have heard in this house in the past. The performance of the chorus was unobjectionable.
The protagonist in the first cast was Russian soprano Albina Shagimuratova who is  known for her frequent performances as the Queen of the Night. I think we should start a conversation about whether Lucia is a role for a light soprano or, on the contrary, a different kind of soprano is required. In my opinion, Lucia is not suitable for a light soprano, as proven by Maria Callas in the 1950s, then by Renata Scotto and June Anderson, and more recently by sopranos such as Mariella Devia and Diana Damrau. It could be argued that in Donizetti's time light sopranos sang the role, but things have changed a lot since then. At La Scala itself in 1839 Lucia was sung by Giuseppina Streponi who does not seem to have been a light soprano,  unless we consider that the character of Abigaille also belongs to that category.
Albina Shagimuratova has a pure light soprano, rather reduced in size, with a more or less childish middle range. Her voice is very weak at the bottom and quite easy at the top. She went almost unnoticed at "Regnava nel silenzio," was short of power in the duets with Enrico and Raimondo, but had no problems with the very top notes in the mad scene. If I claim that Lucia is not for a light soprano, it is due to the fact that it is almost impossible to move the audience with that type of voice. For me, emotion is consubstantial with romantic opera.
The alternate Lucia was Jessica Pratt, whose performance was much better than her colleague's. Her voice, a light-lyric soprano, is beautiful in timbre. Contrary to what happened in the first cast, Ms. Pratt was able to move the audience by means of voice, refined technique, expressiveness and exquisite taste. No doubt we are face-to-face with one of the most exciting performers of Lucia di Lammermoor at present, but to be a great Lucia she'll need to have a wider center. There was a noticeable difference in voice and stylistic approach between her Lucia and Albina Shagimuratova's.
Vittorio Grigolo was an unorthodox Edgardo, to say the least. His voice is beautiful, it flows very naturally, and he is a paradigm of ardor and delivery on stage. Is this good for Edgardo? Yes, of course, provided that one doesn't forget that Lucia di Lammermoor is a bel canto opera. Mr. Grigolo sang Edgardo as if it were written by ​​Puccini and not by Donizetti. There were too many open sounds and dramatic effects and little elegance in his singing. As Malatesta says in Don Pasquale: "La parte non è questa."
Italian tenor Piero Pretti in the second cast left a positive impression. He is a light-lyric (maybe a little more) tenor, homogeneous in voice. He has a tendency to throaty sounds in the first octave, while his high notes are bright and nicely projected. At the moment, his weakest point is his lack of expression on stage. He often reminds one of the stereotypical tenor singing with his arms at his side. There should be something in between the ardor and perpetuum mobile of Vittorio Grigolo and the static mien of Piero Pretti.
Massimo Cavalletti was not too convincing as Enrico. His singing wasn't precisely belcantista, and there were too many open sounds as he tried to convince us that he really was the villain in the opera. I found his top notes less brilliant than a year ago.
Sergey Artamonov was a correct Raimond, while Juan Francisco Gatell was well-suited to Arturo.
Jose Mª. Irurzun