United Kingdom Puccini, La bohème: Soloist, Chorus, Capital Arts Children's Chorus, Royal Philharmonic Orchestra / Oliver Gooch (conductor), Royal Albert Hall, London 27.2.2014 (JPr)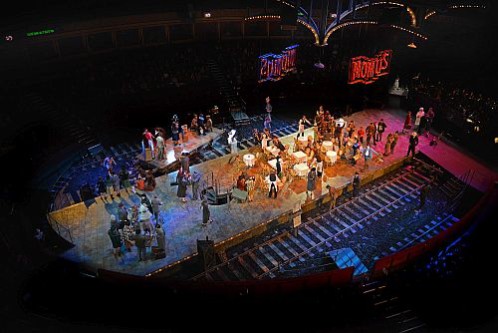 Cast
Mimì: Jessica Rose Cambio
Rodolfo: Sean Pannikar
Musetta: Anna Leese
Marcello: Michael Chioldi
Schaunard: Stefano de Peppo
Colline: Joshua Bloom
Benoit/Alcindoro: Henry Waddington
Parpignol: Paul Hopwood
Customs Officer: Mark Saberton
Sergeant: Oliver Gibbs
Production
Director: Francesca Zambello
Set Design: Peter J Davison
Costume Design: Sue Willmington
Choreographer: Arthur Pita
Lighting Design: Andrew Bridge
Sound Design: Bobby Aiken
London currently has two much-admired La bohème productions in its main houses: Jonathan Miller's 2009 staging for English National Opera set in Paris in the early 1930s and John Copley's loving recreation of France's capital in the nineteenth century which is now 40 years old. Opera-in-the-round has had a chequered history but is now in its eighteenth year at the Royal Albert Hall and seems to have come into its own. If there has been anything finer put on by Raymond Gubbay in the intervening years then I would have loved to have been there … but I doubt there has.
 Francesca Zambello's production, last seen in 2006, is the perfect synthesis of those two other La bohèmes – one of which, intriguingly, it predates. As here, Jonathan Miller also show Musetta as someone of Piaf-like popularity singing to a microphone and signing autographs. The costume designer, Sue Wilmington, appears to have used many of the same references as Dr Miller including the photographs of the city's demi-monde from the time by Brassai and others. In an interview with her in the programme it says how 'Francesca Zambello's production is set just after the liberation of Paris, when the average Parisian was struggling economically, none more so than the central quartet of bohème who are rich in imagination but financially hard up, probably relying, as Sue said, on flea markets and creativity when it comes to fashion.'
Sets and costumes will also be familiar to anyone who saw Martin Scorsese's recent much-admired – but little viewed – film, Hugo, that lovingly recreated a Paris train station of the 1930s. These often had magnificent roofs and remarkable facades and many are unchanged to this day; set designer, Peter J Davison, brings an evocation of one to the Royal Albert Hall. With a muted colour palette Willmington's costumes had a shabby post-war chic and there were lots of   berets, cloche hats, fur-trimmed coats and couture dropped-waist dresses for the women and dark wool overcoats, suits and flat caps for the men. I am certain that after the interval there was even a whiff of Gauloises cigarettes in the air –but that might just have been the couple sitting in front of me!
The outer acts of Puccini's emotional tale of camaraderie, love, jealousy and tragedy amongst penniless artists ought not to work in such a vast barn-like space as the Royal Albert Hall. But much of Francesca Zambello's production succeeds brilliantly even if it would really take something to undermine the emotional power of the story and music of Puccini's masterpiece. For Acts I and IV we freeze along with the characters in their rather spare garret (well lit by Andrew Bridge) and the 'tomorrow is another day' laddishness of the four room mates is very believable. However it is for the Café Momus scene that Zambello uses the performance space she has available to its fullest potential and populates it with roller-skating moustachioed waiters, couples of every gender identity and sexual orientations, matelots, tarts, street sellers, misbehaving children, down-and-outs, a strongman and a military band. It perfectly depicts the Parisian street life we hear in Puccini's music, and is a feast for the eyes and great fun.
For Act III there was the traditional snowy scene at the Barrière d'Enfer with the frozen workers trudging miserably onward and the 'tavern' confirmed Peter J Davison's station motif and was on a railway flatbed truck on rails. Zambello knows her job well enough to avoid cluttering the stage in this act so the audience can focus – as it should – on Marcello and Mimì and then Rodolfo and Mimì. The importance of this revival was how well-prepared it had all been, everyone involved seemed to have been given their own 'role' in the whole performance and I never saw anyone who was never less than totally engaged and just standing around.
Perhaps in days gone by these Gubbay extravaganzas did not always have the best cast of principals when there has always been many talented young singers eager for any opportunity.  As much attention now seems to have been given to this as to the overall preparation of the show. In fact a top price of £65 at the Royal Albert Hall allows you to experience a United Nations mix of singers of no less a calibre than patrons at Covent Garden or Glyndebourne could pay three times – and possible more – to see.
So this La bohème packed a musical punch, as well as, scenic and dramatic ones. It was a fine cast, with the Rodolfo and Marcello being particularly exceptional, and the excellent backing of the Royal Philharmonic Orchestra, ad hoc chorus and Capital Arts Children's Chorus under Oliver Gooch's guidance that brought a surprisingly subtle freshness to the very recognisable score.
Rodolfo was Sean Panikkar, an American tenor of Sri Lankan heritage, who had a gorgeous lyrical voice with ardent top notes and the musical intelligence to refine his tone to match his character's emotional responses at any vital moments in the action. A lack of unnecessary vocal histrionics matched his dramatic gifts as he is an appealingly confident and gifted actor. Obviously, like his colleagues, it was not possible to say how big his voice is because he is miked but I believe he is certainly a singer I would go out of my way to hear again. He was part of a wonderful ensemble and no one else deserves being singled out. Jessica Rose Cambio settled after a nervy-sounding Act I and II to be an attractive Mimì, frail of course, but having a great strength of spirit; Anna Leese was a blowsy 'heart in the right place' Musetta, even if the singer did not entirely yet seem at ease with her character's sexiness; Michael Chioldi was a likeable and finely sung Marcello (actually he looked and sang like a young Bryn Terfel);  Stefano de Peppo was a humorous and experienced Chico Marx-like Schaunard and Joshua Bloom a lugubrious Colline – his eloquent Coat Aria had more impact than it sometimes can because he was in the spotlight with audience's full attention on him.
Finally, from where I was sitting in the stalls the projected surtitles around the hall displaying the English translation seemed large and clear enough to be read by most of those who needed to. Isn't this so much better that the old-fashioned approach by the BBC Proms with its – often cumbersome – printed librettos that means every opera in a foreign tongue is accompanied by the fluttering of pages being turned – and also that those who do not buy them are not penalised!
Performances of La bohème (with varying casts) continue at the Royal Albert Hall
Jim Pritchard