Puccini, La fanciulla del West (1910): – sung in Italian with titles in English: Soloists, Chorus and Orchestra of Opera North / Richard Farnes (conductor), The Lowry Theatre, Salford Quays, 5.3.2014. (RJF)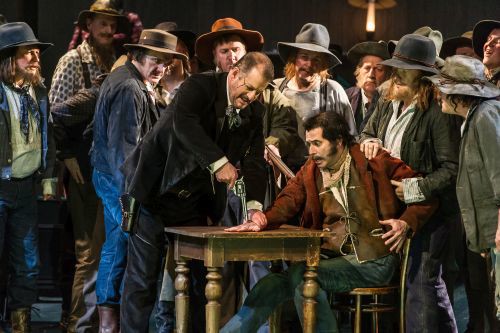 Sung in Italian with Titles in English.
Cast:
Minnie: Alwyn Mellor
Jack Rance: Robert Hayward
Dick Johnson (Ramerrez): Rafael Rojas
Nick: Bonaventura Bottone
Ashby: Graeme Danby
Sonora: Eddie Wade
Trin: Adrian Dwyer
Jake Wallace: Gavan Ring
José Castro: Dean Robinson
Sid: Jeremy Peaker
Handsome: Peter Bodenham
Harry: Paul Rendall
Joe: Graham Russell
Happy: Paul Gibson
Jim Larkens: Nicholas Butterfield
Billy Jackrabbit, Callum Thorpe
Wowkle, Kathryn Walker
The Pony Express rider: Nicholas Watts
Production
Director: Aletta Collins.
Set Designer: Giles Cadle.
Costume Designer: Gabrielle Dalton.
Lighting Designer: Andreas Fuchs.
Video Designer: Andrzej Goulding.
I left The Lowry with my my mind in something of a whirl. First, when did I last see this opera, and second, when did I last see such a well directed opera with such evocative sets and with superb lighting effects? In fact the last time I saw La fanciulla del West was Opera North's previous production in the mid nineteen eighties. Prior to that had been one of my operatic disasters. With tickets for the Covent Garden production in the mid  seventies, featuring Domingo, my wife went down with pneumonia and we were unable to travel. Fortunately, or so I thought, the performance was broadcast. It was the great tenor's birthday and there was much celebration, all missed! As to the last time I had seen any production of this overall quality, I searched back over the eighty odd Opera North productions I have reviewed over the past ten years at Leeds or The Lowry and could think of only a handful.
The sets for the Polka Saloon, ruled by Minnie with an iron hand that included gun totting and reading the miners' bible extracts, was simple, straightforward and allowed the complex interactions of the gold miners, the bullying of  Billy Jackrabbit and the rampant libido of Rance to emerge under the subtle direction of Aletta Collins. Even before that the mood of the performance had been set by the lighting of the opening gauze drop, a shadow of Ramerrez's head and cowboy hat backlit passing across the stage, which was imaginative and effective. With the costumes in period, and sufficiently individually differentiated for each character, the whole would be readily recognised by the composer looking from wherever he might be, without even a chord of music reaching his ears – a state not often experienced in current opera stagings, particularly in mainland Europe where Regietheater and director concept rule! No need for an explanatory essay in the programme.
Musically the performance got off to an overloud start, a common problem with Richard Farnes at the Lowry. As ever, he soon found the measure of the theatre's idiosyncratic acoustic and thereafter the musical performance was taut with nicely pointed orchestral colours, of which Puccini was typically liberal. Anybody who knows Butterfly or Tosca would quickly know who the composer was, except for one major omission, a deficiency in recognisable arias, even for the heroine, not something Puccini usually omited, even in Gianni Schicci.
In the eponymous role Alwyn Mellor had more than adequate heft to ride the composer's rich orchestral textures. She acted the role with conviction and a wide variety of tonal and vocal characterisation. As her libidinous lover, sheriff Jack Rance, Robert Hayward acted well and sang with firm tone, virtues shared by Graeme Danby as the Wells Fargo detective. As Ramerrez cum Dick Johnson, Rafael Rojas' beefy tenor had not quite the penetrating lyricism to ride the orchestra. Nonetheless, his interpretation and vocal characterisation were more than adequate, while Bonaventura  Bottone was a convincing Nick. The remaining lesser roles were well sung, costumed and individually portrayed by members of Opera' North's chorus.
Despite the limitations in Puccini's score, this production, in all its aspects, provides a dramatic and entertaining operatic evening in the theatre.
Robert J Farr
For a review of the Leeds performance of this opera see https://seenandheard-international.com/2014/01/opera-north-strikes-gold-in-puccinis-west/