United Kingdom Pianist Mateusz Borowiak in Conversation with Robert Beattie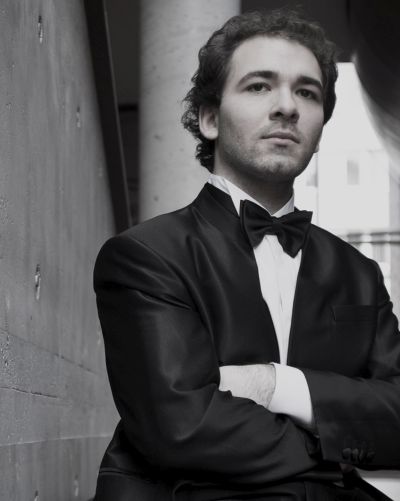 Mateusz Borowiak is a brilliant young British-Polish pianist who recently gave a stunning debut at the Wigmore Hall playing a highly virtuosic and richly varied programme of music from Bach to Barber (review).  He was a prize winner at both the Queen Elizabeth and Maria Canals International Piano Competitions and has succeeded in building an enviable international reputation in a very short space of time.  He has an awe-inspiring technique which he has used to dazzling effect in works such as Albeniz's Iberia and the Barber Sonata but he is also a very thoughtful and serious musician who brings an integrity and innate musicality to his performances of Bach and late Beethoven.  I spoke to him about his background and key influences in his musical training, his choice of repertoire (which is prodigious!), the importance of international piano competitions in helping to launch the careers of young pianists and his recording projects.
Robert Beattie You studied at the Guildhall School of Music and Drama, Cambridge University and the Karol Szymanowski Academy of Music in Poland.  Who were the most important influences in your musical education?
Mateusz Borowiak All were important in their own way but also complemented each other. I was lucky to have had a well-rounded musical education right from the very beginning. My parents are both pianists, so naturally I had an early start. They taught me until I was 18. At that time, I was also learning to play the cello and took singing lessons until I was 11 or 12. On top of this I was an eager composer and studied with Jeffery Wilson at the Junior Guildhall. A music course at Cambridge is synonymous with all-roundedness. A variety of subjects ensured that I maintained a broad view of things and made use of influences that surrounded me. Having people of different background and faculty about, and being mentored by Martin Ennis and Robin Holloway wasn't without effect either. During that time I kept up my piano playing, having consultation lessons with Andrzej Jasiński with whom I went to study full time after graduating. Despite my focus slowly turning fully to the piano, Jasiński's experience meant that it was never a mono-faceted affair. He is known worldwide for his specialisation in the music of Chopin, however, Katowice's proximity to Germany, the influences of Russia on Polish culture, Jasiński's studies in Paris and his friendship with Artur Rubinstein all contributed to his sound aesthetic that can be applied to all kinds of music. For a pianist my upbringing wasn't perhaps a typical one, however the piano always found itself in the centre.
RB You have won top prizes in a number of leading international piano competitions.  How important are these competitions in helping to kick-start an international career?
MB Unfortunately, there are few ways other than standing on the podium of a prestigious competition. Unfortunately – because not all types of artists can make a mark on the competitive stage. Often technical proficiency and bravura defend themselves more effectively than subtlety or uncommon interpretation. In the real world, where an audience replaces the jury, other qualities take precedence. This is why so many first-prize winners have not remained in the spotlight for very long. On the other hand, competitions are where we can test ourselves, and are therefore useful in preparing for the challenges of a career; and of course, we have the possibility of getting noticed.
RB I was very impressed with the way in which you were able to tackle such a wide range of different musical styles and genres – from Bach to Albeniz to Barber – at your recent debut recital in the Wigmore Hall.  Are there any composers who are central to your repertoire or do you prefer continually to explore different composers?
MB Chopin's compositions have been a big part of my repertoire as I have played almost all of his works. However, for the reasons already mentioned I have always maintained a broad spectrum of styles, forms and periods, studying, for example, all Beethoven, Haydn, Mozart and Schubert sonatas, all the concertos in the core repertoire, the complete Bach Preludes and Fugues, Art of Fugue etc. I have not shied away from Russian, French or Spanish music, have played a good number of works by Brahms and Liszt, and have also had encounters with the Second Viennese School and the music of the likes of Szymanowski, Bartók, Messiaen and Ligeti. All this is not far from the usual, I suppose. I have always been keen on new music, beginning with my own experiences as a composer. At the Junior Guildhall the students' works were regularly performed by renowned artists at composition workshops, and I have learnt a lot from their advice. I have often played my piano solo works in concerts, and experienced the uncertainty of being performed in public. At Cambridge and the Katowice Music Academy I rubbed shoulders with both student and young professional composers who would often ask me to look at, perform or record works hot off the press – sessions often lasting until the early morning hours. One of the attractions of the Queen Elizabeth Competition were the commissioned pieces – Rzewski's 'Dream' for solo piano and Petrossian's concerto for piano and orchestra 'In The Wake of Ea', the latter given to us in the final round to prepare within a week – one of those moments from which one emerges an irreversibly changed person. When working on 20th Century and Contemporary repertoire – I recently did a live recording of Panufnik's Piano Concerto and Lutosławski's Paganini Variations with the Polish National Symphony Radio Orchestra – I often think back on my humble beginnings – '7 4 2 Pianos', East Anglian Single Reed Choir, Endymion Ensemble or Leon McCawley so quietly brilliant in my minimalistic Prelude and Fugue. I know that my Op. 110 too would not be the same without these early experiences – a reminder of how alive the composer-performer partnership can be. In short, I like to keep a wide range of repertoire and maintain a bridge between the old and the new.
RB Who are the pianists you most admire and why?
MB There are pianists who have maintained a fine balance between their distinct individuality and a respect to the composer. From history, they are figures such as Cortot, Rubinstein, Gilels and, from our times, Grigory Sokolov and Kristian Zimerman. They are unequivocal masters of their art, yet at the same time humble servants of music. The latter artists have also preserved a kind of integrity in the art of performance. The recent developments in the recording industry, such as the advances in resolution, portability and the ease with which music can be accessed have all contributed to an increased perception of music as a sheer sound-experience. The last two pianists I have mentioned have never strayed from the notions of music as a catalyst for emotion and a musician as a channel. Their craft simply cannot be captured fully by a set of microphones.
RB You have recently brought out recordings of sonatas by the Spanish Baroque composer, Antonio Soler, and preludes and fugues by Louis Pelosi.  Can you tell us about the background to these works and why you chose to record them?  Do you prefer recording or performing live?
MB Both CDs were commissioned projects. Pelosi, an American of Italian origin, is a piano technician by day and a prolific composer by night. The mammoth task of recording his Thirteen Preludes and Fugues, dedicated to his late wife Rosemarie Koczy – a Holocaust survivor – was entrusted to me around three years ago. He flew from New York to Katowice specially to attend the recording sessions, and visited the Nazi concentration camp in nearby Auschwitz. It was most interesting to work on the pieces while having the luxury to obtain answers from the source rather than the score alone; curiously, Pelosi let me interpret the music as I wished, wanting to see it finally escape his control. This CD was my first 'serious' recording project and allowed me to appreciate how very different the experience is from performing. In a twist, it made me realise how crucial the audience is for a performer in the projection of musical content. Without listeners and the atmosphere created by the rarefied occasion of a concert, a conversation becomes a monologue and a completely different challenge. Half a year later I was commissioned by the Maria Canals Competition to record 15 sonatas by Soler. It was to be my contribution to an ongoing project of a collective recording of his entire keyboard Sonatas by winners of the competition. The entire CD was recorded in a few takes, so it is more 'performed' in character. The boundaries of the material were much freer; we used different editions, even discrepancies in text were explored. I feel that my best recordings are concert performances that have been captured on tape. They have a certain 'heat', which cannot be emulated in a studio. It seems my heart belongs on stage, nonetheless I have not yet had a chance to undertake a recording project from concept to completion.
RB What concerts and recordings do you have planned for the future?
MB The coming months will be quite interesting as I have concerts in principal halls in Madrid, Seoul, Budapest, Istanbul, a second tour of China and a debut at the International Chopin Festival in Duszniki Zdrój, Poland. I will also play in London for the Chopin Society in December and have some recording plans with the Polish National Radio Symphony Orchestra in 2015. The past few years haven't been any less exciting with a good number of places in my schedule like Brussels's Palais des Beaux-Arts, Flagey and Salle Gothique, Barcelona's L'Auditori and Palau de la Musica Catalana, Granada's L'Auditori Manuel de Falla, Brugges's Concertgebouw, Munich's Kulturkreis Gasteig, Paris's Salle Cortot, Rome's Real Academia de España, Adam Martin Auditorio de Tenerife, St. Petersburg's Great Shostakovich Hall, Beijing's National Centre for the Performing Arts, and Fabriano, Camprodon and Musiq'3 festivals. I have also worked with around 20 conductors including Marin Alsop, Andrey Boreyko and Edo de Waart.
RB How do you split your time between solo, concerto repertoire and chamber music?
MB I try to be as diverse as possible and often juxtapose solo and concerto projects. I used to play a lot of chamber music when I had the time to maintain long partnerships – now it is more sporadic. The difference between the three roles is not as great as it may seem. For me, the approach is practically the same. Concertos are chamber music of the highest order, and it is especially challenging to play with instruments of distinctive timbre, articulation and the differing ways they commence a sound. Playing solo can be just as volatile as chamber music because of the changing audiences. No performance is the same; a soloist, in an ideal situation, is constantly responding to an outside influence – the 'vibes' of the listeners.
RB How difficult is it for young pianists to embark on an international solo career nowadays and what sources of help and support are available?
MB On the one hand, it has never been more difficult, with the growing population of the music world, all competing for the same concert halls. And as the main repertoire has not really changed during the past 100 years it is also challenging to distance oneself from a familiar interpretation.  Pianos, too, are becoming increasingly expensive, making it much harder to find an adequate partner on stage. On the other hand, from a pragmatic point of view, it has never been easier; one is so much more independent these days, having almost endless possibilities to produce own recordings, to look after one's own publicity or accept engagements directly from venues. With the help of the internet one can easily reach the audience directly from one's studio. This is absolutely fantastic, although often it is not the composer who is in focus. Online access to scores of works from nearly the entire history of music provides an extraordinary resource for those looking for a varied repertoire. Unlike 40 or 50 years ago, we can also be aware in an instant of what is happening artistically in the world and gain valuable insight.
Robert Beattie