United Kingdom Offenbach, Vert Vert –  Opéra bouffe in 3 acts (1869): Soloists, Garsington Opera Orchestra & Chorus/David Parry (conductor), Garsington Opera at Wormsley, 9.6.2014  (RJF)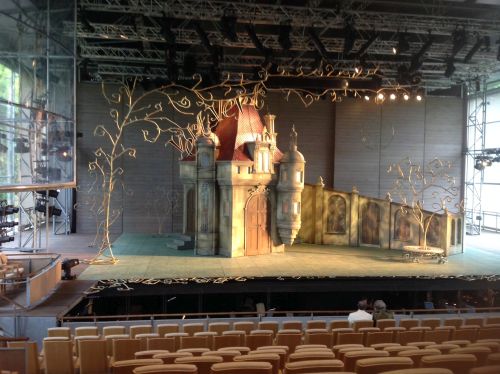 Sung in a new English translation by David Parry of the critical edition by Jean-Christoph Keck.
Sung items with titles in English.
Cast:
Valentin (Vert-Vert), Robert Murray
Baladon, Geoffrey Dolton
Binet, Mark Wilde
Bellecour, Alessandro Fisher
D'Arlange, Quirijn de Lang
Bergerac, Andrew Glover
Friquet, Henry Neill
Maniquet, Jack Gogarty
La Corilla, Naomi O'Connell
Mademoiselle Paturelle, Yvonne Howard
Mimi, Fflur Wyn
Bathilde, Raphaela Papadakis
Emma, Katie Bray
Garsington Opera Orchestra & Chorus/David Parry

Production
Director. Martin Duncan
Designer, Francis O'Connor

As one successful work followed another, Offenbach was dubbed, by Rossini, as The Mozart of the Champs Elysées. Born Jacob Eberst, in Cologne, the son of a jobbing Jewish fiddler cum music teacher, Offenbach revealed such early talent that the father made many sacrifices to send his son to study in Paris. Here he scraped a living as a jobbing cellist composing in his spare time. At the time of the 1855 World Exhibition in Paris, frustrated by inability to get his compositions performed, he opened the miniscule Théâtre des Bouffes Parisiens in the Champs Elysées. Visitors to The Exhibition flocked to hear his tuneful operettas, which fitted the mood of France at that time of the Second Empire like a glove. However, this frivolous time in France finished abruptly with the Franco-Prussian war, the siege of Paris in 1870 and the subsequent fall of the Emperor Napoleon 3rd.
Vert Vert, was premiered in 1869 at the start of the Franco Prussian war that was to bring down the Second Empire and with it the tragic consequences for France after the siege of Paris was lifted. The story is somewhat banal even by opera buffa standards. It opens with a tragic comic funeral held by the pupils of the girls' Convent of Saint-Rémy for their beloved pet parrot, Vert-Vert. The girls decide that their beloved pet must be replaced in some form and select the hopelessly innocent young man Valentin to be the happy recipient of all the doting attention they used to lavish on the parrot. Valentin is cajoled into accepting, even to the extent of taking the parrot's name, and is led away in triumph.
It being a convent, complications are inevitable after various secret marriages, infatuations and unrequited sexual liaisons are revealed, and eventually resolved, by the vastly experienced director Martin Duncan. In a pre performance talk he explained his view that as this is a UK premiere he felt it should be done as the composer imagined and intended, with updates and concepts to be added later by others if they wished. A welcome statement of sanity to this listener! Period costumes and a very naturalistic set of a chateau, complete with turret and tiled roof, and which turns to a different aspect in act two and opened out in act three, all helped to create an ideal setting for this vision. So too did the well-choreographed ballet scene in act three.
The singing cast was uniformly good. The three convent girls looked the part with Fflur Wyn a convincing Mimi and Robert Murray a clear toned Valentin with other tenors Quirijn de Lang and Mark Glover, as elegant soldiers, Mark Wilde adding comic touches to clear tone and Alessandro Fisher. Some of the best characterization came from Yvonne Howard as Mademoiselle Paturelle and Geoffrey Dolton, her sexually frustrated husband in secret, as Baladon the dancing master, both stage animals who brought life to some of the longueurs of Act Two where Offenbach's inspiration seemed to lag from time to time.
With the stage set and costumes realistic, that the music flagged from time to time owed more to Offenbach than David Parry on the rostrum. Not all the singers were uniformly good at projecting the spoken dialogue and with the sung words shown on the titles board I wondered why Parry had chosen to translate rather than give the work in its original language whose prosody would have better fit the music. My hypothesis has since been confirmed to me by playing, courtesy of Garsington Opera Press Office, his Opera Rara recording of the work with a polyphonic cast singing in French (Opera Rara ORC 41).
There are further performances of this rarely performed work on 14, 19, 24, 26 June and 3, 9 July 2014. A staging will also take place on the beach at Skegness on Sunday 6 July as part of the festival run by East Lindsey District Council. This will be the third year running for Garsington Opera at Wormsley. I hear from those living there that the performances are well attended and appreciated.
Robert J Farr