Argentina Festival Vivaldi Mendelssohn: Soloists, Chorus and Orchestra of Ensamble Lírico Orquestal, José María Sciutto (conductor), Auditorio de Belgrano, Buenos Aires. 29.6.2014. (JSJ)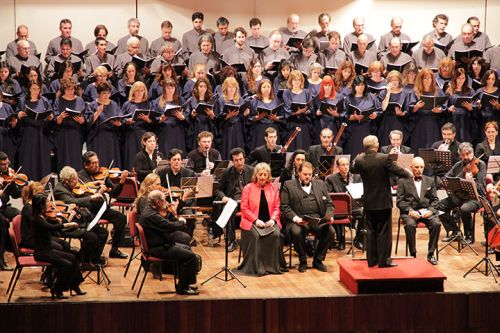 Vivaldi: Ostro picta, armata spina(RV 642)and Gloria (RV 589)
Ana Laura Menéndez (soprano),
Cecilia Layseca (soprano),
Damián Ramírez (countertenor)

Mendelssohn: Hebrides Overture (Op. 26) and Die erste Walpurgisnacht (Op. 60)
Laura Cáceres (mezzosoprano),
Duilio Smiriglia (tenor),
Enrique Gibert Mella (baritone)
In addition to its opera productions Ensamble Lírico Orquestal also offers choral events, with the latest an unusual combination of Baroque and Romantic works rarely heard in Buenos Aires.
Under the title Festival Vivaldi Mendelssohn, we were offered in the first half Vivaldi's second (and better known) Gloria, with its introduction the motet Ostro picta, armata spina.In the second, in complete contrast, Mendelssohn's cantata Die erste Walpurgisnacht preceded by the Hebrides Overture.
Taken at a nice pace by the (reduced) orchestra under Argentine long resident in Italy José María Sciutto – neither too fast nor too slow – soprano Ana Laura Menéndez sang the Ostro picta with clarity and sparkle. Joining her from the chorus for the 'Laudamus te' from the Gloria, Cecilia Layseca was more gently voiced, and countertenor Damián Ramírez – making his third production appearance in almost as many weeks – also sang with precision and musicality.
Opening the second half, the Hebrides Overture was given a straightforward reading. Then into Die erste Walpurgisnacht, which in contrast to the spirituality and brilliance of Vivaldi's Gloria, is secular and darker in nature, focussing on the springtime pagan rituals of the Druids and their persecution by Christian zealots. Again the soloists showed their measure, with Laura Cáceres dark mezzo contrasting with Duilio Smiriglia's bright tenor and Enrique Gibert Mella's measured baritone.
 But both of these are of course very much choral works and so this was as much about the Gustavo Codina directed chorus – 40 strong for the Vivaldi, increasing to around 70 for the Mendelssohn – and in the latter in particular it showed its mettle with good timing and balance.
Jonathan Spencer Jones