United Kingdom Prom 58, Richard Strauss, Salome:soloists and Orchestra of the Deutsche Oper Berlin, Donald Runnicles (conductor), Royal Albert Hall, London 30.8.2014. (JPr)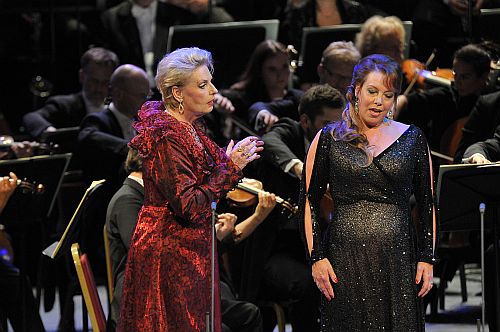 Strauss: Salome

Cast:
Burkhard Ulrich (Herod)
Doris Soffel (Herodias)
Nina Stemme (Salome)
Samuel Youn (Jokanaan)
Thomas Blondelle (Narraboth)
Ronnita Miller (Herodias's Page)
Paul Kaufmann (1st Jew)
Gideon Poppe (2nd Jew)
Jörg Schörner (3rd Jew)
Clemens Bieber (4th Jew)
Andrew Harris (5th Jew)
Noel Bouley (1st Narazene)
Carlton Ford (2nd Nazarene)
Marko Mimica (1st Soldier)
Tobias Kehrer (2nd Soldier)
Seth Carico (Cappadocian)
Production:
Justin Way stage director
Perhaps with her excellent Salome I begin now to appreciate why some people speak or write so highly of Nina Stemme; previously I have been underwhelmed by her Wagner but she seems much more at ease with Strauss … if anyone can be 'at ease' in an opera – or a role – initially considered unsingable. Despite what has been written elsewhere she is not the best of the current crop of Isoldes or Brünnhildes – at least when I have heard her. Perhaps in part she accepts this herself because although she returns soon to Covent Garden in Tristan und Isolde there appear to be no Ring operas in her immediate schedule. However, as Salome Nina Stemme gave a wonderfully electrifying performance despite Justin Way's rudimentary semi-staging for this concert performance. Unflaggingly she sang with a full, intense and luminous soprano of searing power. It had a coolly seductive and admirably focussed allure and could shift in an instant from restless sensuality to psychotic vehemence. Stemme completely inhabited this fiendish role and deserved the big ovation from the audience. My only complaint is that occasionally her diction was not the best but that might have been because Strauss's music is too demanding at times for all the words to be heard clearly.
Oscar Wilde wrote the original play, in French, in 1891, and it premièred in Paris in 1896. Richard Strauss saw it in Germany at the Neues Theater in Berlin in 1903 under the direction of Max Reinhardt and the first performance of his Salome at the Royal Opera House in Dresden was in 1905. The familiar tale tells us in one act the Biblical story of Salome, step-daughter of the tetrarch Herod Antipas, who, to her step-father's dismay – but to the delight of her mother Herodias – requests the head of Jokanaan (John the Baptist) on a silver platter as reward for dancing the 'Dance of the Seven Veils', and for revenge on Jokanaan for refusing to let her kiss him. Salome is the by-product of the moral ills of a hedonistic society and her stepfather Herod and her mother Herodias, are responsible for her unhinged persona. Salome is the victim of Herod's paedophile tendencies and her own insatiable passions and the young girl's rejection by the prophet Jokanaan triggers her descent to madness and death.
Nina Stemme was well-supported by singers who were nearly all members of the Deutsche Oper ensemble, as Herodias's Page (movingly sung by the big-voiced Ronnita Miller) and assorted Jews, Nazarenes or soldiers. Samuel Youn began well and his Jokanaan had sufficient stentorian power to fill the Royal Albert Hall from the organ loft rather than a 'cistern'. He gave the prophet great dignity and his portentous utterances were unusually more pious than fanatically zealous. The effort required to produce such a volume of sound betrayed him a couple of times when his voice cracked but overall it was a fine interpretation. The veteran mezzo-soprano Doris Soffel – who, like Nina Stemme, sang entirely without resorting to using a score – was equally engrossing as Salome's scheming mother, Herodias. I was strangely captivated by Burkhard Ulrich's Herod whose Mime is one of the best things about the current Bayreuth Ring. Indeed he brought many Mime-like qualities to the demented tetrarch of Judea, Herodias's husband, who is nearly undone by his unnatural desires for his stepdaughter. His encounter in Scene Four that culminates in 'Hör jetzt auf mich!' has hints of Mime from Act II of Siegfried as Strauss has him try to persuade Salome to accept jewels and spare Jokanaan. Eventually Salome's depravity is too much even for Herod who orders Salome to be killed by the soldiers as this compelling performance ended.
Strauss's score is voluptuous, full of bristling modern harmony, towering symphonic sound and plenty of high camp. During the opening scene as Narraboth the young captain of the guard (the bright sounding Thomas Blondelle) who is infatuated with Salome incessantly praises her beauty, Donald Runnicles, conducting his own Deutsche Oper Orchestra, reined in the volume, keeping the textures lucid and established a mysterious mood that was full of foreboding. As the disturbing events unfolded, Runnicles summoned enveloping swathes of sound and piercing climaxes. Even in moments of chilling ferocity, the orchestral playing had an exceptional transparency and for the 'Dance of the Seven Veils' (that was not staged) Runnicles gave the music a fitful erotic frisson that perfectly epitomises how Salome is a calculating teenage temptress. This performance was a great credit to the Deutsche Oper Berlin's long established tradition for Strauss's music.
Jim Pritchard
For more about the remaining 2014 BBC Proms visit http://www.bbc.co.uk/proms .