United Kingdom Joyce DiDonato: Stella di Napoli: Joyce DiDonato (mezzo-soprano), Orchestre de l'Opéra de Lyon, Riccardo Minasi (conductor). Barbican Hall, London, 25.9.2014. (JPr)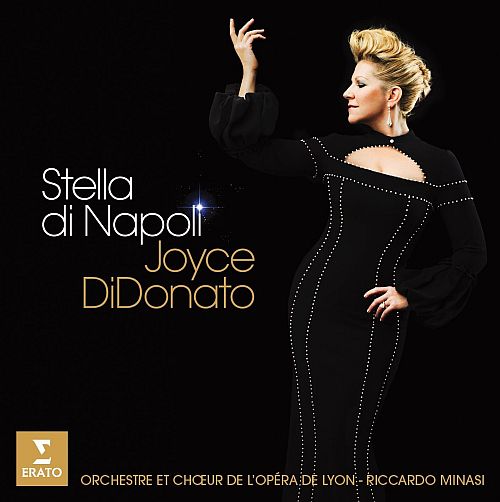 Pacini – 'Ove t'aggiri o barbaro' from Stella di Napoli
Bellini – 'Dopo l'oscuro nembo' from Adelson e Salvini
Rossini -Sinfonia from Elisabetta Regina d'Inghilterra
Carafa – 'L'amica ancor non torna' and Romanza di Lucia 'Oh di sorte crudel' from Le Nozze di Lammermoor  
Rossini – Ballabile III from Le siège de Corinthe 
Final scene 'Riedi al Soglio' from Zelmira    
Bellini – Sinfonia from Norma
Mercadante – 'Se fino al cielo ascende' from La vestale
Verdi – Sinfonia from Alzira
Donizetti – 'Par che mi dica ancor' from Elisabetta al castello
Pacini – Final Scene from Saffo
Initially the most applause this Joyce DiDonato concert achieved was for her second-half change from black into a sparkly blood-red Vivienne Westwood dress. Then there was little further excitement until a standing ovation for a magnificent encore of 'Tanti affetti' (from Rossini's La Donna del Lago) – with added tomato throwing (more about this soon) – suggesting all was not as it should have been. This review is going to be a case of if you do not have much good to say then say little. Joyce DiDonato has a wonderfully infectious presence on the concert platform that lacks pretention and affectation and her voice basically is a natural instrument; she seems as surprised as we are with the range she has and there is little 'technique' revealed in her open-throated singing.
This was the opening concert of the 'Barbican Presents Artist Spotlight on Joyce DiDonato' series that will continue with the title-role in Handel's Alcina, a musical evening inspired by the Belle Époque as well as a masterclass at Milton Court, and will culminate with Shéhérazade with the New York Philharmonic. With Stella di Napoli she was plugging her new Erato/Warner Classics CD where she performs – as here – some long-neglected nineteenth-century Neapolitan bel canto arias by Saverio Mercadante, Michele Carafa (a student of Cherubini and close friend of Rossini), and Giovanni Pacini, a prolific opera composer in his day whose 1845 Stella di Napoli gives the recording – and this concert – its title. There was also some little-known music from three genuinely great composers, Bellini, Rossini and Donizetti. Her conductor, Riccardo Minasi is largely responsible for these musical exhumations.
Joyce DiDonato herself comments how 'These were [all] composers who wrote gorgeous melodies, which are set up by the clarinets, by harps, etc. … they are melting and they immediately trigger something emotional. Bellini is of course the master of this. But he has help from a composer such as Mercadante for sure. Then there is this mastery of the voice, where the voice as instrument can convey deep emotions. It's done by taking the voice to its extremes, sometimes in tempo, certainly in range. Many of these arias have a two-and-a-half octave range and the voice is a master of the vocal range and the voice is the master of the vocal line. After bel canto the voice wasn't required to do quite so much in terms of flexibility and colour.'
Ms DiDonato was seemingly keen not to over-extend herself as there was almost as much time allotted to a selection of overtures and dance music as for her arias and these instrumental items were persuasively played – again as on the CD – by the Orchestre de l'Opéra de Lyon under their flamboyant baton-less conductor Riccardo Minasi, whose snake-like gestures I have only seen bettered by Andris Nelsons. I am always very happy to re-hash some background I have used in previous reviews if they are several years old and I was glad to see there is some significant musical precedent in this habit for Rossini 'recycled' the overture to Elisabetta Regina d'Inghilterra (that was originally written for yet another opera) into what we are familiar with as starting Il barbiere di Siviglia. That music composed for a queen can end up being used for a barber is typical of the period though I doubt the 'Virgin Queen' would have purred!
Despite Joyce DiDonato's claims, for me, most of the music is intrinsically unable to convey 'deep emotions'. Her arias often began with a woodwind obbligato – Jean Michel Bertelli's clarinet excelled when called upon – before setting off into some jolly 'rum-ti-tum' rhythms that even occasionally had Ms DiDonato's bare-shoulder jigging during the second-half and her encores. Whether a character is being parted from a loved one or being reconciled or is being led to execution and about to die, they often have the most implausibly upbeat music with repeated stanzas and a flurry of notes and rollercoaster runs demanded from the singer.
Joyce DiDonato is best when expressing full-blown rage, such as during 'Ove t'aggiri o barbaro' from Pacini's Stella di Napoli which was a suitably showpiece opener and here the heroine prepares to die. However some vocal issues became apparent during Bellini's more reflective 'Dopo l'oscuro nembo' from Adelson e Salvini when I heard a slight vibrato and her chest voice did not have the ability always to caress the lines sufficiently to produce a strong, even legato. The centrepiece of the first half was Carafa's Recitative and Romanza 'L'amica ancor non torna' and 'Oh di sorte crudel' from Le Nozze di Lammermoor, his version of Walter Scott's The Bride of Lammermoor. Even if it is more lyrical than melodramatic, Joyce DiDonato brought to it some of her trademark emotional intensity.
Opening the second half with the Prayer from Mercadante's La vestale, she revealed all the idiomatic style and nobility of spirit that is at her command in an aria that clearly influenced Puccini's 'Vissi d'arte', confirming Joyce DiDonato's words about how without 'this period of great creativity in Naples … we don't have Verdi or Wagner or Puccini.' The official part of the programme ended with the Final Scene from Pacini's Saffo when Sappho bids farewell to her loved ones, blesses the marriage between Phaon and her sister and is about to leap from the Leucadian Rock. It had all Joyce DiDonato's admirable traits of impeccable diction, beautiful tone and detailed musical expression whilst not entirely dispelling some – possibly heretical – thoughts that her voice could do with a good rest or even a change of fach.
Then came that tomato-inspired triumphant conclusion to what had been a slightly disappointing concert. A rather motley bunch of flowers was left by a fan by the steps to the platform and this – for some reason – contained part of a tomato plant and a tomato! This made Joyce DiDonato reminisce about the Michigan ones she misses because she has been away from home all summer. 'Tanti affetti' was prefaced by a disarming comment referring to recent events in Scotland (where Rossini's opera is set) and she wished everyone 'la bella pace'! This encore was remarkable and encompassed what perhaps makes Joyce DiDonato worthy to be considered as the finest mezzo-soprano of this generation. The voice was more forwardly placed and the coloratura was more secure and at greater ease than at any time during the rest of her programme. At one point whilst she was in full flow the tomato dropped to the floor only to be retrieved and juggled both by her and Riccardo Minasi before being put on his score. Later Ms DiDonato feigned horror when he wanted to consign it to his pocket and was made to put it on the stand of the first cellos. Much fun was had by all and this deserved the standing ovation it got which went on and on. A second under-rehearsed encore involving more of Rossini's Zemira was not her best moment but everybody was still enjoying themselves immensely.
I look forward to hearing Joyce DiDonato again soon and perhaps next time it can be with songs and arias that she likes best and not what she must sing to help the sales of her latest CD.
Jim Pritchard
For future events at the Barbican visit www.barbican.org.uk.