United Kingdom  Prom 63: Adams and Mahler: Timothy McAllister alto saxophone (Proms debut artist), BBC Symphony Orchestra / Marin Alsop (conductor), Royal Albert Hall, London, 4.9.2014. (JPr)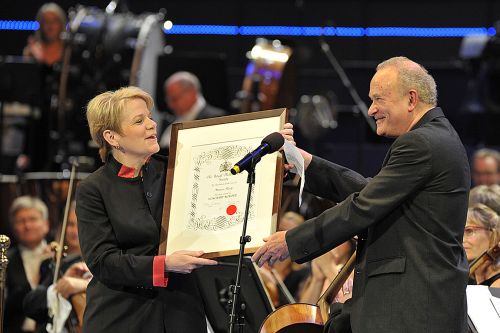 John Adams, Short Ride in a Fast Machine
Saxophone Concerto (UK première)
Mahler, Symphony No. 1 in D major
Natalie Bauer-Lechner remembers Gustav Mahler saying: 'It is completely impossible to estimate what music has lost in him. His genius soars to such heights even in his first symphony, written at the age of twenty, and which makes him – without exaggeration – the founder of the new symphony as I understand it. He, however, did not reach entirely what he wanted. It is as if someone swings back to throw as far as he can and, still clumsy, does not quite hit the goal.'
 'Him' and 'he' was Hans Rott the long-forgotten Viennese organist and composer born in 1858. This is not the place to discuss his life and times suffice to say that at one time he briefly roomed with Mahler at the Vienna Conservatory but by 1880 things were not going well for him and his plan was to win the Beethoven competition with his Symphony in E Major. To further this aim he visited Brahms and alluding to the similar elements found in the finale of Rott's symphony to his own C Minor symphony, Brahms harshly stated that Rott could not possibly have written the work himself and told the young composer that he had no talent whatsoever. During the competition, the symphony was laughed at by the jury, which included Karl Goldmark and Brahms. His former teacher, Bruckner, was incensed at its members, predicting that 'you will hear great things yet from this young man' and he encouraged Rott not to give in. Rott wrote a pleading letter to Hans Richter, outlining his despair at the prospect of leaving Vienna. However despite some encouragement Richter and the Vienna Philharmonic Orchestra refused to programme his music and Rott increasingly became convinced that Brahms was conspiring against him, jealous of his talents as a musician. Forced to accept a post as choirmaster at Mullhouse in far off Alsace, on the train there Rott used his pistol to keep a fellow passenger from lighting a cigar because 'Brahms had filled the train with dynamite.' He was taken to the Landesirrenanstalt (insane asylum), where he was interned as a patient of the lowest, non-paying class, and died due to TB within three and a half years, on 25 June 1884 with his symphony still unperformed and unpublished.
Why is this important? Well because Mahler's music – especially the scherzo of the First Symphony (begun the same year that Rott died) – is widely considered to have a number of 'borrowings' of material and ideas from the 1878 work and Mahler clearly now hits the goal that Rott could not! Once again the printed BBC Proms programme failed to mention any of this despite an otherwise lucid introduction to the symphony by David Matthews. This is strange because the very same BBC Symphony Orchestra will be performing Rott's only symphony at the Barbican on 28 November. Matthews also surprisingly neglected to comment on the fact that that the Jewish/Slavonic music in Mahler's second movement is anything other than what it sounds like: klezmer. Commentators on Mahler's music as diverse as Donald Mitchell and Benjamin Zander have strangely been keener to vaguely call it 'gypsy music'. But played as it was here at this Prom we clearly were at a Jewish wedding!
 On the podium Marin Alsop's energised conducting oozed respect and understanding for Mahler's music and generated clean textures and an overarching un-idiosyncratic account of the youthful score. It was suitably ethereal or haunting when required and despite moments of introspection a head of steam built up throughout the first three movements towards a resplendent finale. Here the stirring brass chorale with its heroic final bars – and the widely exultant celebration of the triumph of life over death – could never fail in such safe hands and with such a wonderful orchestra as BBC Symphony Orchestra. Throughout there was almost a masterclass from guest leader Laura Samuel and Graham Bradshaw's cello sombrely intoned Mahler's third movement 'Funeral March'.
 It was strange that there appeared a few more empty seats for the Mahler in the Royal Albert Hall than there were for first half which featured music by contemporary American composer, John Adams, including his 1986 Short Ride in a Fast Machine (fanfare for orchestra) – a very short piece indeed whose momentum comes from a woodblock's percussive impetus. Clearly an inspiration for Murray Gold's compositions for this century's revival of TV's Dr Who it was no more substantial than soundtrack music despite Keith Potter's programme note attesting that it is 'one of this composer's most entertaining musical romps.'
 This was followed by his 2013 Saxophone Concerto.  If the Short Ride was all too brief, the Saxophone Concerto at about 30 minutes outstayed its welcome. As John Adams himself writes 'It begins with one long first part combining a fast movement with a slow lyrical one. This is followed by a shorter second part, a species of funk-rondo with a fast, driving pulse'. Adams's father was a saxophonist and it is clearly a much-loved exercise in nostalgia incorporating the licks and riffs of the instrument's greats of a bygone era – Charlie Parker to name just one. Despite some lyrical toing and froing with the brass and woodwind (notably the clarinets), the music – to my mind – lacks development and depth. Certainly Adams' 'fast, driving' (Molto vivo) second part is little more than his Short Ride with the saxophone replacing the woodblock. Nevertheless Tim McAllister 'the reigning master of the classical saxophone' was a committed and outstanding soloist. Marin Alsop in Proms Q&A in the programme said about Adams 'I have treasured my work with John over the years. He is not only an inspiring composer, but an inspired human being.' Alsop and the BBC SO clearly seemed to believe in the work that is intermittently soulful, bluesy or upbeat and I believe their enthusiasm would have been more infectious had the concerto been somewhat shorter.
What is not in doubt is how worthy Marin Alsop was to be presented by composer Colin Matthews (brother of David) – on behalf of the Royal Philharmonic Society – Honorary Membership of the Society before she conducted Mahler's First Symphony. The citation began with the following words that sum-up the New York-born conductor quite succinctly: 'Marin Alsop is an inspiring and distinguished artist who is also a role model for the twenty-first century musician. She is as widely recognised for her imaginative programming as for her deep commitment to education and to the development of audiences of all ages.' She is the 137th recipient since the first honorary membership was made to Carl Maria von Weber in 1826.
Jim Pritchard
For more information about the remaining 2014 BBC Proms visit www.bbc.co.uk/proms.