United Kingdom Shostakovich, Ravel: Viktoria Mullova (violin), Hallé, Hallé Choir/Sir Mark Elder, (conductor) Bridgewater Hall, Manchester, Thursday 9.10.2014 (MC)
Shostakovich: Violin Concerto No. 1
Ravel: Daphnis et Chloé – complete ballet (with chorus)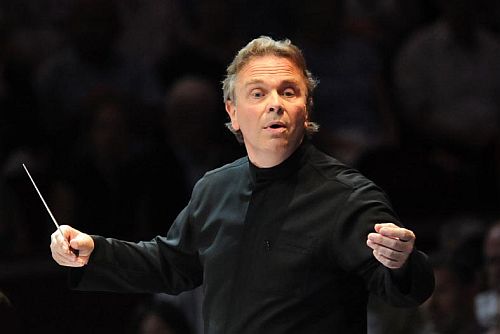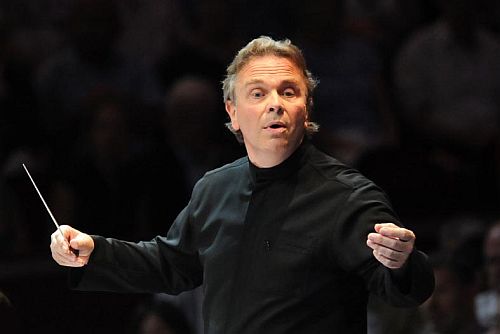 This Hallé season disappointingly doesn't contain a concert performance of any theatrical work, a domain that the Hallé and Sir Mark Elder do so well. I hope in future seasons we might see a staging of say Bernstein's Candide, or maybe something better known such as Mozart's The Magic Flute or Bizet's Carmen.
The first concert of the Hallé Thursday Series at the Bridgwater Hall was my pick of another Slavic/Russian infused concert season that includes all six of Shostakovich's concertos. These are financially difficult times for orchestras and in recent seasons the Hallé has tended to avoid using pricey elite soloists tending to concentrate on younger up and coming performers so it was especially exciting to welcome world renowned violinist Viktoria Mullova to the platform. When I last saw Mullova perform it was in Dresden and I interviewed her in the afternoon prior to her evening jazz set with her husband's combo. Mullova and the Hallé in Shostakovich's Violin Concerto No. 1 proved to be a dream combination. Looking elegant in her skin-tight crimson haute couture gown it was hard to imagine anyone playing better than Mullova in a work she must have lived with for decades. The way the London based Russian played the Nocturne was gripping, providing an aching brooding that felt almost unbearable, contrasting starkly with the unrelenting energy of the bustling Scherzo. Containing such lamentable passion, the Passacaglia was numbing in its intensity and you could hear a pin drop during Mullova's expressive cadenza. Almost overpowering in its excitability, the thrilling performance of the Burlesque: finale confirmed we had witnessed a master at work.
Daphnis et Chloé is undoubtedly Ravel's juiciest creation and rather than perform one of the suites Sir Mark chose to play the complete ballet score adding to his large orchestra around 140 singers of the Hallé Choir. I'm not sure the length of the complete ballet without the visual aspect of the dance holds the attention as much as the suites. Thankfully Sir Mark, never allowing his tempi to linger, avoided mere theatrical scene painting, giving the opulent score a fluid and elegant performance that sparkled from the first note to the last. Best of all Ravel's cascades of passion in the climaxes of the score felt intoxicating, sending shivers down the spine. Throughout Sir Mark's sure-footed handling of the Hallé was a joy, exhibiting little outward display he just got on with the job. Well prepared as expected the Hallé Choir was exemplary in its wordless choruses. Ravel's writing gave several wind players opportunity to shine and I especially relished the principal horn and cor anglais contributions.
Michael Cookson