United Kingdom Styne & Sondheim, Gypsy: Gypsy Company, Nicholas Skilbeck (musical director). Savoy Theatre, London, 15.4.2015. (JPr)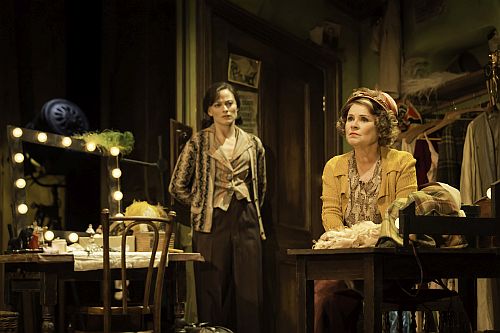 Cast:
Momma Rose: Imelda Staunton
Louise: Lara Pulver
June: Gemma Sutton
Herbie: Peter Davison
Baby June: Scarlet Roche
Baby Louise: Lara Wollington
Production:
Book by Arthur Laurents
Music by Jule Styne
Lyrics by Stephen Sondheim
Original Production directed and choreographed by Jerome Robbins
Directed by Jonathan Kent
New Orchestrations by Nicholas Skilbeck and Tom Kelly
Choreography: Stephen Mear
Set and Costume Designer: Anthony Ward
Lighting Designer: Mark Henderson
Sound Designer: Paul Groothuis
Video Design: Ian William Galloway
Gypsy is often revered as the 'greatest American musical' and this West End outing for the big success of the 2014 Chichester Festival production supports this claim strongly. Undoubtedly – yet again like many evenings of its kind – its structure is not perfect but there is great depth and resonance to the story. Events on stage during Gypsy can create a genuine emotional frisson in those watching the domineering mother with delusions of grandeur relentlessly pushing her children towards the spotlight, even though it is a familiar tale. One of my favourite films that treads much the same ground is the 1955 The Seven Little Foys with the incomparable Bob Hope.
Momma Rose has had a hard life and never achieved much but if June, who she thinks has talent, 'makes it' it will be all due to her 'guidance', even though it might mean she ignore her other daughter Louise. It helps that the story is superficially a 'real one' because as most people know Louise in fact becomes the burlesque star, Gypsy Rose Lee, in the pre-WWII years. After her mother's death she wrote a Mommie Dearest­-type exposé of her life on the road with her mother and sister. Incidentally June also got to Broadway which was always her mother's dream, and so both children had the success in the end her mother craved, even if it that was perhaps more for herself than them.
Even with all it has going for it Gypsy has never really been a huge success either when first put on or in its many subsequent revivals. It is difficult to put a finger on why this might be. The return of Gypsy to the West End was given a typically glitzy first night with 'celebrities' out in force though I am never certain what this adds to the potential success of any show. For all their achievements the only truly important figure I saw sitting near me – and deserving of genuine reverence – was Dame Angela Lansbury. A sprightly 89, she is a recent Olivier Award winner but, more importantly, was the driving force behind reviving Gypsy in London and on Broadway in the early 1970s. The London production closed in 1974 and the show has not returned to the West End until now.
Because of the current obsession with reality TV in recent decades and the vicarious talent shows it has brought us, perhaps modern audiences can relate more than ever to the fractured family at the show's centre: Rose, the smothering force-of-nature mother who is fiercely determined to make a star out of at least one of her children; Herbie, the kind-hearted candy salesman and reluctant theatrical agent who is eager to marry her; and those two daughters, June and Louise. Through Anthony Ward's sets and costumes, the intriguing use of Ian William Galloway's video and, especially, the intimacy of the Savoy Theatre stage, we are made keenly aware of the seediness of the cut-rate vaudeville circuit through which Rose drags her increasingly discontented daughters, as well as those she can persuade to perform alongside them. There is the relentless dispiriting pursuit of that one-in-a-million chance  of topping the bill somewhere, sometime, and there is little room for sentimentality here. The show's dusty, shabby look – relying heavily on often naively-painted flats and backdrops – summons the backstage world where sweating and optimism is all there really is, and amongst all the shabbiness glamour is at a premium.
As Momma Rose Imelda Staunton reprises the role many thought she made her own last year at Chichester and it is a tremendous performance. She is outwardly caring, deceptively ordinary-looking, yet hyperactive and volcanic, with the balance of hope and desperation in her demeanour always ready to tip one way or the other. At the start this Rose's energy and eagerness is infectious and you can understand why Herbie would be smitten with her, yet very often a much darker, more uneasy willpower erupts. In her two great curtain numbers, 'Everything's Coming Up Roses' and 'Rose's Turn' her dark side overtakes so completely that you feel that you are watching a woman who – mimicking her daughter's success in burlesque – is also stripped naked psychologically. 'Rose's Turn' is a tour de force at the end of the show as Ms Staunton revisits and lays bare all of Rose's inner demons. In the magnificence of her performance my only concern was how much it sounded that her heartfelt singing had been influenced by her predecessors in the role such as Ethel Merman and Angela Lansbury, herself. Nevertheless with 'Rose's Turn' she clearly shows us a woman on the verge of a nervous breakdown and there is absolutely no separation between song and character. This edges Gypsy towards musical perfection.
To make Gypsy work I suspect a great Momma Rose – as it gets here – is usually enough but here we are given so much more. Jonathan Kent, the director of this revival, and his collaborators have applied the same careful examination to the impulses of all the major characters. More than ever I suspect we can appreciate Gypsy as not just a one-woman show but as the sad tale of conflicting desires, of members of one family vainly longing for a mother's recognition, craving her love and respect, and for security and happiness. Jonathan Kent's sublime production makes everyone fully aware of the pain caused by repeatedly missed connections.
Peter Davison's Herbie is palpably in love with Rose and ultimately has his heart broken by her self-absorption. He doesn't have the strongest singing voice but I wondered whether he was entirely well. The relationship between June, on whom Rose has pinned all her hopes, and the neglected Louise was superbly drawn by Gemma Sutton and Lara Pulver. Their duet, 'If Momma Was Married' allowed for a reassuring reconciliation between two previously alienated siblings. Ms Sutton as June had the resilience and sense of purpose that clearly showed she was her mother's daughter. Lara Pulver was splendid as she convincingly traces the tomboyish Louise's trajectory from being becoming her mother's daughter out of necessity – when June elopes with one of the boys in the act – to the captivating and cunning Gypsy Rose Lee. It is a totally credible metamorphosis from vulnerability to dominance and Ms Pulver clearly shows what is lost and gained during her character's 'journey'. Because Momma Rose is a bit of a cartoon-like battle-axe it was Lara Pulver's Louise whom I most believed in and 'rooted for' … and if she ever does anything better in the theatre – whether in a straight play or a musical – I will want to be there!
Jonathan Kent makes sure that we sense the hunger for showbiz success at all costs in everyone we encounter in the musical, including the wonderfully seedy trio of strippers who initiate Gypsy into their art (Louise Gold, Julie Legrand and Anita Louise Combe) and Tulsa (the accomplished Dan Burton) who dares to strike out on his own.
Jule Styne's fine score with its high-octane highlights gets the care and attention it deserves from the 14-strong band under Nicholas Skilbeck in the Savoy Theatre's tiny pit. Generally the book is actually strong enough – with all the emotional conflicts between the characters and turmoil within each of them – for the songs (with lyrics by a young Stephen Sondheim) not to be noticed as songs apart from those rafter-rattlers from Momma Rose at the ends of both acts which drew – totally expected albeit seemingly spontaneous – standing ovations from the first-night audience.
Do I have reservations? As with many similar musicals Gypsy is much too long with a first act that extends the time before we get to the emotional heart of the story. As absolutely fabulous as the young performers are (led by Scarlet Roche as Baby June and Lara Wollington as Baby Louise) we hear 'Let Me Entertain You' too often and there is only so much over-cute pirouetting, baton twirling and flag-waving etc. that an audience in 2015 should be subjected to. Eventually we get Jerome Robbins's original 'Time Lapse Transition' and everyone grows up. Once this  happens and Louise sings her poignant 'Little Lamb' the show took its relentless grip on me that never let up. Do go if you can!
Jim Pritchard