Germany Puccini: Madama Butterfly, Bayerische Staatsoper Orchestra and Chorus, Daniele Callegari (conductor), Nationaltheater, Munich, 13.7.2015 (JMI)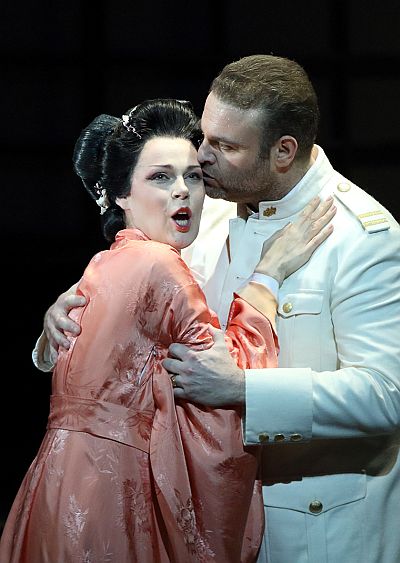 Cast:
Cio Cio San: Kristine Opolais
Pinkerton: Josep Calleja
Sharpless: Markus Eiche
Suzuki: Okka Von Der Demerau
Goro: Ulrich Ress
Bonzo: Goran Juric
Yamadori: Andrea Borghini
Kate Pinkerton: Marzia Marzo
Production: Bayerische Staatsoper
Direction: Wolf Busse
Sets: Otto Stich
Costumes: Silvia Strahammer
I saw this opera in Munich last February with almost the same cast but a different musical director. Although the overall result is not very different, there are some aspects that I would like to mention.
This is the Wolf Buss production from 1973, and there is really nothing to add to my February comments on it
On this occasion Daniele Callegari was in the pit. I've never found him an especially exciting conductor, but he was much better here than I expected, brilliantly recreating the symphonic moments that Puccini put in the score, especially the passage known as the "Dream of Butterfly." It is true that there were times when the orchestral volume was excessive, but this mainly took place in passages when there is no singing. He might be accused of having covered the protagonist, but I would point out that she was the only singer to whom this happened. The Bayerisches Staatsorchester once again offered an excellent performance, and the chorus was faultless, especially in the beautiful "Coro a bocca chiusa."
As in February, Cio Cio San was sung by Latvian soprano Kristine Opolais. If her performance in February was somewhat disappointing, the story has been repeated now: her voice seemed even smaller this time. There's no doubt that Ms. Opolais has a number of qualities which are very important for success today in the world of opera. In addition to her attractive presence on stage, she has a beautiful voice and a very rare quality as actress. But there is also a problem, which is that the size of her voice is small and clearly insufficient to deal with Cio Cio San. She was almost inaudible on many occasions in Act I, and the same, although to a lesser extent, can be said of her second act. One might think that the conductor shares the responsibility, but the same thing happened in February under conductor Stefano Ranzani. On top of this, she was the only member of the cast who had problems reaching the audience. In the Act I love duet, Ms. Opolais was overshadowed by Josep Calleja, who does not have a powerful voice. The same thing happened in the so-called duet of the flowers, where Okka Von Der Demerau's voice was bigger than the protagonist's.
However, Ms. Opolais was outstanding at the end of the opera. In Cio Cio San's death we could witness Ms. Opolais' skill as an actress, and I must say, as do the Italians, that she died in bellezza. Not even Greta Garbo in her great days could do better.
 Although the famous D flat at the entrance of Butterfly on stage is optional, I'm not aware of any soprano who, having the note, does not hit it. Kristine Opolais avoided it here; she did hit it in February, although fairly sui generis.
Pinkerton was Josep Calleja, who had cancelled in February. The Maltese tenor's interpretation was impressive, in terms both of singing and acting. Unfortunately, he had more than serious problems in the aria "Addio fiorito asil."
Markus Eiche was again a solid Sharpless, and Okka Von Der Demerau repeated her fine Suzuki. The secondary characters were played by the same singers as in February.
José M. Irurzun