United Kingdom Sibelius & Magnus Lindberg: Christian Tetzlaff (violin), BBC Philharmonic Orchestra/John Storgårds (conductor), Bridgewater Hall, Manchester, 7.11.2015. (MC)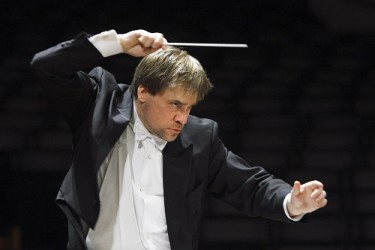 Sibelius: Karelia Suite (1893)
Magnus Lindberg: Violin Concerto No. 1 (2005/06)
Sibelius: The Swan of Tuonela (1893, rev. 1897, 1900)
Sibelius: Symphony No. 5 (1915, rev. 1916, 1919)
After braving the traffic that was virtually grid locking Manchester – a combination of the Christmas Lights switch-on celebrations and the football match at Old Trafford – it was good to unwind at the Bridgwater Hall. To mark the 150th birthday of Sibelius the BBC Philharmonic's principal guest conductor and Nordic music specialist John Storgårds was conducting works by Sibelius and Magnus Lindberg in an all Finnish programme.
Always a welcome opener the Karelia Suite got off to a relatively disappointing opening a touch lacklustre with some untidy horn playing. Matters soon improved with the hymn-like Ballade that felt proud and regal and the lively Alla Marcia movement so warm hearted increased in grandeur.
A masterstroke was the programming of Magnus Lindberg's single movement Violin Concerto No. 1 for strings and wind ensemble, a virtuosic showpiece that felt like the type of work Sibelius might have been writing today. German soloist Christian Tetzlaff is a fine player whom I last heard at the Musikfest Berlin 2012 playing the Beethoven concerto with the St. Louis Symphony. With writing often pitched in the highest registers of the instrument the assured Tetzlaff played almost continuously singing out a mood of fire and ice shot through with highly charged energy. I was struck by the unsettling undercurrent of nervous tension and by contrast the rather wild section of folk dance themes heard through a modern prism.
Another magnificent solo display was heard in Sibelius's compellingly evocative The Swan of Tuonela. With the cor anglais representing the voice of the swan Gillian Callow gave a performance of real stature that was naturally presented and understated. Beautifully played, the section for full orchestra is a generous Sibelius in his most Romantic voice.
Making a considerable impression under the no nonsense approach of Storgårds was the principal work of the evening Sibelius's Symphony No. 5, a work both conductor and orchestra know so well. Storgårds managed the challenging tempi and dynamics to telling effect, providing convincing urgency and vitality to his reading while maintaining an intriguing sense of expectancy until the end. For my ideal interpretation a slightly darker edge from the strings would have added to the drama and the six staggered chord strikes that conclude the work curiously lacked impact. Inspired by a wedge of swans passing overhead the composer's famous 'swan hymn' intoned admirably by the five horns was a genuine highlight as was the consistently distinguished playing of the trumpets.
On the downside the whole concert consisted of just over eighty minutes of music. It would have been welcome to have included one of Sibelius's excellent tone poems – such as Pohjola's Daughter or The Oceanides.
Michael Cookson