United Kingdom Gilbert & Sullivan, Ruddygore:  Manchester Universities & RNCM Gilbert & Sullivan Society, Manchester Grammar School Theatre, Manchester, 10-13.2.2016. (RJW)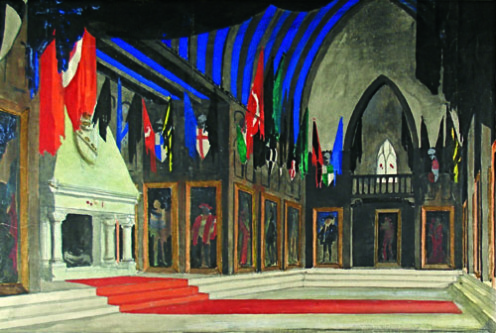 Gilbert & Sullivan, Ruddygore
Cast:
Robin Oakapple: Peter Edge
Richard Dauntless: Tom Loughlin
Sir Despard Murgatroyd: Robert Brocklehurst
Sir Roderic Murgatroyd: Sam Saunders
Old Adam: Calvin Davison
Rose Maybud: Mathilda Du Tillieul McNicol
Mad Margaret: Lucy Vallis
Dame Hannah: Louise Chandler
Production:
Director: Jordan Hulme
Musical Director: Tom Guyer
Gilbert & Sullivan aficionados will sit up at mention of Ruddygore, spelt with a 'y', for this 1887 comic opera is seldom seen. It underwent cuts soon after its opening performance and also in 1921 when revived by the D'Oyly Carte Opera Company. The first changes caused the dropping of an extended ghost scene, a second verse to Act II's opening, and original version of Robin's patter song, "For thirty-five years". The second changes dropped the lovely "The Battle's roar is over" duet and catchy "Basingstoke" finale in Rupert D'Oyly Carte's attempt to shorten the opera.  On this second occasion, Geoffrey Toye changed the overture and made some musical adjustments. All these changes became set in stone and today's theatregoers have been generally unaware of the lost material, here faithfully restored by MUGSS. The introduction of a parson and witch was a nice touch and reinstating some elements of the old script also provides added interest.
The highlights of this show are undoubtedly the first-class singing and outstanding performances: the principals were well rehearsed and they acted with sincerity. Of these Robin (Peter Edge) carried the show with his charisma and strong warm-toned baritone voice.  Rose with her innocence, Margaret with her wild charm, Dame Hannah with her wise words and Richard with his nimble dancing used the stage confidently and all made magnificent contributions. The other principals were equally faultless. Hannah's make-up convincingly transformed her appearance and this might have been extended to the gruesome ghosts who occasionally had relaxed expressions. The well-rehearsed chorus was superb, especially in their madrigal and double chorus numbers.
An interesting inset scene to mime Sir Rupert's "Legend" was included and a point of mention should be made to the composite set with an ingenious fireplace revolve in Act II for Sir Roderic's entrance. Steps on each side reached a study balcony on which four picture frames were hung. The effect of the ghosts stepping out of their frames was well achieved despite first-night teething troubles. One might have wished for more subtlety in lighting control because when right it was good.
On the production side the need to introduce two modern numbers was a surprise, especially the jiving of ghosts: even if the excuse was high jinks for "the ghosts' high noon", it contradicted the mood of the scene. In Act I a vamping of the Hornpipe was more acceptable, but out-of-place chord structures to Sullivan's excellent music seemed unnecessary: even Papp's modern score for The Pirates played the music straight. More successful was the modern setting of themed music for the curtain call, which had been clearly written with skill. The orchestra was different this year and a synthesizer had been introduced, presumably to boost the strings. But its timbre tended to mar some of the well-played wind parts, especially in "My eyes are fully open". This patter trio was brilliantly sung by Peter Edge, Lucy Vallis and Robert Brocklehurst with some of the clearest diction I have ever heard on the stage.
Much work had been put into rehearsal and Jordan Hulme's production has created some believable characters. The production plays for the rest of the week with a matinée performance on Saturday.
Raymond J Walker