United Kingdom Mozart, Don Giovanni: Soloists, Chorus and Orchestra of English Touring Opera / John Andrews (conductor), Everyman Theatre, Cheltenham, 14.4.2016. (RJ)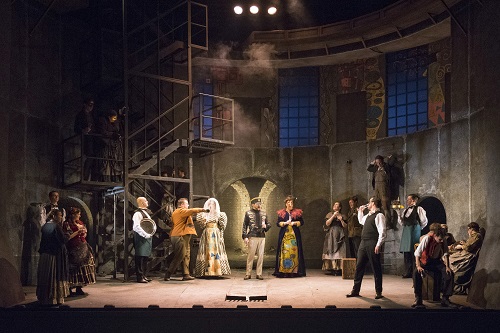 Mozart, Don Giovanni
Production:
Director: Lloyd Wood
Designer Anna Fleischle
Lighting Designer: Guy Hoare
Assistant Director: Laura Attridge
Dramaturg: Gretl Satorius
Movement Director: Jo Meredith
Cast:
Don Giovanni: George von Bergen
Leporello: Nicholas Stiff
Il Commendatore: Piotr Lempa
Donna Anna: Camilla Roberts
Don Ottavio: Robyn Lyn Evans
Donna Elvira: Ania Jeruc
Masetto: Bradley Travis
Zerlina: Lucy Hall
Normally when I attend a performance by English Touring Opera it is of an opera I have never seen before in my life – Donizetti's Pia de'Tolomei and The Wild Man of the West Indies spring to mind.  However, this enterprising company is also thoroughly at home in more popular repertoire, and for once I was able to relax and enjoy their polished performance of Don Giovanni sung in  Jeremy Sams' witty English translation. Surtitles were provided but were hardly necessary given the excellent diction of the singers.
Director Lloyd Wood has set his production in the underworld of Vienna in the early 1900s away from the glitter and glamour normally associated the final years of the Austro-Hungarian monarchy. I was not entirely convinced by the concept – particularly in the scenes of what was conceived by Mozart and da Ponte as a village wedding – but the subterranean tunnels certainly provide an atmosphere of foreboding, which Carol Reed captured so memorably in The Third Man. Most of the chorus are shabbily attired  but the principals were better turned out in costumes of the period, notably Don Ottavio in a smart cream suit and Donna Elvira with her stylish dress and hairdo.
The women in this production are all well contrasted. Camilla Roberts is a suitably matronly Donna Anna, very much the prima donna swept away on a wave of emotion from beginning to end. Ania Jeruc is an intense and purposeful Donna Elvira determined to exact revenge on her seducer. She is clearly a woman to be reckoned with as she leads the charge to gatecrash the wedding party. Lucy Hall gives a delightful portrayal of Zerlina who gently chides her jealous husband with an invitation to beat her for being a naughty girl with a hint of mischief in her look.
George von Bergen, a Brit despite his surname, is one of the most sinister Don Giovannis I have ever experienced; he is blessed with a powerful voice and a commanding stage presence. His long suffering servant Leporello is played by Nicholas Stiff who reminds me of the actor Zero Mostel – though perhaps I need to treat myself to some new specs! (Certainly Elvira and Co need their eyes tested if they manage to mistake his rotund figure for the slim Don Giovanni.) Stiff's embodiment of Leporello elicits our amusement and engages our sympathy, and after all the troubles heaped upon him by the tyrannical Giovanni one prays fervently that he will find more congenial employment next time round.
I hate to single out any particular singer since ETO's musical and acting standards are uniformly good; for once I even appreciated the qualities of Masetto (Bradley Travis), who is a more rounded character in this production, and Don Ottavio who is not the wimp he is usually portrayed as. Piotr Lempa comes into his own as the Commendatore in the final stages when he emerges from the murk to dine with Giovanni, a shadowy figure in a top hat and with a glint of menace in his voice. It is small wonder that for the first time in his life Don Giovanni is scared out of his wits; when real flames appear on stage and hell beckons he has reason to be.
Despite my reservations about the setting this is a well crafted production well worth seeing with atmospheric lighting effects by Guy Hoare and imaginatively thought out crowd scenes thanks to Movement Director Jo Meredith. There is excellent support from conductor from John Andrews and his tireless band, and as this lively company travels the land from Canterbury to Carlisle things can only get better.
English Touring Opera continues its tour to Buxton and Cambridge (April); Crawley, Canterbury, Wolverhampton, Blackpool, Durham, Perth, Exeter and Leicester (May); York, Stoke on Trent; Ulverston and Carlisle (June). For details of performances see www.englishtouringopera.org.uk. Cast and conductor may differ from above listing.
Roger Jones