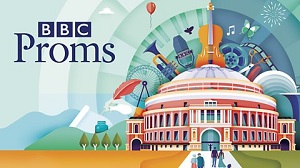 United Kingdom Proms Chamber Music 8 – Purcell/Britten, Mendelssohn, Quilter:  Carolyn Sampson (soprano), Iestyn Davies (counter-tenor), Joseph Middleton (piano), Cadogan Hall, London, 5.9.2016. (RB)
Songs by Purcell (arr. Britten), Mendelssohn and Quilter
This was the last in this year's series of chamber music recitals at the Proms and I am pleased to say that it was an absolute delight from start to finish.  The programme was diverse and wide ranging, starting with Britten's realisations of Purcell's songs and duets before moving to Mendelssohn's unjustly neglected songs and finishing with Roger Quilter.  BBC Radio 3's Petroc Trelawny introduced each selection of songs from the stage.
Britten was an ardent admirer of Purcell's music which he described as having 'clarity, brilliance, tenderness and strangeness'.  He produced realisations of almost 50 Purcell songs over a period of 30 years.  Britten kept the melody and bass line but inserted unusual inner harmonies and introduced counter subjects of his own.  In the opening duet of the recital, Sound the trumpet, Sampson and Davies gave us contrasting tone colours and they vied well with each other.  The ornate ornamentation was executed brilliantly while Middleton supported the singers well while making the most of the playful piano part.  There was an immediate change of atmosphere in Lost is my quiet in which both singers blended beautifully and brought a heartfelt expressive quality to the music which was supported by a subtle elasticity in the phrasing.  Sampson was particularly impressive in this song which she invested with depth of feeling and a warm luminosity.  Davies took centre stage for Music for a while which he sang with a rapt beauty of tone and impeccable diction.  The interplay between him and Middleton on the penultimate line of the song (which features some unusual harmonies by Britten) was particularly good.
Sampson and Middleton brought flexibility and nicely varied tone colours to If music be the food of love.  In the duet No, resistance is but vain I was impressed with the way in which the singers combined in such a seamless and compelling way to handle the repetition of key words.  Davies gave us dazzling, crisply articulated coloratura runs while both singers showed enormous vocal agility in the final section of the song.  The Purcell selection concluded with Celemene, pray tell me which uses a short extract from Thomas Southerne's play Oroonoko which is in turn based on the novel by Aphra Benn.  There was some lovely word painting, nicely flowing legato lines and energetic rhythms in this short extract.  The duet ends on a sexually suggestive note as the lovers fall into each other arms and the singers brought the drama to life brilliantly as Sampson slid suggestively behind Davies and put her hand on his shoulder.
Before we moved to the next selection of songs, Petroc Trelawny commented that Mendelssohn is probably the only composer who is more famous for his songs without words than his songs with words.  There is no doubt that these songs deserve to be better known and hopefully Davies, Sampson and Middleton's efforts will introduce them to a wider audience.  Davies and Sampson opened the set with the duet, Ich wollt' meine Lieb' ergösse sich which is a setting of a Heine poem.  The singers were sweetly expressive while Middleton's piano tripped along delightfully conjuring up Heine's airy breezes to perfection.  Davies' performance of Scheidend was absolutely stunning:  exquisite legato phrases were sung in an effortless way with Davies investing every word with a rich emotional resonance.  Sampson and Middleton brought an elfin lightness to Neue Liebe conjuring up the fairy tale world of A Midsummer Night's Dream.   The selection concluded with three duets from Op.77 and I particularly enjoyed the final song of the set entitled, Lied aus 'Ruy Blas' with the lilt and sway of its vocal lines and scampering piano part.
From the sunny, unsullied exuberance of Mendelssohn we moved to the pastoral idealism of Quilter's It was a lover and his lass, performed on this occasion as a duet.  All of the musicians combined to superb effect to create the tranquil atmospherics and the first blossom of young love.  Davies imparted a Romantic vocal bloom to Music, when soft voices die while Sampson brought out the sense of wonder in Love's Philosophy and gave us some thrilling high notes against Middleton's exemplary rippling accompaniment.  All three performers joined forces one last time for Love calls through the summer night from Quilter's light opera Julia.  Davies and Sampson moved seamlessly from the heady atmosphere of the opening to the waltz refrain which was delivered with panache bringing the recital to its triumphant conclusion.
The performers were greeted with enthusiastic applause from the Cadogan Hall audience and performed Quilter's Weep you no more as an encore.  Overall, this was superlative music making of the highest order – bravo to all the performers!
Robert Beattie