Spain Verdi, Rigoletto: Orchestra and Chorus of the Gran Teatre del Liceu / Riccardo Frizza (conductor), Gran Teatre del Liceu, Barcelona, 28 & 29.3.2017. (JMI)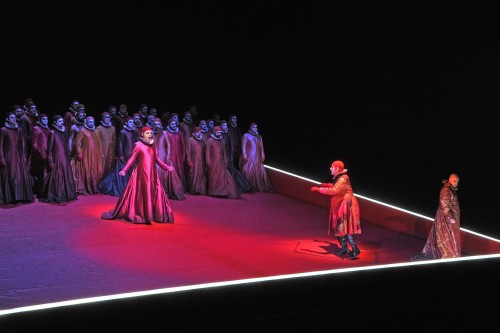 Casts:
Rigoletto – Carlos Álvarez/Ángel Ódena
Gilda – Desirée Rancatore/Maria José Moreno
Duca di Mantova – Javier Camarena/Antonino Siragusa
Sparafucile – Ante Jerkunica/Enrico Iori
Maddalena – Ketevan Kemoklidze/Ana Ibarra
Monterone – Gianfranco Montresor
Giovanna – Gemma Coma-Alabert
Marullo – Toni Marsol
Matteo Borsa – Josep Fadó
Count Ceprano – Xavier Mendoza
Countess Ceprano – Mercedes Gancedo
Production:
Direction – Monique Wagemakers
Sets – Michael Levine
Costumes – Sandy Powell
Lighting – Reinier Tweebeeke
Rigoletto was last performed at the Liceu 12 years ago, which is rather surprising: this popular work is seldom absent from an opera schedule for so long. At that time, the stellar cast was headed – as now – by Carlos Álvarez, who was accompanied by Marcelo Álvarez and Inva Mula. There were 16 performances in 2005, while this time there will be 13 with two different casts. Perhaps I should say three casts since there was a special performance by Leo Nucci that I wasn't able to attend.
This is a co-production of the Liceu and Teatro Real, where it was seen in 2009; the premiere actually took place in Amsterdam in 2004. It's a colorful and minimalist staging, notable for the absence of decoration. The simple stage consists of a large moving platform, which can lead to some confusion when the action must take place on two different levels. The only other element is a huge ascending staircase in Rigoletto's house, a kind of Jacob's ladder. The colorful costumes are more or less medieval, and the lighting by Reinier Tweebeeke is excellent.
A production with this simplicity requires outstanding direction, which is basically achieved here, although not always. One should mention the role played by the chorus, all dressed alike, who sing and observe in the manner of a Greek tragedy.
Riccardo Frizza returned to the Liceu pit after leading Bellini's Capulleti last season. His conducting was correct but not particularly brilliant; the tempos were too slow on more than one occasion. Both the orchestra and the chorus gave strong performances.
The protagonist, the hunchback Rigoletto, was brilliantly incarnated by Carlos Álvarez in the first cast. I found him fully recovered from his vocal problems: his voice is powerful and well suited to the role, and he sang with expressiveness and subtlety.
In the second cast was Ángel Ódena who, in an interview with Leo Nucci, stated that playing Rigoletto is the dream of all baritones. There is no doubt that Mr. Odena's voice is appropriate for Verdi, and his performance was more nuanced than is usual with him.
Gilda was Italian soprano Desirée Rancatore, who was not as impressive as Maria Jose Moreno in the second cast. She showed signs of vocal fatigue, and her high notes were strident. Ms. Moreno was a perfect Gilda from beginning to end, with a magnificent 'Caro nome'.
The great attraction of this Rigoletto was the debut of tenor Javier Camarena in the part of the Duca di Mantova. He was brilliant at the top of the range, his voice beautiful and strong. The weakest point for him lies in the low notes, which are somewhat insufficient. In the second cast, Antonino Siragusa's voice lacked the weight and the attractiveness necessary for the character. It can work in Rossini operas but not in Verdi, where the vocal exigencies are very different.
Ante Jerkunica made a good impression as Sparafucile, and Ketevan Kemoklidze was nicely suited to the role of Maddalena in terms both of acting and singing. I preferred both to Enrico Iori and Ana Ibarra in the second cast.
All of the secondary characters were well covered, although Gianfranco Montresor was a disappointing Monterone.
José M. Irurzun