Louis Frémaux (13 August 1921 – 20 March 2017) – an obituary by Rob Barnett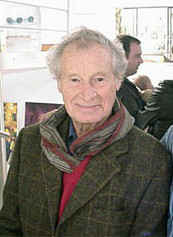 As ever, the bare bones of any person's life tell us but a small part of the individual's story and heritage. Louis Frémaux is no different in that respect. That said we need to lay them out:
– Born in Aire-sur-la-Lys, Pas-de-Calais, France in 1921 and he studied at the Valenciennes Conservatoire.
– War service in the Resistance and then as a Foreign Legion Captain in the French armed forces in Vietnam (1945-46)
– Resumed his war-interrupted studies, this time at the Paris Conservatoire with Louis Fourestier where he took first prize in conducting in 1952.
Chief conductor engagements followed:
– Orchestre National de Monte Carlo (Orchestre Philharmonique de Monte-Carlo) (1956-1965). Prince Rainier had interceded with the French authorities when Frémaux was called back to the Foreign Legion for duties in Algeria in 1956 and seemingly pulled strings to have him take over the OPMC.
– Orchestre Philharmonique Rhône-Alpes, Lyons (1968-1971)
– City of Birmingham Symphony Orchestra (1969-1978)
– Sydney Symphony Orchestra (1979-1982) 
While the received wisdom about the pre-Frémaux CBSO is that things were dire, the mid-1960s Lyrita recording by the CBSO and Hugo Rignold points in another direction. That said Frémaux helped rebuild the CBSO's battered standing in concert, on tour and through a renaissance in recordings with EMI Classics. He was also instrumental with baritone Gordon Clinton (he who made one of Beecham's Sea Drift recordings) in the founding of the CBSO Chorus. His years with the CBSO included much that was broadcast but never recorded. His approach can be sampled now on a radio tape of Searle's Labyrinth now issued by Lyrita.
I did not know Frémaux's years in Birmingham except through a couple of concerts in Bristol and the recordings he made with EMI. He made a memorable Walton disc of the Te Deum and Gloria and two Coronation marches which Edward Greenfield described as "shatteringly apt displays of pomp and circumstance". These clinched things for me. The EMI recording team and the crackling impact and energy Frémaux brought to the table were and remain remarkably enjoyable. I do not know of a better recording. Also in the same hall of fame was his stunningly recorded ballet music from Massenet's opera Le Cid (an EMI Studio 2 stereo spectacular) and a Saint-Saëns' Third Symphony that continues to give more pleasure for longer than many 'definitive' versions. In each case the sound quality reached out, involved and engaged with the listener. These LPs also included John McCabe's Notturni ed Alba and Second Symphony. Add to this major works by Berlioz, Bizet, Fauré, Ibert and Poulenc. As John Quinn has rightly said there's a poignant irony that Warner Classics (successor to EMI) are issuing in April 2017 a 12-disc box set of his CBSO recordings. We should not forget that before the EMI/CBSO connection he had recorded extensively in France for Erato, Vega and Pathé. Perhaps we will see a celebratory set from Erato (there is a modest-sized one already) and reissues courtesy of the Forgotten Records label.
John L Holmes' book Conductors on Record gives an unattributed quotation referring to Frémaux as a "… charming, popular, capable, often brilliant, hard-working and understanding conductor, not set on self-glorification nor one particularly interested in his own advancement."
As far as I know there is no biography or autobiography whether in English or French.
I have the fondest memories of several concerts that he gave with the CBSO at Bristol's Colston Hall in the early 1970s including a magically diaphanous and revelatory Ma Mère l'Oye. I left the hall walking on air. Physics and BMI being what they are it must indeed have been a superb performance.
Rob Barnett