United Kingdom Various: Tina May (vocals), Nikki Iles (piano), Dave Green (double bass), Steve Brown (drums). Dora Stoutzker Hall, Royal Welsh College of Music and Drama, Cardiff, 9.6.2017. (GPu)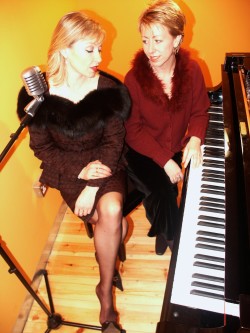 This concert by Tina May, in honour of the centenary of Ella Fitzgerald's birth (the First Lady of Song having been born on April 25, 1917), was both a fitting tribute to that great singer (Tina May called the concert an "ellabration") and a powerful demonstration of what a fine singer Tina May herself now is.
Paying tributes to jazz artists, as many a tribute CD has shown, is not an easy thing to bring off. Mere imitation of the tributee is undesirable and largely contradicts one of the essential requirements of jazz, that musicians and singers should develop their own individual 'voice' if they are to be regarded as genuine jazz musicians. But if, on the other hand, the tributee's work, is simply metamorphosed into the musical language of the musician(s) paying tribute, that, too, is unsatisfactory. The art, as many of the best tributes have shown (such as Steve Lacy's several tributes to Thelonious Monk), is to access the 'spirit' of the original artist and produce creative music in dialogue with/ extension of that spirit. This I not easy, but is precisely what Tina May and her excellent colleagues did.
May's programme consisted of songs associated with Fitzgerald and in introducing them she sometimes referenced particular recordings by Fitzgerald. But in the ensuing performances, she merely alluded, as it were, to Fitzgerald's own interpretations, through occasional echoes of particular phrases. She adopted and made use of quintessential Fitzgerald hallmarks, such as her boppish phrasing, her frequent reworking of lyrics and her extensive use of scat. Throughout, for all her evident admiration of Fitzgerald, May (unlike a certain political namesake), remained very much true to her own voice and was successful.
Having (bravely!) prefaced the concert by the recorded voice of Fitzgerald herself, Tina May began her programme with 'Nice Work if you Can Get It', citing Fitzgerald's recording on the George and Ira Gershwin Songbook, with, as she told us of another song later in her programme "music by George Gershwin and words by 'his lovely wife Ira'"(!). May's diction was very nearly as perfect as Fitzgerald's own and the 'liberties' she took were very much in the spirit of Fitzgerald. In some exchanges with drummer Steve Brown, May's scatting was of remarkable quality – Fitzgerald herself would have been impressed. Almost as impressive as May's singing was the work of bassist Dave Green, a central presence in many of the best British jazz ensembles for more years than he probably cares to remember. He provided the harmonic and rhythmic foundation for everything and also played a fine solo, with some witty paraphrase of Gershwin's theme. Nikki Iles was every bit as outstanding as those who have heard her (live or on record) in recent years would have expected. Her work is limpid and elegant, yet not lacking in force.
This first number got the evening off to a great start and set a high standard which, remarkably enough, pretty well everything that followed lived up to.  Irving Berlin's 'Cheek to Cheek' got new opening lines (Tina May's origins are in the West of England) "Devon, I'm in Devon / And my heart beats so that I can hardly speak / And I seem to find the happiness I seek / When we're out together dancing cheek to cheek", some more fine scatting from May and a wonderfully fluid solo by Iles. Kurt Weill's 'September Song' (heard on the 1960 album The Intimate Ella (in duet with pianist Paul Smith) got a performance so good and individual that mental reference to Fitzgerald felt irrelevant – this stood, independently, as an outstanding interpretation; Tina May's account of Maxwell Anderson's lyrics being characteristic of her profound 'literary' awareness, her perceptive fascination with language(s). A version of Antonio Carlos Jobim's 'Chega de Saudade', with May singing the English lyrics by Jon Hendricks, beginning 'No more blues, I'm going back home', maintained the high quality and also showed drummer Steve Brown at his best (he had seemed a little stiff in some of the earlier songs). Once again Nikki Iles came close to stealing the show, with a marvellously dexterous solo.
Pleasure after pleasure followed, with a performance of 'Every Time We Say Goodbye', in which the way in which May pulled Porter's words around expressively was particularly memorable, and a version of Mel Tormé's adaptation of the Gershwins' 'Oh, Lady Be Good': as 'Ella Be Good' written for a Carnegie Hall concert in celebration of Fitzgerald's 70th birthday (Fitzgerald had a big hit with her 1947 recording of the original).After the interval, we were treated to Joseph Kosma's 'Les feuilles mortes', with May singing both the original French lyrics by Jacques Prévert and the later English lyrics by Johnny Mercer. Here May's virtuosity was startling, as she switched between approximations of Fitzgerald's phrasing of Mercer's lyrics and some beautiful inventions of her own. A version of the Ellington/Tizol number 'Caravan', with its quasi middle-eastern rhythms (written in 1928 this was an early example of jazz's appropriation of other musical traditions), showed off both the techniques and the musical imagination of all on stage. At times in this song, May's vocal colours were very reminiscent of the young Fitzgerald.
A reading of Michel Legrand's 'Watch What Happens' began as a duet between May and Green (perhaps remembering Fitzgerald's recording of this song in duet with guitarist Joe Pass) and the bassist remained prominent throughout. Jobim's 'Bonita' found May particularly assured and convincing, while Iles was subtlety incarnate in both accompaniment and solo. Why isn't this lovely song better known?  Gershwin's 'They Can't take That Away From Me' had a supremely musical solo from Green and some powerful singing from May. There followed 'I'm Through With Love' from Some Like It Hot (written by Fud Livingston, Matty Malneck and Gus Kahn). Uniquely for this concert programme this song was not in the repertoire of Ella Fitzgerald. In the film it was famously sung by Marilyn Monroe, who was instrumental in getting Fitzgerald her first decent booking in Los Angeles, a fact which provided May's justification for its inclusion here. A fine solo by Iles was a perfect example of the art of making something of jewel-like beauty from relatively unpromising material.
Tina May chose to announce her final song by giving the audience what she called a 'cryptic clue' in Latin ('Non significat nisi pulsat') and looking quizzically at the audience. Since the audience remained silent, I felt it incumbent on me to shout out 'It Don't Mean A Thing If It Ain't Got That Swing' (composed by Ellington; its lyrics are usually attributed to Irving Mills – I wonder if he really wrote them?). This was, fittingly, taken at a fair pace and with a mighty sense of swing – May was dancing (literally) on stage as well as in her vocal contributions and it almost brought the house down. Given the audience's joy in the proceedings and the vehemence and volume with which that joy was expressed, an encore was inevitable. It took the form of an extended performance of Billy Strayhorn's 'Take the 'A' Train', which morphed into 'Sweet Georgia Brown' at one point. Some members of the audience (not me this time) were persuaded to provide an echoic repetition of some of May's scat phrases. The whole had an immensely happy party-like feel.
This concert sent me home eager to get out my Fitzgerald recordings, which I have done rewardingly in the ensuing days. But it also increased the sense I already had that Tina May deserves a prominent place amongst contemporary jazz singers (and I don't only mean amongst British singers). And made me feel even more sure than I already did that Nikki Iles is a major pianist.
 Glyn Pursglove