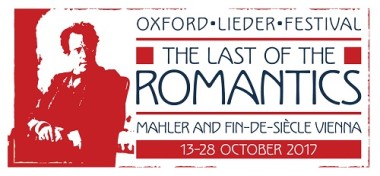 United Kingdom Oxford Lieder Festival [1] – Schoenberg: Alice Privett (soprano), Musicians of Shadwell Opera / Finnegan Downie Dear (conductor), New College Chapel, Oxford, 14.10.2017. (CR)
Schoenberg – Pierrot Lunaire, Op. 21
This year's Oxford Lieder Festival, which began on Friday, surveys Mahler's complete output of songs, within the context of 'fin-de-siècle' Vienna, through various recitals and concerts which feature the instrumental and choral music of composers of that place and period, as well as their lieder. It looks both backwards to Mahler's musical forbears in the lieder repertoire in the 19th century as well as forwards to those composers who took the form into modernity at the same that the tonal basis of Western music was being pushed to its limits. This late night performance of Pierrot Lunaire placed Schoenberg's extraordinary atonal (though not dodecaphonic) song cycle within the evocative setting of the ante-chapel of the New College Chapel, overlooked by Jacob Epstein's sculpture of Lazarus, swaddled in bandages as he emerges from death and entombment, adding to the atmosphere of a nocturnal environment, exploring the fringes of conscious and emotional being.
Throughout the performance, Alice Privett herself often seemed bewitched as she proceeded through the sequence of twenty-one songs, as if consumed with their spirit of hypersensitivity and nervous receptivity towards the array of startling visions recounted in them, though certainly beguiled by a more disturbing, or disturbed spirit than that inhabiting Lazarus with his serene posture. Indeed where the instrumental accompaniment was quietly composed and ethereal, that only seemed to add to the mystery and the sense of an unsettling presence in this work.
Privett gave a performance in which her Sprechstimme part was more melodious and lyrical than spoken, and therefore often intertwined with the accompaniment more seamlessly as music, rather than a declamation of the poetry over it (as translated into German by Otto Erich Hartleben from Albert Giraud's French original). Nevertheless she skillfully encompassed a wide range of vocal expressions, contrasting the two extremes of sung and spoken delivery in Mondestrunken, stealing in with almost a whine for Madonna before passing through a passage with nonchalant indifference, but ending up with a note of desperation and then passing on to the quiet hesitation of Der kranke Mond and to a tone of mystery, enunciated sotto voce, for Nacht. In those passages – usually brief – where the temper of the score becomes restless or extrovert, Privett remained in musical control such that her performance avoided issuing into hysteria.
Arguably there is a place for a sharper, wilder tone in these songs, but the subtler spectrum of colours and moods which Privett traversed was in character with the interpretation elicited from the five musicians of Shadwell Opera who provided the accompaniment under Finnegan Downie Dear's steady direction. Their contribution was finely etched, balanced on a finely poised edge between the neatly crafted lines brought out from individual instrumental lines (or the kaleidoscopic points of sound, as often as not, rather than full-blown melody), and a successfully integrated texture arising from among all of them, together creating the highly charged, but rarefied backdrop for each song.
In the open – but not damagingly resonant – space of the Chapel, Ashok Gupta on the piano tended to evoke in sound the same soft glints of moonlight which are often referred to or implied in the text. Even in the more riotous outbursts, the rumbling timbres from the keyboard remained under control, rather than subduing the more delicate palette of sounds around them. Notable contributions from the other instrumentalists included Hannah Black's hovering flute line at the opening of Der Dandy floating over the musical texture, and the sullen but expressive violin melody threaded by Fra Rustumji throughout Serenade, and mimicking the mellower tone of the viola referred to in that song. It was an achievement by all the performers to make this cycle of often repellent images and thoughts sound so sensuously and immediately appealing, as well as lying strangely and mysteriously just beyond grasp.
Curtis Rogers
For more about the Oxford Lieder Festival click here.