United Kingdom Verdi, La traviata: Scottish Opera / Dane Lam (conductor), Edinburgh Festival Theatre, 21.11.2017. (SRT)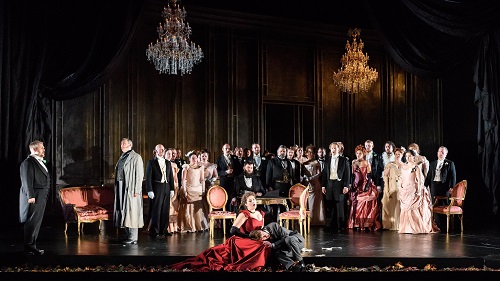 Cast:
Violetta – Gulnara Shafigullina
Alfredo – Peter Gijsbertsen
Germont – Stephen Gadd
Flora – Laura Zigmantaite
Gastone – Christopher Turner
Production:
David McVicar (original director)
Tanya McCallin (designer)
Jennifer Tipton (original lighting)
La traviata is far from being my favourite Verdi opera, but David McVicar's production is the most convincing case for it that I've seen. I really liked it when it was new in 2008 – starring a before-she-was-famous powerhouse from Carmen Giannattasio – and it has grown on me in this, its first revival. McVicar plays it straight, setting the opera in Second Empire Paris, with lavish costumes and an air of decadence to the party scenes. There is a touch of decay about the whole thing, though, pointed up by the monochrome approach to the whole visual picture and lots of telling details, such as the autumnal leaves that surround the set or the headed flowers in the second act. The passion of Alfredo and Violetta stands in contrast to the superficiality of Flora's party or the bare emptiness of the final act which has the debt collectors already camped outside the door.
If the staging tells the story well then so, too, do Scottish Opera's orchestra, on fantastic form tonight for conductor Dane Lam. The divided strings sounded clean as well as desperately poignant in the two preludes, but the party scenes crackled with life, and the instrumental solos were all exceptionally well-taken. The chorus made the most of their moments, especially exciting during the denunciation that ends the second act, and all the cameo roles sounded excellent from the ensemble of singers.
Unfortunately, however, there's a void in the middle of the production in the shape of the two leads. Gulnara Shafigullina never sounds comfortable as Violetta. Her voice has a dusky colour that's actually rather effective, but she struggled up to the high notes throughout the evening, and climaxes were always strained. Peter Gijsbertsen's voice is too small for Alfredo, struggling to make an impact in the first two acts, and failing to make a mark as a romantic hero. We're on safer territory with Stephen Gadd's haughty Germont, and Di Provenza il mar was one of the evening's highlights, but the balance of the opera is wrong when it's the father that dominates their interactions.
I forgave all these shortcomings, however, for an actually rather exceptional third act. Gijsbertsen had grown into his part by then and came across with much greater strength (perhaps helped by the sparer orchestration) and, for all her vocal limitations, Shafigullina rose to the challenge of her death scene most movingly, and acted her socks off in a way I've only rarely seen in this opera. McVicar's unflinching portrayal of Violetta's final chapter reminds you forcibly what a fearful thing it is to die of tuberculosis, and the way he depicts the unvarnished horror of her ending is something lots of other directors could learn from.
Simon Thompson