United Kingdom Verdi, Rigoletto: Soloists, Chorus & Orchestra of the Royal Opera House, Covent Garden / Alexander Joel (conductor). Royal Opera House, Covent Garden, 14.12.2017. (CC)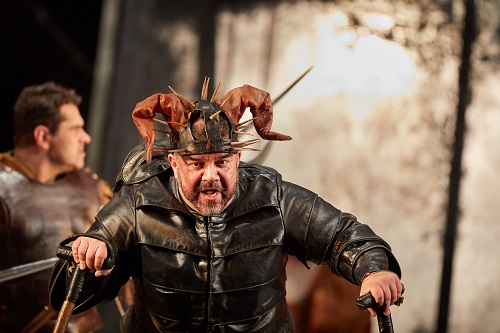 Cast:
Rigoletto – Dmitri Platanias
Gilda – Sofia Fomina
Duke of Mantua – Michael Fabiano
Sparafucile – Andrea Mastroni
Giovanna – Sarah Pring
Maddalena – Madia Krasteva
Marullo – Dominic Sedgwick
Matteo – Luis Gomes
Count Ceprano – Simon Shibambu
Count Monterone – James Rutherford
Page – Louise Armit
Court Usher – Olle Zetterström
Production:
Director – David McVicar
Revival Director – Justin Way
Set Designer – Michael Vale
Costume Designer – Tanya McCallin
Lighting Designer – Paule Constable
Movement Director – Leah Hausman
Revival Movement Director – Jo Meredith
Director of Opera Oliver Mears's entrance on stage pre-show might have heralded a cancellation: instead, it offered a tender dedication of this performance of Rigoletto to the fine singer Dmitri Hvorostovsky (1962-2017), who died recently and who had graced the stage of Covent Garden many times, not least in Rigoletto (last time in 2005). Hvorostovsky will be greatly missed of course; the dedication was quite right.
I last reviewed David McVicar's production in September 2014. Oppressive, dark and deliberately lustful and surely setting out to shock in the nudity of the opening orgy, it presents a Mantuan society in which corruption is not only rife but an integral part of living. It marked David McVicar's Royal Opera debut back in 2001; I believe this is its eighth revival. From the lack of empty seats, it still seems to bring in the crowds. The revolving stage centre allows the structure at its heart to represent Rigoletto's run-down abode at the relevant points; at others it presents a forbidding external. There is little light in this opera; McVicar presents it as a dark masterpiece, parallel perhaps to the later Otello.
In 2014, it was the wonderful Maurizio Benini in the pit; this time, the English conductor Alexander Joel (who debuted at Covent Garden in 2013 with La bohème), less palpably in control and with the odd disagreement between pit and stage. Neither did he have Benini's sculpting of the large-scale structure; the orchestra took a while to settle it at the work's opening, later finding its confidence.
As far as the vocalists were concerned, there was no absolute stand-out performance of the evening. The Rigoletto, the Greek baritone Dmitri Platanias, who has taken on the roles of Alfio, Tonio (Cav and Pag) and Nabucco for the Royal Opera, began excellently, strong and focused, but his voice lost some of that centred quality at times. Less nuanced than Keenlyside, Platanias's Rigoletto was in keeping with the staging and was also decidedly dark.
His daughter Gilda (thought by the assembled company at the outset to be Rigoletto's mistress) is here sung by Russian soprano Sofia Fomina (she shares the role with the Lucy Crowe). She is light and fresh of voice, but she can take on a rather fast, vibrato that can be off-putting; a shame as she made much of the role, shading 'Caro nome' beautifully, wonderful in her Act II scene with Rigoletto.
American tenor Michael Fabiano's Duke was commanding, not least in 'Questa o quella'; perhaps he could have found more shadings in 'La donna è mobile' (the off-stage final act contribution which uses this tune as his calling card was rather clumsily managed, vocally). Again, there was a lack of nuance at times from Fabiano. Strong and resonant vocally, he chose to stay in his field of strength rather than attempt to add depth. If there have been more coal-black Sparafuciles than Andrea Mastroni's, it was a performance of presence (Mastroni debuted at Covent Garden earlier in the season in another Verdi offering, as Carlos V (Don Carlo).
This was a performance that thrived at moments of ensemble: the great Act III quartet 'Bella figlia d'amore' was a real highlight, beautifully balanced and paced. There was one stand-out assumption in the smaller parts, though, that of Bulgarian mezzo Nadia Krasteva's Maddelena (Sparafucile's sister). Making her Royal Opera debut, Krasteva grabbed the role whole-heartedly in the third act, a visceral presence of pure womanhood with a full voice to match.
Nice to see Jette Parker Young Artists past and present in the cast: former Young Artist Luis Gomes, a Portuguese tenor, was strong as Matteo Borsa, while a current one, the British baritone Dominic Sedgwick, made a fine fist of Marullo, as did South African bass Simon Shibambu who sang Count Ceprano.
Not a Rigoletto to set the pulse a-racing too much, then, but a well-balanced one overall. A shame 2017 does not end on a greater high for the Royal Opera, but one awaits 2018's offerings with some impatience nevertheless.
Colin Clarke
Rigoletto is Live in Cinemas on Tuesday 16th January and for more information about this and future performances at the ROH click here.