Switzerland Puccini, Madama Butterfly: Soloists, Chorus of Zurich Opera, Philharmonia Zurich / Daniele Rustioni (conductor), Zurich Opera, Zurich. 10.12.2017. (JR)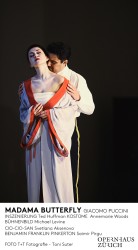 Production:
Director – Ted Huffmann
Set – Michael Levine
Costumes – Annemarie Woods
Choreography Assistant – Sonoko Kamimura-Ostern
Lighting – Franck Evin
Chorus – Ernst Raffelsberger
Dramaturgy – Fabio Dietsche
Cast:
Cio-Cio-San – Svetlana Aksenova
Suzuki – Judith Schmid
Benjamin Franklin Pinkerton – Saimir Pirgu
Sharpless – Brian Mulligan
Goro – Martyn Zysset
Count Yamadori/Registrar – Huw Montague Rendall
Uncle Bonze – Ildo Song
Emperor's Commissioner – Stanislav Vorobyov
Kate Pinkerton – Natalia Tanasii
American Ted Huffmann brings to Zurich a new production of Butterfly. Best known hitherto for contemporary opera, he has also tackled Handel's Rinaldo in Frankfurt. The stage is very simple, three blank white walls. The rear wall slides, in true Japanese fashion, to allow the singers to enter from the pitch-black rear stage. Effects are cleverly managed, by use of subtle and subdued lighting. Decoration is constrained to some articles of pseudo-antique Japanese furniture and boxes and some colourful strewn flowers (reference to which is in the libretto). The colour of the production stems from the splendid costumes, whether for the Japanese servants or Butterfly's family, or for the starched American dresses of Kate Pinkerton and Butterfly herself in western mode: full marks to Annemarie Woods. It's a very safe, conventional production, a white gauze lifts to begin, then Pinkerton arrives pulling a perfectly behaved but irrelevant live dog; Butterfly's son pulls – aptly – a toy boat; all that is missing is some cherry blossom or a view of the harbour, but it is clearly supposed to be a minimalist production. The production neither detracts nor shocks in any way, it received polite applause with not a boo in the house – for a change!
What makes this Butterfly really succeed, however, is the stellar line-up of voices. Russian soprano Svetlana Aksenova is a Butterfly at the height of her powers and she can still almost pass, visually, for a teenager (remember that Butterfly is supposed to be 15). (The producer resisted any references to child abuse, thankfully, or perhaps the recent scandals came too late for his planning). Aksenova was named by Opernwelt, seven years ago, as the Upcoming Singer of the Year for her role as Cio-Cio San, which she has now sung in Berlin, Oslo, Stockholm, Rome and Munich. She acts magnificently throughout; her chest register is warm and the top register clean and well projected. Her big aria 'Un bel di' was perfectly controlled.
Albanian Saimir Pirgu as Pinkerton was also splendid, a lovely ringing tone to his voice (no wonder: he was a protégé of Pavarotti and spotted, aged 22, by Claudio Abbado).
But it was American-Irish baritone Brian Mulligan who impressed me the most, as Sharpless. Amply rounded both in form and vocal tone, his warm voice was always the centre of attention and he displayed touching acting skills as the ever-sensitive Commissioner.
Local Judith Schmid apologised for a cold, but as the evening progressed, her voice cleared and loudened and we were thankful not to have a substitute.
Martin Zysset, another Zurich stalwart, was a first-rate marriage broker, devious and sly, with a weasel-like tenor to aggravate his victims. Ildo Song, Korean bass, looked the part as Uncle Bonzo, sang well and over-acted gloriously as the enraged relative.
Huw Montague Rendall and Stanislav Vorobyov took the minor parts with distinction, completing the cast of top-notch singers.
Pirgu and Aksenova were well matched vocally and physically and the ending was, as it must be, a real tearjerker. Cio-Cio San turns to the incoming Pinkerton and slits her throat, with Sharpless rushing front-stage to protect the eyes of Butterfly's three-year old son.
Youthful and passionate Daniele Rustioni was in the pit, and he drew magnificent playing from the Philharmonia Zurich, with fine solo contributions from solo cello; tempi were swift, volume loud (occasionally too loud), with no holds barred.
A Butterfly to savour and, with Christmas in sight, an opera highlight of my year.
John Rhodes