Spain Donizetti, L'elisir d'amore: Liceu Chorus and Orchestra / Ramón Tebar (conductor), Gran Teatre del Liceu, Barcelona, 9.1.2018. (JMI)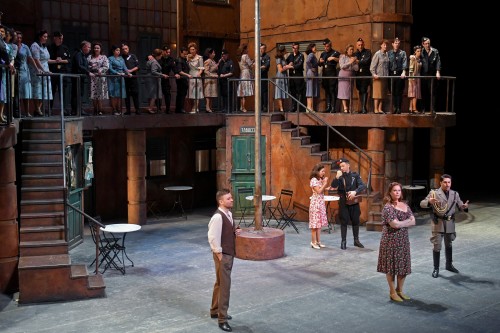 Cast:
Nemorino – Pavol Breslik
Adina – Jessica Pratt
Dulcamara – Roberto de Candia
Belcore – Paolo Bordogna
Giannetta – Mercedes Gancedo
Production:
Director – Mario Gas
Sets and Costumes – Marcelo Grande
Lighting – Quico Gutiérrez
The Liceu opened the 2018 season with a revival of the frequently staged Mario Gas production of L'elisir d'amore. The performance was well received despite a somewhat uneven cast and a musical direction that also had its ups and downs. I have reviewed it several times since the premiere 20 years ago, and my opinion is unchanged. (review)
Conductor Ramón Tebar is highly in demand in Spain now. Scarcely two weeks have passed between the final performance of his Don Carlo in Valencia and the first one of L'elisir in Barcelona, ​​a very short time if one takes into account the Christmas festivities in between. Perhaps this explains why his conducting fell short of what one expects from him. The first act was noisy and flat, and there was a lack of coordination between pit and stage. Things improved in the last scenes of the second act, but it didn't exactly leave one with a sweet taste, given what one expects from him. Neither the orchestra nor the chorus were particularly convincing.
Nemorino was sung by tenor Pavol Breslik, who did well in the role. He is not an exceptional artist, but he is well suited to the part, and he sang with gusto the always anticipated 'Una furtiva lagrima'.
The performance of soprano Jessica Pratt did not go beyond correct in Act I, and her voice sometimes seemed too small for this house. But she improved in the second act and was completely convincing in her duet with Dulcamara. She shone in a special way in the main scene with Nemorino, and demonstrated outstanding agility
Roberto de Candia was a good interpreter of Dulcamara in terms both of singing and acting. Today he is a guarantee of consistency in these buffo characters. Baritone Paolo Bordogna was better as an actor than a singer in the part of Belcore, while Mercedes Gancedo did well as Giannetta.
The biggest applause was for Jessica Pratt.
José M. Irurzun