Germany Wagner, Das Rheingold: Bayerische Staatsoper Orchestra / Kirill Petrenko (conductor), Nationaltheater, Munich, 13.1.2018. (JMI)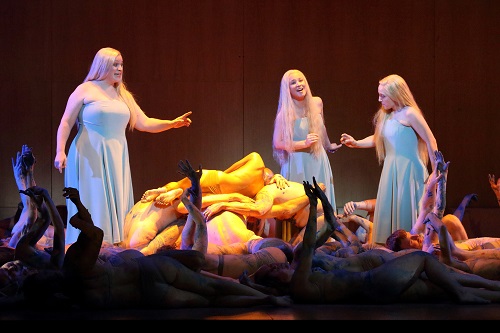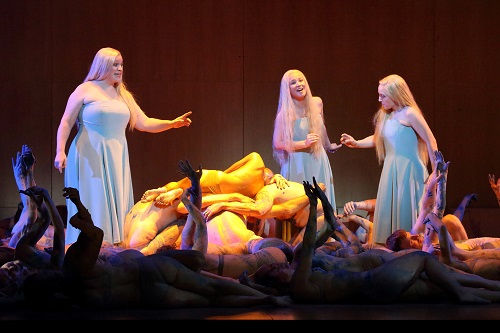 Cast:
Wotan – Wolfgang Koch
Alberich – John Lundgren
Loge – Norbert Ernst
Fricka – Ekaterina Gubanova
Fasolt – Alexander Tsymbalyuk
Fafner – Ain Anger
Erda – Okka von der Damerau
Mime – Wolfgang Ablinger-Sperrhacke
Freia – Golda Schultz
Donner – Markus Eiche
Froh – Dean Power
Woglinde – Christina Landshamer
Wellgunde – Rachel Wilson
Flosshilde – Jennifer Johnston
Production:
Director – Andreas Kriegenburg
Sets – Harald B. Thor
Costumes – Andrea Schraad
Lighting – Stefan Bolliger
Choreography – Zenta Haerter
Twice a year, Munich stages Der Ring des Nibelungen, in January and February and again during the July Festival. The great interest of this particular performance of Das Rheingold was the presence in the pit of Kirill Petrenko, the current music director of the Bayerische Staatsoper, who will be much missed when he leaves to become director of the Berlin Philharmonic. How does one refer to his conducting? Magnificent? Spectacular? Perhaps I have to use the term unbeatable. Today Kirill Petrenko is one of the best conductors in the world, if not the best of all, and his conducting of Rheingold will remain in the memories of everyone in the house.
It is well known that Kirill Petrenko inclines towards lively tempos, but this time he beat his own mark. On the last occasion that I heard him conduct Das Rheingold, the opera lasted 2 hours and 16 minutes, which was the fastest I had heard in my life. On this occasion, the duration was 2 hours and 13 minutes. I have nothing against slow tempos, but the disadvantage is that they require a depth available to few maestros. Under Petrenko's baton, the Bayerisches Staatsorchester was impressive, and far better than the day before.
This was Andreas Kriegenburg's well-known production, which premiered here in February 2012; I had the opportunity to see it in July of that year. (review)
The main protagonist, Wotan, was played by Wolfgang Koch, whom I had previously seen as Alberich in this same production. There's no doubt that he is one of the most important baritones of today, but I expected more from him. He made a stronger impression as Alberich.
On the other hand, baritone John Lundgren was magnificent as Alberich. His voice is wider and better projected than a few years ago, and he is a remarkable performer on stage.
The part of Loge was covered by tenor Norbert Ernst, who gave a convincing performance. He is always very credible on stage, although his voice is a little light for this demigod. Mezzo-soprano Ekaterina Gubanova was a competent Fricka but a bit cold, which made her less noticeable.
Both Alexander Tsymbalyuk and Ain Anger as the giants have voices that are nicely suited to the roles, and were strong interpreters on stage as well.
The performance of Okka von der Damerau in the part of Erda was excellent. This is a character that she completely understands, and she's perfect vocally.
Wolfgang Ablinger-Sperrhacke was good as Mime, and so was soprano Golda Schultz in the part of Freia. Markus Eiche was a correct Donner, and Dean Power as Froh showed an attractive voice. Finally, the Rhine daughters were superb: Christina Landshamer (Woglinde), Rachel Wilson (Wellgunde) and Jennifer Johnston (Flosshilde).
The theatre was sold out, and the audience gave an enthusiastic reception to the artists, particularly to Kirill Petrenko and John Lundgren. The ovations lasted for some 15 minutes.
José M. Irurzun