United Kingdom Schubert, Liszt: Llŷr Williams (piano). The Dora Stoutzker Hall, Royal Welsh College of Music and Drama, Cardiff. 1.2. 2018. (GPu)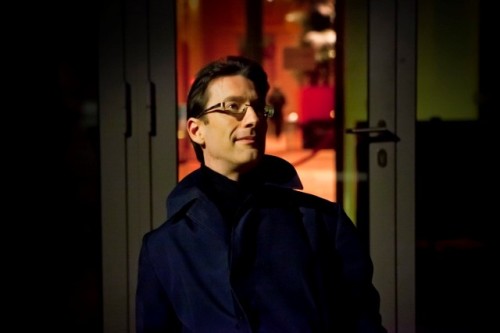 Schubert – Sonata in B, D.575; Moments Musicaux, D.780; Four Impromptus, D.935
Schubert / Liszt – Das Wandern, Der Műller und der Bach, Frűhlingsglaube, Die Forelle
In his magnificent Beethoven cycle, spread over four years, which was given in parallel concerts in Cardiff and the Wigmore Hall, Llŷr Wiliams naturally made the piano sonatas the backbone of his programming. Though it would be wrong to say that the other piano works he played were ever merely 'fillers' (the Diabelli variations could never be that, by any stretch of the imagination!), yet many of them did have a secondary role to play.
Williams' new Schubert cycle, now in its relatively early stages, is necessarily a little different. Schubert wrote fewer sonatas than Beethoven and they are not so essentially the repository of the composer's greatest keyboard music. Schubert completed just eleven sonatas (and only three were published during his lifetime). Much of Schubert's most interesting writing for the piano appears in his sets of 'smaller' pieces, such as the Impromptus or the Moments musicaux, or the Wanderer Fantasia; and, of course, in the piano writing (for which accompaniment often seems too weak a word) in the songs.
This being the case, Williams has tailored his Schubert series in a different fashion. So, in this fine concert, we heard just one sonata, the sonata in B major, the only four-movement sonata amongst the composer's four early sonatas. Written in August 1817, it promises much in its first two movements but disappoints somewhat in what follows. The first movement, marked Allegro ma non troppo, is inventive and original, unorthodox in much of what it does. The dotted-note rhythms in its opening, along with the varied phrase lengths, were well handled by Williams, with some nice judgement of dynamic variation; the 'leap' into the unexpected key of G major was startlingly yet persuasively made, and Williams did justice to the abundance of melodic ideas which follows and to their very Schubertian lyricism. The related lyricism of the Andante sang out delightfully, not least in the opening pages, and the movement as a whole was played with a tenderness which didn't preclude an awareness of an underlying restlessness or anxiety. Throughout, Williams demonstrated a satisfying sense of the movement's structure.
Although both the third and fourth movements are thoroughly competent pieces of work (more than just that, indeed) they are less innovative than the earlier movements, less characteristically Schubertian. Williams found in the third movement a genuine charm; but didn't really convince this listener, at least, that the last movement was anything more than pleasant but slight.
To title a collection of pieces Moments musicaux runs the risk of making them sound slight or 'salonish', but the six pieces which make up Schubert's Moments musicaux of 1828 are neither of those things (nor, probably, was the title of Schubert's choosing). To quote just one approbatory comment (by Stephen Jackson) these 'are among the most experimental and intimately lovely of Schubert's piano works'. Four of the six were written in 1827 and 1828, the exceptions being the third and the sixth, which were composed around 1823/4.
Each of these 'moments' (though four of the six generally last at least six minutes in performance) contains an abundance of compressed musical invention, often left in potentia rather than being fully developed.  In the first of the six movements/pieces, the sensitivity of Williams' touch, and his use of the pedal, were especially striking. This was true both of the lilting opening and of the several subsequent rapid alterations between major and minor (something very characteristic of Schubert's piano writing). There was a well-defined clarity of structure in Williams' interpretation of this piece. In the second, marked Andantino, Williams brought out the weight of sadness beneath the siciliano rhythm, sweet lyricism being 'problematised' by an introspective melancholy. The third 'moment' was executed with an attractively witty awareness of Schubert's faux-naïve use of simple dance rhythms. Number 4, the longest piece in the set and in some ways the most elaborate, found Williams delineating the ternary structure with pleasing, but not over-explicit, clarity and responding eloquently to the shifts of mood – ranging from the gentle and delicate to the troubled and ominous, providing a perfect illustration of just what varied riches can be found in these short pieces.
The rapid movement of the fifth piece was handled with facility by Williams, and in the last of the six pieces (probably the first to be written and published independently in 1824 as 'Plainte d'un troubadour') Williams responded sensitively to the poetry of Schubert's writing and (again) to the changes of tonality.
It wouldn't, I think, be either appropriate or necessary to comment on all of this programme in detail. Suffice it to say that almost without exception Williams had insights to offer and pleasures to put before his audience. A possibly controversial dimension of this Schubert cycle is Williams' decision to incorporate a number of later piano transcriptions of Schubert's songs. In this particular recital he included four transcriptions – all by Liszt (with a fifth, 'Aufenthalt' from Schwangesang later played, brilliantly, as an encore). Liszt is, of course, one of the great masters of musical metamorphosis. Sometimes he carries the process so far that the original is transformed absolutely with the result being, as it were, pure Liszt. The four transcriptions Williams programmed on this occasion are not so extreme in treatment. Schubert is still there to be heard, even if 'reclothed' by Liszt. Historians of Italian poetry sometimes talk in terms of 'rifacimento', where an earlier work is changed/modernised in terms of its surface features, while its essence isn't radically changed. That, I'd suggest is precisely what Liszt does in these particular transcriptions. Schubert is made more theatrical and the harmonic language is more nearly Liszt's than Schubert's in places, but enough of the Viennese master remains to make it not wholly inappropriate that they should appear in a Schubert cycle, especially when played as well as they were on this occasion (Die Forelle was particularly successful) – Llŷr Williams being a very fine Liszt pianist (as well as an accomplished Schubertian).
In the D.935 set of Impromptus, highlights included the improvisatory feel with which Williams imbued No.1, including some of its most complex passages; the absolute charm and grace with which No.3 was played, and the audience-pleasing panache with which he performed the superb fourth impromptu of the set, in which the sheer brilliance of much of the writing was carried off superbly, both the demands of virtuosity and of substantial musical values being fully respected.
Though I am not sure that Schubert comes quite as naturally to Williams, fits him so well temperamentally as Beethoven does, all the signs suggest that this Schubert cycle will be as richly rewarding as the Beethoven series was for those fortunate enough to hear it. (readers may be interested to know that Signum Classics will soon release a 12-CD box of Williams' Beethoven performances at the Wigmore Hall).
Glyn Pursglove