United Kingdom Verdi, La forza del destino: Soloists, Chorus and Orchestra of Welsh National Opera / Carlo Rizzi (conductor), Wales Millennium Centre, Cardiff, 2.2.2018. (GPu)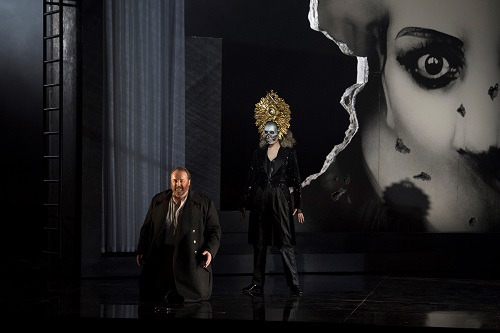 Cast:
Donna Leonora – Mary Elizabeth Williams
Don Alvaro – Gwyn Hughes Jones
Don Carlo di Vargas – Luis Cansino
Il Marchese di Calatrava/Padre Guardiano – Miklós Sebestyén
Preziosilla/Curra – Justina Gringytė
Fra Melitone – Donald Maxwell
Alcade – Wyn Pencarreg
Mastro Trabucco –Alun Rhys-Jenkins
Surgeon – Julian Boyce
Production:
Director – David Pountney
Set Designer – Raimund Bauer
Lighting Designer – Fabrice Kebour
Costume Designer –Marie-Jeanne Lecca
Choreographer – Michael Spenceley
Most of Verdi's operas carry, as title, the name(s) of a character or characters (e.g. Rigoletto, Aida) or a descriptive epithet which identifies one of the leading characters (such as La traviata or Il trovatore); one or two bear titles referring to a specific event, historical or otherwise (e.g. I Lombardi alla prima crociata or Un ballo in maschera).
La forza del destino is, I believe, unique amongst Verdi's operas in having a title which 'advertises' a concept ('destiny'). That is enough to suggest that Verdi was attempting something different in this work.
That the attempt was not an unqualified success is evidenced, not only by much critical comment since, but, implicitly, by Verdi himself, given the extent to which he later tinkered with it. Originally composed, but only partially orchestrated between August and November of 1861, the opera was premiered in St. Petersburg in November 1862 and extensively revised in the winter of 1868/69 for performance at La Scala. The opera, revised and unrevised alike, lacks much in the way of obvious dramatic unity (despite its announced theme of destiny), and the plot's dependence on abundant and improbable coincidences is so extreme as to make Thomas Hardy's famously coincidence-ridden plots (as in The Return of the Native and The Mayor of Casterbridge) seem positively naturalistic.
There is a particularly interesting essay on the opera which provides a significant clue here. The essay, 'Verdi's Imitation of Shakespeare: La forza del destino', is by the American Verdi scholar George Martin and appears in his book Aspects of Verdi (1988), having been previously published in The Opera Quarterly in 1985. In it, Martin argues that in La forza Verdi was consciously attempting to create an opera in imitation of the version of Shakespeare delineated by German critics such as Lessing and Schlegel. Martin provides some persuasive evidence that Verdi was familiar with at least the central ideas of Schlegel's Lectures on Shakespeare. Schlegel celebrates Shakespeare's abandonment of the unities of time and place and of that mutual exclusivity of tragedy and comedy; Shakespeare is seen as having created a prototype for a truly Romantic drama, providing an alternative model to that created by neo-classical French dramatists and critics. When, for example, Schlegel asserts that Romantic Drama 'embraces at once the whole of the checkered drama of life with all its circumstances; and while it seems only to represent subjects brought accidentally together, it satisfies the unconscious requisitions of fancy', he might perhaps have had King Lear in mind, but his words might also be applied to La forza. All would surely agree that the plot of Verdi's opera 'represent[s] subjects brought accidentally together'; whether or not 'it satisfies the unconscious requisitions of fancy' each must decide for herself/himself. I am inclined to think that it does, all the more so after seeing this new production.
For the director of this notoriously intractable work, to which the word 'sprawling' has repeatedly been applied, one of the key difficulties is to persuade the audience that there is a 'real', not just a 'conceptual' unity to the events on stage. David Pountney has, to my mind, come up with a brilliant solution to this problem. He has taken the minor character Preziosilla, who makes relatively few appearances in the libretto and expanded the dramatic significance of her role considerably. She is, in Piave's libretto, a Gipsy fortune-teller who has relatively little to sing. Indeed, when I first saw the cast list for this production and saw that the excellent Justina Gringytė had been cast as Preziosilla, I thought it rather a waste of so talented a performer. But from a peripheral figure, seen only very intermittently, Pountney has made a recurrent stage presence, largely silent, but frequently prompting events and decisions. I took her to be, not a personification of Fate or Destiny, but as an active agent of such a power. By having Gringytė double the role of Curra, Leonora's maid, in the opening scene of the opera, a maid who encourages her hesitant mistress to go ahead and elope with Alvaro in the initiatory action of the ensuing tragedy, Pountney encourages us, retrospectively, to see Curra as a kind of incarnation of Preziosilla. Later, Preziosilla prompts and guides other characters into the actions that eventually doom them as when, for example, she makes sure that Carlo comes into possession of the evidence that makes him realise the fellow soldier he has just befriended is actually the Alvaro he has sworn to kill, or when she puts into Carlo's hands a case of duelling swords.  The recurrent presence of Preziosilla, swathed in black but generally exuding a kind of quietly malignant glee in the proceedings, carries the audience past at least some of the plot's absurdities. The way Pountney's production uses Preziosilla reminded me, at times, of the role of Revenge in Thomas Kyd's The Spanish Tragedy. Even before the events of the narrative have begun, Poutney makes use of this figure (though we aren't necessarily aware, as yet, that this is Preziosilla) by having her come onstage as the wonderful overture begins, beating the floor thrice with a large staff as the orchestra plays the three mighty chords of the 'Fate' motif.
This very striking use of Preziosilla does much to focus the largely centrifugal impulses of the opera's narrative. So do some aspects of the set design, much of the set being made up of two large panels which can be turned, opened and closed, like the pages of a huge book. In the very first scene one of these panels is stained by the blood of Leonora's father, the Marchese di Calatrava, when he is accidentally shot and killed. The blood continues to seep from the panel throughout all that follows, even when the action has moved hundreds of miles away from Seville and on several occasions characters steep their hands in the blood, reminding us of where, how and why the action began.
A few brief but judicious cuts also help to tighten up the loose narrative a little, as does some slight reordering of episodes in Act III. The simplicity of Raimund Bauer's set makes lengthy breaks between scenes, fatal to any continuity in this opera, unnecessary, so that the action flows effectively.
All of this perceptive theatrical direction would, of course, count for relatively little if it were not complemented by musical contributions of sufficient quality. Fortunately, with the ever-reliable chorus and orchestra of WNO and a good cast of soloists, all under the direction of conductor Carlo Rizzi, a true master of the Italian operatic repertoire, there was much to enjoy and admire here, too.
This was, I think, the fifth time I have heard the American soprano Mary Elizabeth Williams with WNO. I have been favourably impressed on each of the four previous occasions, but I think this was finer yet. She sings with disciplined passion and her voice is strong, and largely  beautiful, across its range. Her acting seems to be improving all the time. Her interpretations of the text show a real understanding of the poetry she is singing so that in the closing scene she brought me as close to tears in the opera house as I have been for some years. As Alvaro, the lover of her Leonora, Gwyn Hughes Jones produced (as he always does in my experience) a plausibly Italianate tenor sound (complete with 'sob'). At times, however, this Italian tone colour can sound rather manufactured, and his acting leaves a good deal to be desired. In that regard he paints with a very broad brush. Still, he gave us a largely effective account of the music Verdi wrote for this difficult role. As Leonora's brother Carlo, the Spanish baritone Luis Cansino – though lacking much in the way of flexibility or range as an actor – possesses an attractively dark voice, which he deployed with fair subtlety. In such vocal opportunities as she had, notably in the recruiting scene in Act II and in the 'Rataplan' chorus in Act III, Justina Gringytė sang with vivacity and a certain darkly malicious wit as well as being a powerful, silent presence in the enhanced role of Preziosilla. Fast becoming, like Gringytė, a WNO regular, Miklós Sebestyén sang (very well) the two roles of the Marchese di Calatrava and Padre Guardiano, the first Leonora's biological father, so bound up in aristocratic hauteur and ideas of 'blood' and honour that he treats his daughter harshly and intolerantly, the second her 'spiritual father' who, as his name suggests, protects her and helps her towards a kind of redemption. Sebestyén embodied both roles with arresting 'authority', successfully implying the very different 'sources' from which the two men draw their authority. While Padre Guardiano is a man of religion we can respect, Donald Maxwell's Fra Melitone was a convincingly reprehensible figure, venal, entirely lacking in compassion or genuine charity and a groper of young women. Maxwell, whose acting is now more impressive than his singing, drew some uncomfortable laughs from this appalling rogue. Orchestra and Chorus responded perfectly to Carlo Rizzi's loving and beautifully-paced reading of the score. Silently mouthing almost every word of the libretto, Rizzi was perfectly supportive of the singers.
For all that Verdi tells us, in his title, that this is an opera about 'the power of destiny', La forza is also an opera about much else – Love, War, Religion, Revenge, Social Pride and Racial Prejudice, for example. This production found ways of reflecting most of these themes; the one which was perhaps neglected (though no production could give emphasis to all the issues that the work raises) was that of racial prejudice (save, perhaps, when Preziosilla appears in what I take to be Inca headgear in one of her encounters with Alvaro). A chief reason why Leonara's aristocratic father and brother find Alvaro unacceptable is that he is of Inca descent (albeit of royal family).
This was a bold and very largely successful attempt to do justice to an opera which is perhaps almost more important as a stage in Verdi's development than as a thoroughly-achieved work in its own right. This is one of the key operas in which we see Verdi breaking free of the operatic conventions he had inherited. There cannot, I suspect, be any such thing as a 'perfect' production of La forza (this is not an opera ever likely to lend itself to 'perfection'), but it will be a long time before any of us see a better version than this co-production between Welsh National Opera and Oper der Stadt Bonn. I extend my thanks to all concerned.
Glyn Pursglove
For more about WNO click here.