United Kingdom Mozart, Don Giovanni: Soloists, Chorus and Orchestra of Welsh National Opera / James Southall (conductor), Wales Millennium Centre, Cardiff, 22.2.2018. (GPu)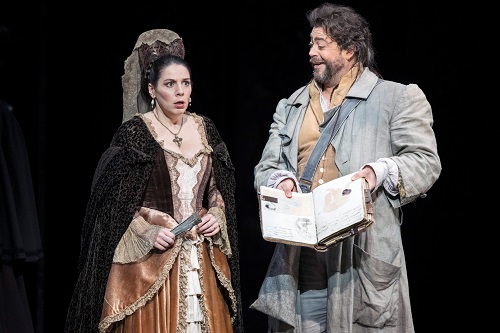 Cast:
Don Giovanni – Gavan Ring
Leporello – David Stout
Donna Elvira – Elizabeth Watts
Donna Anna – Emily Birsan
Don Ottavio – Benjamin Hulett
Masetto – Gareth Brynmor John
Zerlina – Katie Bray
Production:
Original Director – John Caird
Revival Director – Caroline Chaney
Designer – John Napier
Assistant Designer – Yoon Bae
Lighting Designer – David Hersey
Costume Designers – John Napier and Yoon Bae
Choreographer – Kate Flatt
Fight Director – Kevin McCurdy
Revival Fight Director – Samuel Davies
I have always been struck, and intrigued, by the fact that the two 'myths', of Faust and Don Juan (by myths, here, I mean stories which seem to demand continual retellings – not least on the opera stage – and which concern representative [archetypal/mythical] figures) took on textual life for the first time (though they may previously have circulated orally) at much the same time. The Historia von D. Johann Fausten was published in 1587; Tirso de Molina's play El Burlador de Sevilla y convivado de piedra ('The Playboy of Seville, or Supper with a Statue' in the translation by Adrienne M. Schizzano and Oskar Mantel) was first staged around 1615/16 and published in 1630. Both, that is, belong to the Early Modern Period, and both represent different (but related) rebellions against the inherited moral and hierarchical orders of that age. Both 'heroes' are transgressive over-reachers, whose different (but again related) lusts – for forbidden knowledge and for forbidden sensual pleasures – are self-destructive. Though in most versions both Faust and Juan/Giovanni are given opportunities to repent, they refuse to do so and, as blasphemers and atheists conventional morality demands that they be punished. The full title of the opera – Il dissolute punito, ossia Don Giovanni certainly makes it sound like a work primarily designed to teach a moral lesson, even with the additional generic epithet 'Dramma giocoso'.
The lines with which Da Ponte ends the work read, at least superficially, like an affirmation of conventional morality:
ZERLINA, MASETTO, LEPORELLO:
Resti dunque quel birbon
con Proserpina e Pluton.
E noi tutti, o buona gente,
ripetiam allegramente
l'antichissima canzon.
TUTTI:
Questo è il fin di chi fa mal,
e de' perfidi la morte
alla vita è sempre ugual etc.
Yet Mozart's upbeat setting of these words makers it impossible to take them at face value. And, in any case, the more one looks at them the less of a moral affirmation they seem. The fact that the final 'moral judgement' is introduced as 'l'antichissima canzon' suggests that these survivors recognize it as something old-fashioned, something from an earlier age (The references to Proserpine and Pluto are hardly Christian, either). The smugness of their self-description as 'noi tutti, o buona gente' is striking (and how far is at all true that these six have all shown themselves to be 'good people'? And how far is an honest and thinking audience likely to think it true that 'in this life scoundrels / always receive their just deserts!' (I quote here the 1961 translation by William Murray)?
The truth, of course, is that the opera isn't essentially a morality. It is far too complex and ambiguous to serve a simple moral purpose. Mozart and Da Ponte, taking text and music as a whole, are themselves at least partly 'seduced' by Don Giovanni, have some sympathy with his transgressive energies, even if not with the forms that it takes. Rather like Christopher Marlowe telling his tale of Faust, they pay lip-service to orthodox morality, while at the level of sub-text (verbal and musical) it is clear that they (like Marlowe, and perhaps like their and his audiences) are also attracted by the risk-taking 'hero'.
In production, and this, as has often been said, is a fiendishly difficult opera to produce well, we have to be convinced that Don Giovanni deserves the punishment he gets and that there is something to admire, not in his campaign of near-rape and extreme sexual harassment, but in his energy and courage.
When I first saw this production (when premiered in 2011 click here), I found it worthy, but a little stodgy. The set is dominated by a copy of Rodin's Gates of Hell (perhaps inspired, amongst other things, by Lorenzo Da Ponte's observation that when working on the libretto he read Dante) which, as well as casting the appropriate 'shadow' it should, as a warning (in several senses of the word) of the work's final action seemed also to infect the performance with a sort of ponderousness. In this revival by Caroline Chaney there was a definite increase in pace (brought about both by some of her directorial touches and the fluid conducting of James Southall), producing a greater sense of urgency and (where appropriate) vivacity.
Gavan Ring, making both his debut with WNO and (I believe) his debut in the role, made an energetic Don Giovanni, dominating women by the intensity with which he focused his attention on each victim, sweeping around the stage in his long coat and feathered hat, switching rapidly from menacing aggression to the kind of charisma that 'woos' both the audience and the women on stage. Vocally, he sang with attractive flexibility of tone and sufficient power. As Leporello David Stout was – as he always is – a powerful stage presence. Stout seems completely at home on stage to a degree by no means universally to be found amongst British singers. His Leporello well sung throughout, was equally convincing as a servant-clown and as a would-be honest man (or at least a man deeply troubled by the positions into which his role as Don Giovanni's servant places him). Stout brought to the part something quasi-aristocratic at moments, as if he might genuinely be able to be a 'master' rather than a 'servant', as expressed in his words in the opera's first aria: 'Voglio far il gentiluomo, / e non voglio più server'. This is another of the ways in which the opera subverts the prevailing order, this time in terms of the social classes – even if in the closing moments Leporello is content to declare that he intends to go the inn to find a better master – 'io vado all'osteria / a trovar padron miglior', a proposition ironically counterpointed with Donna Elvira's declared intention of retiring to a convent.
It was, though, the Donna Elvira of Elizabeth Watts which was the finest and most memorable performance of the evening. She sang with unerring precision and compelling passion throughout.  Donna Elvira's famous set-piece 'Mi tradì quell'alma ingrata' was superb, searingly emotional; but, in truth, Watts' interpretation of Donna Elvira was everywhere full of insight; she persuaded one that this was the figure in the work with the most complete and complex inner life, an inner life in which strength and weakness, pain and determination were thoroughly fused.
Elsewhere, the supporting ensemble of principal characters were unfailingly competent. Emily Birsan's Donna Elvira was occasionally on the stiff side in terms physical movement and gesture, but was pleasingly sung; Katie Bray was a lively and pert Zerlina, well able to outmaneuver Masetto – and she sang with assurance and sweetness of tone; as Don Ottavio, Benjamin Hulett captured the essential weakness of the character, able to spout, repeatedly, the  moral code of his social class, but showing little or no sign of ever being able to take action – still, when opportunity allowed, Hulett showed us that he possessed an attractive tenor voice. It would be good to encounter him in a more rewarding role; I have much admired Miklós Sebestyén in the severeal previous roles he has sung with WNO but was slightly disappointed with his Commendatore. The role is difficult, since the singer has little of quality with which to make a character of the living Commendatore (a mere type of Spanish 'honour') and as the dead Commendatore he is called on to produce sounds of a kind of impersonal, oracular resonance. Sebestyén, on this opening night at least, couldn't quite find the weight of voice to sound like a supernatural presence.
In more recent years I have found myself thinking that if there is one opera which 'cannot be [staged]' it is Don Giovanni. What David Cairns (Mozart and His Operas, 2006) identifies as its 'strange combination of opposites' and the way in which its 'comedy [is] … constantly interfused with danger and violence', its moral ambiguities, as in the many moments when wonderful music points our minds in one direction and the words in another – such things (and more could be named) make it almost (perhaps wholly) impossible to achieve dramatic coherence on the stage. Jonathan Miller (The Don Giovanni Book: Myths of Seduction and Betrayal, 1990) does not believe the opera to be 'too great' for the stage, but concedes that it 'does present quite special problems in performance, problems which … arise from the mythological quality of the work, from its deep roots in an emotional experience – conscious and unconscious – that we all share, and which is precisely, perhaps, what leads us to call this opera 'great' '.
It would, I suggest, be a kind of nympholepsy to imagine that one would ever see a 'perfect' or 'complete' production of Don Giovanni. But this WNO production, especially as 'revived' by Caroline Chaney, will do to be going on with. It makes one laugh and frightens one, it does fair justice to Mozart's abundantly astonishing music and it provokes thought. Perhaps the best one can hope for from a production of Don Giovanni is that it should not get in the way of one's recognition that this is, in the words of E.T.A. Hoffmann, 'the opera of all operas', in its power and its fusion of opera seria and opera buffa.
 Glyn Pursglove