United States Schubert, Barber, Fauré, Williams, Pinkard, Siskind, Holiday, Simone: Julia Bullock (soprano), John Arida (piano), presented by Cal Performances, Hertz Hall, University of California, Berkeley. 25.3.2018 (HS)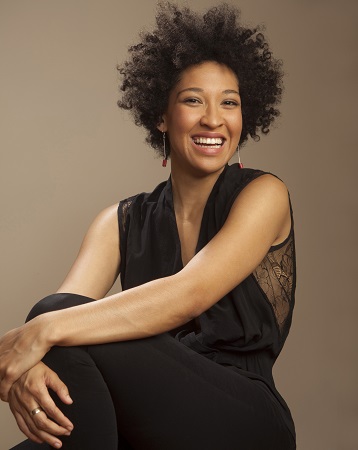 Schubert — Songs
Barber — Hermit Songs
Fauré — From Chanson d'Éve
Williams, arr. Siskind — Driftin' Tide
Pinkard, arr. Siskind — You Can't Tell the Difference After Dark
Siskind — Frog Tongue Stomp; A Lovie Austin Tribute
Holiday, arr. Siskind — Our Love Is Different
Simone — Revolution; Four Women
Samuel Barber wrote Hermit Songs in 1953. At its debut he played the piano part and a young soprano named Leontyne Price made her recital debut. Sunday afternoon at Hertz Hall in Berkeley, another young soprano delivered her take on this not-often-heard song cycle, and found depths of emotion and an audience connection that was memorable and powerful.
The songs, mostly translated from 8th to 12th-century Irish texts, focus on men who elect to live alone, usually for religious reasons. Bullock's supple soprano acknowledged the rough edges in the words and the characters portrayed, but brought out their imperfect humanity and fervor.
The 10 songs—some only a couple of lines, others more sustained—cover a range of reasons why someone would want to live alone and apart. 'At Saint Patrick's Purgatory', the first song, paints a picture of a sinner who goes to Loch Derg in Donegal 'with a heart not softer than stone', a line Bullock delivered with a gentleness that belied the surface impression. The short tale of 'The Monk and His Cat' got a sly vocal wink but otherwise straightforward description. 'The Praises of God', in W.H. Auden's translation, ended in a flurry of deliciously phrased coloratura on 'Laudation sing'.
The most touching moments, though, came in 'Saint Ita's Vision', which describes a woman's joy imagining that she is suckling Jesus, which Bullock caressed with the lightest of touches, and 'The Desire to Hermitage', which extolled the virtues of hermitage as 'an end to evil' in tones that only a churl could deny.
Bullock's voice was the most compelling aspect of John Adams' opera Girls of the Golden West when she starred in San Francisco Opera's world premiere in November. Sunday she sounded effortless, from the lowest rungs of the soprano's ladder to the top. Nothing felt forced no matter she was in her range, and the attention to words never flagged. She demonstrated a clear idea of what the songs are about by offering cogent thoughts in introducing them. (She was also credited with the program book's English translations from both German and French.)
Pianist John Arida, who also collaborates with the mezzo-soprano Isabel Leonard, supplied soft-edged playing that well matched Barber's songs, and struck a resonant relationship with Bullock's artistry.
The seamless fit of Bullock's voice, understanding of the meanings, and demeanor in the Barber songs contrasted with her program-opening foray into Schubert. The best of the set, 'Wanderers Nachtlied II', benefited from rich tones and smooth legato, but some level of passion was missing from 'Seligkeit' and 'Suleika I'. And although she lavished lovely technique and tone on excerpts from Fauré's Chanson d'Ève, the subtlety and opaque qualities of Van Lerberghe's French poetry left only a vague impression.
The final section of the recital, focusing on works by or associated with African-American women vocalists, took things in a totally different direction, starting with three songs written for Alberta Hunter, the jazz singer of the 1920s to 1950s. 'Driftin' Tide', a blues-tinged lament, sent Bullock's voice dipping into the lowest corners of her range, and the ragtime 'You Can't Tell the Difference After Dark' cheekily proposed that black woman can certainly be alluring. Hunter co-composed 'Downhearted Blues' with Cora 'Lovie' Austin. It dates from 1922, and was the vehicle that put Bessie Smith on the map.
Bullock found ways to steer her voice away from opera singer and toward blues vocalist, bringing in a level of funk yet still maintaining a sense of class. Arida, however, often found himself overmatched trying to get his piano part to swing. As a tribute to Austin he gamely interpolated her 'Frog Tongue Stomp', in an arrangement by the jazz pianist Jeremy Siskind (who wrote the piano parts for this whole section), but even that faltered on a sense of rhythm that lacked energy.
Much better was Billie Holiday's 'Our Love Is Different', a gentle torch song that got all the seductiveness it needed. Concluding the program were a stunningly unbuttoned a cappella version of 'Revolution' and a slow-moving but edgy version of 'Four Women', two songs by Nina Simone that brilliantly articulate what African-American women have always been up against.
For encores came 'One by One' by the mysterious Connie Converse (who disappeared in the 1970s) that Bullock said reminds her of Schubert. It does bear a resemblance to the composer's more straightforward work, and Siskind's sensitive piano part harkens to 'Nachtlied II'. To finish things on a lighter note, the singer had a little fun with 'La Conga Blicoti', a ditty by Armondo Orefiche, who wrote it for Josephine Baker.
Harvey Steiman