United States Gregory Spears, Fellow Travelers: Soloists, Chorus, Lyric Opera of Chicago / Daniela Candillari (conductor), Athenaeum Theater, Chicago. 17.3.2018. (JLZ)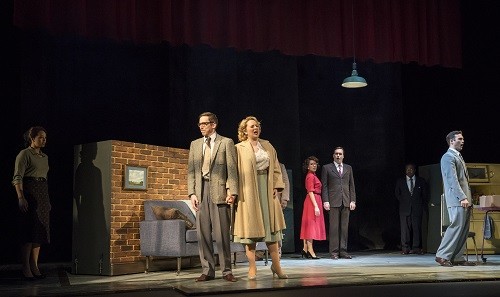 Cast:
Hawkins Fuller –  Joseph Lattanzi
Timothy Laughlin – Jonas Hacker
Senator Potter's Assistant/Bookseller/ Party Guest/Technician/French Priest – Sam Handley
Tommy McIntyre – Will Liverman
Senator Charles Potter/General Arlie/Bartender – Reginald Smith, Jr
Miss Lightfoot – Vanessa Becerra
Mary Johnson – Devon Guthrie
Senator Joseph Mccarthy/Estonian Frank/Interrogator – Marcus Deloach
Lucy – Amy Kuckelman
Production:
Director – Kevin Newbury
Set Designer – Vita Tzykun
Costume Designer – Paul Carey
Lighting Designer – Thomas C. Hase
Wigmaster and Makeup Designer – Sarah Hatten
Assistant Director – Marcus Shields
Stage Manager – Donald Claxon
Costume Supervisor – Madeleine Pritner
Based on the 2007 novel by Thomas Mallon about a gay male relationship during the paranoiac investigations of McCarthy-era Washington, DC, Gregory Spears' 2016 opera Fellow Travelers finally arrived in Chicago's Athenaeum Theater. With a libretto by Greg Pierce, the opera focuses on the tensions between the private and public lives of the two protagonists, Timothy Laughlin and Hawkins Fuller, and brings Mallon's fine novel to life onstage.
In setting Pierce's libretto — a series of scenes that flow into each other – Spears created a rich score that is guided by speech rhythms, at times reminiscent of The Cunning Little Vixen. Spears' style is engaging from the start. His chamber orchestra creates a rich palette, differentiating scenes with well-chosen timbres. Vocal lines emerge clearly, powerfully underscoring emotional situations.
Among the cast are singers from the world premiere of Fellow Travelers in Cincinnati and subsequent performances in other cities. As Hawkins Fuller, Joseph Lattanzi used his flexible baritone to create a strong performance all around, particularly in his second-act monologue about his frustrated love, which had powerful expression by avoiding clichés or histrionics.
As Timothy Laughlin, tenor Jonas Hacker showed fine shaping and inflection. His first-act monologue, set in a church, exposed his character's inner thoughts — his passion for Fuller is at odds with his religious teachings — and Hacker etched this scene deeply in the memory.
The other cast members were equally notable, with soprano Devon Guthrie in a strong portrayal of Mary Johnson. Her second-act scene with Laughlin showed her vocal acumen, while a later scene with Fuller was a dramatic tour-de-force. In the first act, Guthrie's duets with Vanessa Becerra were rendered with exemplary clarity. As the Washington bureaucrat Tommy McIntyre, Lyric alumnus Will Liverman was equally strong, especially in the first-act scene with Timmy in which he advises the young man to play the Washington political game.
The Athenaeum is a fine space that served this score well, and director Kevin Newbury masterfully shaped each scene, with a strong sense of style.
James L. Zychowicz