United Kingdom Jonathan Dove, Flight: Scottish Opera / Stuart Stratford (conductor), Edinburgh Festival Theatre, 3.3.2018. (SRT)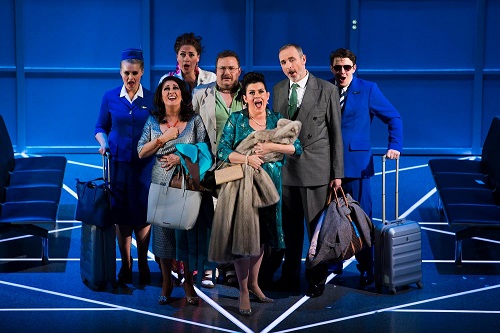 Cast:
Refugee – James Laing
Controller – Jennifer France
Bill – Peter Auty
Tina – Stephanie Corley
Older Woman – Marie McLaughlin
Stewardess – Sioned Gwen Davies
Steward – Jonathan McGovern
Minskman – Stephen Gadd
Minskwoman – Victoria Simmonds
Immigration Officer – Dingle Yandell
Production:
Director – Stephen Barlow
Designer – Andrew Riley
Lighting – Richard Howell
When extreme weather hits Britain we think most often of the impact it has on drivers and our heating bills; but it hits any sector that relies on travel to supply its needs, and that includes the arts world. As the Beast from the East hit Scotland, it brought about the cancellation of a string of concerts from the Scottish Chamber Orchestra and the Royal Scottish National Orchestra, and Scottish Opera had to cancel their performance of Flight on Thursday evening, as well as their 'Unwrapped' evening on Friday. Hats off to them (and to the improved weather) for their determination to get something on stage tonight: it's only a shame that the straitened circumstances meant they couldn't assemble an orchestra. That meant that this performance was accompanied by a piano instead, and while it was heroically played by Jonathon Swinard, who got the biggest ovation of the evening, there were inevitable losses, and it felt like seeing only half a show.
But half a show is better than no show at all, and I'm glad they got something together, because I found Flight a rich, life-affirming piece that more than justified the hype that has surrounded it. Dove's opera, written in 1998, has achieved rave reviews from everyone I know who has seen it, and I too fell completely under its spell, even if it was 'just' from a piano. The story takes place in an airport terminal, and showcases a number of staff and passengers who are thrown together because of an electrical storm; something that brings to light the strains in their relationships and circumstances. At the centre of it is the mystical figure of the Refugee, based on the true life tale of a man who was stuck at Charles de Gaulle airport for 18 years. It's a great idea for a piece – aren't transport hubs one of the few places in our society where nearly all of human life passes through? – and Dove's writing is wonderful. The style is predominantly influenced by post-minimalism, with chugging harmonies that alter as they motor, energising the texture and driving the melodies. And what great melodies! Dove shows himself to be a master tunesmith throughout, creating a tonal – polytonal, even – soundscape that is abundant in texture, pulsing with life, and rich with hummable tunes and satisfying cadences. Setpieces are beautifully realised, especially in the birth scene of the final act and the refugee's own story, and the dramatic arc is highly satisfying, helped by the premise and the language of April de Angelis' libretto.
This production originated at Opera Holland Park and fits into a (so far very successful) trend of Scottish Opera sharing productions to bring them to a wider audience, such as 2016's Rusalka. Stephen Barlow's cavernous set evokes all the airy emptiness of an airport terminal while giving enough humanity for the characters to come to life, and there is also plenty of humour in the use of the lift doors and the strip lighting on the floor. It allows the story and the music to speak, and that is helped by having a cast of singing actors that bring their parts to life brilliantly.
At the centre is the ethereal Refugee, sung by James Laing with a countertenor voice that is simultaneously disembodied and very humane. His parallel among the airport staff is the other-worldly Controller, whose stratospheric tessitura posed no problems whatever for Jennifer France in a dazzling performance. I loved the bluff naivety of Peter Auty and Stephanie Corley as the married couple who are hoping to recover their spark as they go on holiday, and the sex-obsessed stewards were a hoot. On the other hand, the diplomat and his wife who are heading to Minsk are rendered with conflicted dignity by Stephen Gadd and Victoria Simmonds, and Marie McLaughlin injects some beautifully observed poignancy into her part as the 52-year-old lady holding out for the arrival of her young fiancé who never seems to appear.
In short, then, this was a triumph, and a picture of how successful contemporary opera can be. It's accessible, gripping and beautifully humane. Maybe next time I can hear it with an orchestra too.
Simon Thompson
For more about Scottish Opera click here.