United States Lloyd Webber, Jesus Christ Superstar: Soloists, Chorus, Lyric Opera of Chicago / Tom Deering (conductor), Civic Opera House, Chicago. 28.4.2018. (JLZ)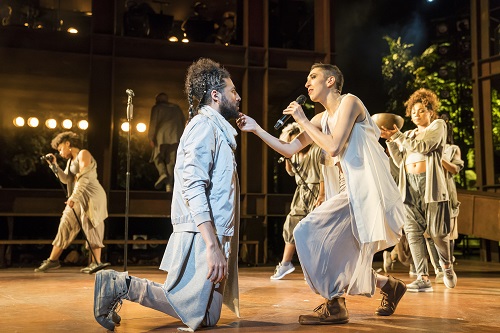 Cast:
Jesus – Heath Saunders
Judas – Ryan Shaw
Mary Magdalene – Jo Lampert
Pilate – Michael Cunio
Simon Zealotes – Mykal Kilgore
Herod – Shaun Fleming
Annas –  Joseph Anthony Byrd
Caiaphas – Cavin Cornwall
Peter – Andrew Mueller
Production:
Director – Timothy Sheader
Choreographer – Drew McOnie
Set & Costume Designer – Tom Scutt
Lighting Designer – Lee Curran
From Regent's Park Open Air Theatre in London, Lyric Opera of Chicago has brought Andrew Lloyd Webber's Jesus Christ Superstar in a powerful interpretation. Director Timothy Sheader achieved the optimal combination of singing, acting, and dance, with a well-conceived presentation that made the most of the Lyric's stage. The energetic performance opened with a stunning entrance from the sides and back of the main floor, as the hoodie-clad cast assembled onstage to set the tone. Choreographer Drew McOnie gave the ensemble stylish moves.
Heath Saunders offers a nuanced portrayal of Jesus, with body language that underscored the text, coupled with a fine voice. His supple tenor allowed him to render lines without ever sacrificing tone and clarity in the important sotto voce passages. His work with Ryan Shaw as Judas caught attention as each singer was able to retain a distinctive line, particularly effective in 'Strange Thing, Mystifying'. Yet 'Gethsemane' showed Saunders' range, and it was exciting to hear him bend pitches and stretch tempos, to bring out Jesus' inner torment.
Ryan Shaw's Judas was similarly convincing, musically and dramatically assured with the conflicted emotions of his character. Shaw's clear diction captured the audience's full attention in 'Heaven on Their Minds' and 'Damned for All Time'. In the latter, the ensemble of Jewish leaders — led by Joseph Anthony Byrd as Annas and Cavin Cornwall as Caiaphas — had the tight entrances and intimacy of chamber music. Byrd's high tenor was as full as the resonant bass Cornwall used to give full volume to even the lowest pitches of Lloyd Webber's score.
As Mary Magdalene, Jo Lampert was strong musically and dramatically from the first lines of 'Everything's All Right', and her exchanges with Judas showed clear self-assurance, especially in her moving interpretation of 'I Don't Know How to Love Him'. Lampert's distinctive stage presence, ease of interaction with her colleagues, and fine sense of line were all welcome.
As Pilate, Michael Cunio had the style of an observer who gradually became more engaged in the drama — audible from the start, in his moving, understated 'Pilate's Dream' — reaching a climax in the details of the trial scene. Likewise, Shaun Fleming gave King Herod the right touch of honky-tonk and cynicism. Fleming's comfort on stage extended to his twenty-eight-foot costume, even when he stepped out of it to change the mood.
In addition to the principals, the ensemble was strong, such as in the 'Hosanna' scene, which was cohesive, with just enough pomp without going over the top, thanks to conductor Tom Deering, who bent the tempo at times to favor the lyrics. Deering's leadership was also evident in The Last Supper scene, in which 'Look at All My Trials and Tribulations' showed the richness of the chorus, as did the climactic 'Superstar'.
All in all, this new production of Jesus Christ Superstar was quite impressive, and as the latest installment in the company's 'Broadway at Lyric' series, there was much to offer in a fresh, exhilarating take on an iconic rock opera.
James L. Zychowicz