United Kingdom Abrahamsen and Bruckner: Berlin Philharmonic Orchestra / Sir Simon Rattle (conductor), Royal Festival Hall, Southbank, London, 30.5.2018. (AS)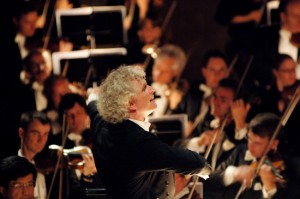 Abrahamsen – Three Pieces for Orchestra
Bruckner – Symphony No.9 in D minor (with finale of Samale, Mazucca, Phillips and Cohrs)
The music of Hans Abrahamsen seems to be fairly well in vogue among concert promoters these days. This performance of his Three Pieces, written between 2014 and 2017 to a commission by the Berlin Philharmonic, was its first in the UK. It's a brief work, timed at just seven minutes, and consists of a busy, loud opening movement, with jaunty, repetitive minimalistic rhythms and lots of percussion effects, then a slow, quiet essay centered on solo piccolos, upper strings and soft percussion. There follows a final movement, again fairly slow, which focuses on double basses, with occasional contributions from the higher strings and other instruments, and which also features the soft ticking of egg shakers and other quiet percussion. And that is all that needs to be said about a piece that really is pretty inconsequential.
The gulf between Abrahamsen's music and the opening of Bruckner's Ninth Symphony that followed seemed huge. Rattle managed this very well, and at once the rich quality of the BPO's string and brass sections made a strong effect. The first and second string sections were beneficially divided. The first movement as a whole unfolded very satisfactorily, with its contrasting sections well characterised. Occasionally Rattle seemed to hurry just a little when he should have just let the music breathe naturally, and the great climax at the end could have been managed with a little more intensity. But overall it was a satisfying reading of Bruckner's mighty opening structure. The Scherzo, with its thumping repetitive rhythms, was ideally paced, and the contrasting middle sections, one even busier than the basic scherzo material, the other more reflective and seemingly consoling in nature, were both well pointed.
Rattle's realisation of the great Adagio was impressive not only in its sympathetic attention to phrasing and other detail but in the way that the conductor preserved the overall shape and structure of the music. But here the BPO showed a little fallibility, with the low brass taxed into unevenness of production by the long drawn out chorale like sequences, and momentary tangles in the woodwind section.
If only the performance had ended there. Various hands have tried to construct a final movement out of Bruckner's sketches for it. The one in favour now seems to be that put together by the individuals named in the heading, known in Bruckner circles as the 'gang of four'. This version was heard at the Barbican in December 2015, with Daniel Harding conducting the London Symphony Orchestra, and it has been recorded commercially by Rattle and the BPO (review). On third hearing this concoction did not make any better impression than it had before. It comprises a succession of desperately unconvincing, semi-coherent sequences, a kind of pastiche in the style of Bruckner, full of meaningless gestures and empty rhetoric. We have been told by eminent Bruckner students that the material he left is simply not sufficient to enable an accurate realisation of his intentions to be made. The three-movement work he was able to leave comprises a satisfying entity in itself, and his final thoughts should be left as they are.
Alan Sanders