Italy Schubert, Fierrabras: Teatro alla Scala Chorus and Orchestra / Daniel Harding (conductor), Teatro alla Scala, Milan, 19.6.2018. (JMI)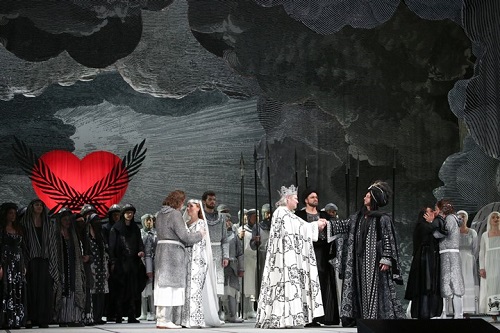 Cast:
Fierrabras – Bernard Richter
Florinda – Dorothea Röschmann
Eginhard – Peter Sonn
Roland – Markus Werba
Emma – Anett Fritsch
Charlemagne – Sebastian Pilgrim
Boland – Lauri Vasar
Maragond – Marie-Claude Chappuis
Ogier – Martin Pinkorski
Production:
Direction – Peter Stein
Sets – Ferdinand Wögerbauer
Costumes – Anna Maria Heinrich
Lighting – Joachim Barth
Franz Schubert composed Fierrabras in 1823, but he did not live to see it performed. A rather mutilated concert version could be seen in Vienna in 1835, but the first true performance of the opera was in 1897 in Karlsruhe. The opera, which is based on the Chanson de Roland, has a very weak libretto. The courts of Charlemagne and the Moor Boland mingle and there are a series of unconvincing love affairs between characters on both sides. It's all fairly monotonous and lacking in arias, but there are some good choral passages and ensembles over the three acts.
There have not been many opportunities to see the opera in recent years, with the exception of the 2014 Salzburg Festival where this Peter Stein production was first put on. The staging remains close to the libretto – in fact, the plot does not really allow for updating. The sets consist of a series of painted paper backdrops, which are easy to move and to which props are added. The costumes, based on clothing of the Middle Ages, are also dull, with colours ranging from white to black and passing through a range of greys. It is all pretty lifeless, and little direction was given to either the soloists or the crowds. A serious drawback is that it requires two intermissions, which serve to prolong the performance considerably.
Monotony prevails in the score too. It is not an easy opera to conduct, but Daniel Harding led with a firm and sure hand. The orchestra did well, and the chorus gave an especially good performance.
Fierrabras was sung by Swiss tenor Bernard Richter, who has an attractive, well-handled voice and is also a good actor. As at the Salzburg premiere, soprano Dorothea Röschmann was Florinda. For my taste, she was the best singer in the cast, expressive and with an appealing voice.
The part of Roland was played by baritone Markus Werba, who was perfectly correct in the part, and the same can be said of tenor Peter Sonn in the role of Eginhard.
Soprano Anett Fritsch gave life to Emma, ​​the daughter of Charlemagne, and she did well, although she was too tight in the high notes. Bass baritone Sebastian Pilgrim was a somewhat modest Charlemagne, while baritone Lauri Vasar was well-suited to the part of Boland, the Moorish leader.
José M. Irurzun