United Kingdom Prom 8 – Lili Boulanger, Mendelssohn, Morfydd Owen and Schumann: Bertrand Chamayou (piano), BBC National Orchestra of Wales / Thomas Søndergård (conductor), Royal Albert Hall, London, 20.7.2018. (AS)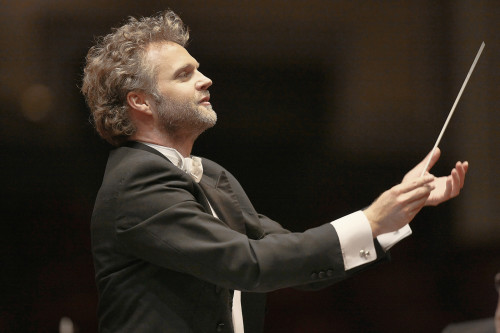 Lili Boulanger – D'un matin de printemps; D'un soir triste
Mendelssohn – Piano Concerto No.1 in G minor, Op.25
Morfydd Owen – Nocturne
Schumann – Symphony No.4 in D minor, Op.120 (original version, 1841)
This programme was clearly designed to juxtapose the two works by Lili Boulanger, one of this Prom season's featured composers, and Morfydd Owen's Nocturne. The brief life spans of these women composers were almost in parallel, for both died a century ago in 1918 at the ages of 25 and 26 respectively. Coincidentally, the concert also included works by two German composers who died at a comparatively young age.
Emotions surrounding composers (and other artists) who died young are difficult to dismiss and may hinder an objective assessment of what has actually been left behind following their deaths.  There is a sympathy element, in which regret is naturally felt at the tragedy of young, burgeoning talent snuffed out, and a sense of wondering how emerging talents would have eventually flowered. Mendelssohn and Schumann had produced works of genius by their mid-twenties, but if Debussy, for instance, had died at that age we would have no intimation of the great composer he was to become. So, all is guesswork and we should only judge Boulanger and Owen objectively on their actual achievements.
Lili Boulanger's music was championed after her death by her sister and great teacher Nadia, and by Nadia's pupil, Igor Markevitch, who recorded Lili's music commercially, as others have done since. Morfydd Owen was an astonishingly prolific composer but only a tiny fraction of her output has been recorded commercially.
D'un matin de printemps is a brief piece lasting some five minutes, and it has a delightfully sunny aspect, with subtly delicate scoring and a harmonic palette that owes a little, perhaps, to Scriabin. D'un soir triste is twice as long, a little more astringent in its harmonies sometimes, and it is a much heavier piece, with a bass drum suggesting elements of a funeral procession at a certain point. There are hints of Respighi in his darker mood, and a pseudo-oriental inflection appears briefly.
Owen's Nocturne is a larger-scale work of some 15 minutes in length. The idiom is similar to that of other British composers of the time, say Bridge in his early phase. The orchestration is skilled, with timbres nicely varied and there are good contrasts of tempo and mood. But there is nothing particularly out of the ordinary in terms of invention to give the piece any real distinction.
In this respect the two Boulanger pieces are similar, since there is nothing to mark them out as being any more distinguished than works of minor French composers of the time such as Louis Aubert or Philippe Gaubert.
It was good to have the chance of hearing these three pieces live, and as curiosities they should be recorded if they haven't been before now, but they don't deserve any more than a very occasional live performance.
After Boulanger it was refreshing to experience Mendelssohn's bright, positive musical personality, even if it was initially expressed in a minor key. Bertrand Chamayou's brilliant technique was shown off well in the fast basic tempo he chose for the first movement, and the result was quite exhilarating. By contrast he brought a simple quality of quiet charm to the central Andante. There was more shimmering virtuosity in the finale, especially in the coda, which was played at astonishing speed. One might prefer a slightly more restrained interpretation on another occasion but for the moment this one seemed appropriate enough.
Though the original 1841 version of Schumann's Fourth Symphony is available on record it was fascinating to hear this rare live performance of it. To quote from Wendy Thompson's excellent programme note, the revised version of a decade later involved 'slight extensions and contractions of phrases (mostly in the first and last movements); the tightening of the overall structure, involving the running together of all four movements; revision of passages to clarify links between the movements; and a complete overhaul of the scoring.'
Søndergård took the opening of the work quite quickly and most effectively, thereby avoiding the rather pompous feeling it has in traditional, more measured performances, and indeed throughout the first movement tempi were brisk. Thus, the music did not acquire the rather laborious, chugging quality that can develop at a customarily slower tempo. Interestingly, Søndergård didn't pause after this or the succeeding movement, and in this respect he adhered to the 1852 version (partly perhaps to avoid any between-movement clapping!). After expressing surprise at the omission of the first movement exposition repeat, I was correctly informed by my guest that this was not prescribed in the original version.  The Romanze flowed beautifully, with some lovely phrasing, and the Scherzo moved swiftly and easily, with none of the emphatic thumps and bumps that can mar some performances. The trio of this movement had a pleasingly straightforward but still a pleasingly lyrical quality. A light, quickly moving account of the Finale, but with some interesting tempo fluctuations, and a speedy coda, completed a most absorbing and satisfying reading of a score that is immediately attractive, not only in its construction, but in its bright, quirky sound.
As in some other cases where composers have revised existing works, it would seem to me that Schumann's first thoughts were better. The programme note quoted Brahms's opinion of the 1852 version: 'Everyone who looks at it shares my opinion that the score has not gained through the revision, but rather has lost in terms of charm, lightness and clarity'. Amen to that.
Alan Sanders