United Kingdom Tchaikovsky, Eugene Onegin:  Soloists, Chorus and Orchestra of Scottish National Opera / Stuart Stratford (Conductor), Grand Opera House, Belfast, 28.6.2018. (RB)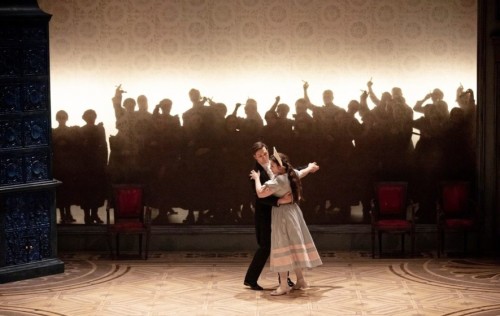 Cast:
Tatyana – Natalya Romaniw
Onegin – Samuel Dale Johnson
Lensky – Peter Auty
Olga –  Sioned Gwen Davies
Madame Larina – Alison Kettlewell
Filipyevna – Anne-Marie Owens
Prince Gremin – Graeme Broadbent
Monsieur Triquet – Christopher Gillett
Zaretsky – James Platt
Dancers – Polina Guseva/Eva Mutso
Production:
Director – Oliver Mears
Costumes and Set Designer – Annemarie Woods
Lighting Designer – Fabiana Piccioli
Choreographer – Ashley Page
Tchaikovsky's Eugene Onegin is a set of seven lyrical scenes which depict dramatic events in the lives of two couples.  There is no continuous plot development but rather a depiction of key incidents which profoundly affect the four main characters (Puccini uses the same technique in La bohème).  Tchaikovsky was very familiar with Pushkin's verse novel on which the opera is based, and he organised the libretto himself using much of the original poetry from that work.
Tchaikovsky set his opera in St Petersburg in the 1820's in and around the Larina family estate.  When the curtain opens on Oliver Mears' production we see an aged Tatyana, played by Rosy Sanders, walking through a dusty and dilapidated mansion.  She recalls the painful events which happened to her, her sister and their lovers and remains an invisible and silent presence throughout seemingly powerless to change the inexorable descent into tragedy.  The whole concept reminded me of TS Eliot's line: 'Footfalls echo in the memory, down the passage we did not take, towards the door we never opened'.  There is a sense of regret about lives lost and opportunities squandered.
Annemarie Woods' set was relatively sparse consisting of a sofa and a few chairs in the interior of a large living room.  When the peasants arrived to celebrate their harvest songs we viewed them through a gauze curtain and the same technique was used to depict external events throughout the opera.  Onegin's entrance was a spectacular coup de théâtre as he rode on to the stage on a real horse (and bravo to all concerned for keeping the animal so calm and well behaved!).  The costumes were designed to emphasise the social status and background of the four main characters.  Tatyana and Olga were wearing comely country girl outfits while Onegin cut a dashing figure with his leather boots and blue frock coat.
The second act opened with an erotic dream sequence as Tatyana watched a naked Onegin emerging from his bath with the gauze curtain being used again to create this tasteful effect.  This served to underline Tatyana's sexual awakening which we witnessed in the preceding letter scene.  In the ballroom scene we watched silhouettes of dancers waltzing round the stage before the four main characters took to the floor.  In the final act blazing candles were littered across the stage around which Eve Mutso danced an elegant Polonaise.
The cast were on cracking form throughout and they gave superb performances.  Natalya Romaniw charted Tatyana's transformation perfectly from shy and smitten country girl to dazzling and sophisticated aristocrat.  The famous Letter Aria was a tour de force with Romaniw doing a wonderful job igniting the smouldering sexuality of this young girl and producing some blazing top notes.  Occasionally, she seemed a little less assured in some of the quieter entries in the lower vocal register although this is a minor quibble.  The final cries where she takes her leave of Onegin were electrifying.  I last saw Samuel Dale Johnson in the role of Guglielmo in Così fan tutti where he gave a very assured performance.  He has upped his game even further in this opera and he is clearly a performer to watch.  He captured the haughty arrogance of Onegin to perfection in the early scenes and this contrasted strikingly with the distraught and dishevelled character in the final act.  He has a dark burnished tone which he used to great effect throughout rising above big orchestral forces when required or blending beautifully with the other performers in the ensemble scenes.  His final duet with Romaniw was thrilling both dramatically and musically and his final cries were devastating.
Peter Auty also excelled in the role of Lensky and he brought mellifluous lyricism to his vocal entries in the first act.  There was scope for him to have been a little more ardent when making his declarations of love to Olga although his singing really caught fire in the second act ballroom scene.  Lensky's final aria was sung with a plangent beauty of tone while the orchestra's lower strings captured the pervading sense of Russian melancholy.  Sioned Gwen Davies gave an accomplished performance of Olga's Act I aria and portrayed the earthy exuberance of the character well.  Alison Kettlewell and Anne-Marie Owens sang well in the opening scene although a few of Owens' vocal entries could have been cleaner.  Graeme Broadbent brought enormous weight and depth of sound to Prince Gremin's aria his diction was excellent.  Christopher Gillet gave an elegant performance of Triquet's aria although the sound was a little thin and I would have welcomed more vocal heft.
Stuart Stratford kept a tight grip on the evening's proceedings and his pacing of the material was exemplary.  He and the Orchestra of Scottish Opera produced a rich and varied palette of tone colours and the balance with the singers was excellent throughout.  The dance sequences were stylishly executed, and I particularly enjoyed the swagger which Stratford and his players brought to the Polonaise.  The Scottish Chorus were in fine voice throughout producing rich sonorities in the opening sequence where the Larina family greet the local peasants and ebullience in the Act II waltz sequence.
Overall, this was a first-rate production of Tchaikovsky's great opera which was deservedly greeted with a standing ovation by the Belfast audience.
Robert Beattie