Alexander Sladkovsky Talks to Gregor Tassie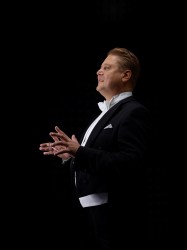 The recent highly praised recordings on Melodiya of Mahler and Shostakovich by Sladkovsky's Tatarstan National Symphony Orchestra reveal they are a top-class ensemble sharing comparisons with the finest Russian orchestras in Moscow and St Petersburg.
This remarkable phenomenon for an orchestra from Russia's backwoods is the result of the eight years of Alexander Sladkovsky's work with them. It is his guidance since 2010 that has developed into their current standing, that and the significant backing by the President of Tatarstan in purchasing the best instruments from Italy and Austria. He has also been given support in having all-round control of the orchestra's affairs, and in the business of arranging tours and recordings and sponsorship. In recent years, the orchestra has toured to Austria, Germany, France and Spain, notably performing at Vienna's Musikverein. I had the opportunity of hearing the orchestra as part of the 'White Lilacs' festival in June 2018, and despite an early impression from hearing their CDs, I was enormously impressed by the rehearsal which I attended. String playing has always been a strong point in Russian orchestras, but the woodwind and brass sound quite remarkable, and that was just in a rehearsal. I should add that Sladkovsky was applauded by his musicians as he took his place, something I haven't witnessed anywhere before. However there was one question which intrigued me.
GT: Is the TNSO an orchestra of Tatar or Russian musicians?
AS: It's a good question. I think the roots of Tatar culture are closely linked to Russian culture therefore we can't call it a Tatar orchestra or a Russian orchestra. For instance, as an orchestra, the music of the Tatar composing school was based on the Moscow school, Zhiganov the founder of the conservatoire here and the composing school was an authority, he was very close to Shostakovich, and he was influential in grounding Tatar music to the Russian music school. Therefore we consider music without any national roots and our mission of the Tatarstan orchestra is to represent our music on a European level and to academic musical standards. In this lies our task.
GT: There is the Leningrad school and the Moscow school, each have different composing schools. St Petersburg is closer to Western European academism through Bortnyansky (who was called the Russian Mozart), and the Czech conductor of the Mariinsky theatre, Eduard Napravnik. In Moscow, there was Golovanov who was educated in the Synod School, Taneyev, Tchaikovsky, whilst in Petersburg there was the nationalists Borodin and Rimsky. The Moscow school was more colourful with a more darker bass sound while in Peterburg there was a lighter polyphony. What is the mix of Russian and Tatar musicians here for instance?
AS: The Tatar musicians here are probably fifty-fifty with Russian and Tatars who are assimilated with Tatar folk instruments. Kazan has a wealthy culture assimilated with Russian roots, Gubaidulina started her education here and developed into a major international composer with Tatar origins. Our task is higher than our national roots – to achieve high international standards.
GT: I am aware that many fine conductors have worked with the TNSO, but only recently has it become known outside Russia through tours and recordings, you have been here for eight years, how has this happened?
AS: You know that I studied in Petersburg at the time of the rise of Gergiev, I attended the rehearsals of Temirkanov and Gergiev, at this time, I observed that even one's brilliance or ability do not determine events. I think it is the same everywhere. Where an artist can show his talents to the person who may take the decision, political power, where they understand each other, a great happiness can occur. I remember that Gergiev was helped by Yeltsin at this time, and later when Putin gave support to major projects, I know the circumstances when in the summer 2000 the British Prime Minister Tony Blair came for War and Peace. We can return to the previous question, if you are lucky with the leader, your ambition may not be promoted, but the work can be rewarded to bring great targets, because Tatarstan invests in classical music, in performance, to the level where links to the outside world develop. I was very fortunate that the Tatarstan President Minnikhanov – who led the Republic for many years – has helped me. How can I say that I simply came from Moscow to the Tatarstan Republic, but I am not a Tatar, that is the same story everywhere, where I had to show my ability. When I came here eight years ago I stated that I would make this orchestra the best in Russia, they didn't believe me at first and I had many problems of all kinds. Issues, of instruments, infrastructure, support, and salaries are very important for musicians: it's impossible to promote something and then say, sorry boys I can't do it. In principle, I have managed to fulfil everything I wanted to do. In the first season, I put down a target artistically and materially, so that they had good pay and could play on good instruments, and from this I got backing, everything depended on this.
GT: I understand that Gergiev in St Petersburg did this not only as a conductor but as a promoter. He has a new opera theatre, a new concert hall and a chamber hall, and so many recordings on his own Mariinsky label.
AS: Yes, yes, he has also a theatre in Vladivostok as well as the Easter Festival in Moscow!
GT: Can you tell me who your teachers were at the St Petersburg conservatoire?
AS: I studied at the St Petersburg conservatoire with Chernoushenko, a very stringent person, there was a need for this strictness, Musin didn't want me, I was already old when I entered the class, Tugan Sokhiev was my fellow student and he was ten years younger than me! He's now chief conductor at the Bolshoi theatre. We both took part in the Prokofiev conducting competition in 1999, and they awarded us joint first place; we were very close friends. He's my colleague, then there were two camps in the conservatoire at the time; Musin was a respected professor, and the teacher of all the famous conductors, and there was Chernoushenko, then the rector, and there was all these pressures, it is a long story. I studied in this difficult environment with Chernoushenko who taught me how to conduct with my hands, and Musin, this was the famous Petersburg conducting school. Everything else was gained through studies at the Mariinsky theatre and at the Philharmonic. Certainly, there were new productions, when Parsifal was staged, also War and Peace and other festivals of music. I was in St Petersburg when Gergiev became chief conductor at the Mariinsky theatre in 1989. I attended his first rehearsal there of Khovanschina, I sat in the hall and can remember things that even he doesn't remember. This was all before my eyes, I understood that to do something you can't just wait for it to happen, you have to do it yourself, so for us the results are the big Melodiya projects like the Shostakovich recordings, and those of Mahler. These are the big achievements, also the touring, the concert at the Musikverein, the tour to Spain and elsewhere. We work all over Russia, we have our own series in Moscow and in St Petersburg at the Mariinsky, in eight years it is difficult to believe it's all happened. Now my musicians can do anything.
GT: Why did you want to become a conductor?
AS: I wanted to from the age of thirteen, when I was fifteen I conducted Tchaikovsky's Fifth by heart to Mravinsky's recording. In the eyes of my mum and papa there were looks of empathy, but I didn't play the piano or the violin so well and I wanted to be a conductor! So I had to play the trumpet!
GT: Do you have any favourite conductors, past and present?
AS: You know it was Rostropovich who captured my heart when he brought his Washington orchestra to Moscow and Peterburg in 1992, this was a great moment, his picture was hanging in my room, I adored Bernstein, and Karajan as well. I liked Bernstein as a composer. I arranged his divertissement for brass, and we played it in 1989. I got a great impression from his performance of Brahms Hungarian Dances. I had an LP of the Divertissement from Bavarian radio. I still recall how he conducted it. Karajan's recording of Shostakovich's Tenth from a Moscow concert in 1969 with the Berlin Philharmonic created a sensation for me. Temirkanov when he conducted Svetlanov's orchestra in 1972 made my jaw drop and motivated me to become a conductor so then I studied all the woodwind, string instruments, later I studied opera and oratorio, from piano to trumpet I studied all of Mahler Eighth, which is a work that we will perform next season.
GT: Why did you prepare Mahler symphonies for your first recordings? Did you compare Kondrashin to Walter, or Bernstein?
AS: I listened to them, and recorded the following day, joking of course, not in that way. This was over a decade, Bernstein's Vienna Philharmonic recordings, mostly by memory, and at the same time I adored Bernstein (as a conductor), they created a unique, stunning impression, but of course I listened to Kondrashin and Mahler's 'Titan' Symphony, to Svetlanov, to Gergiev, and to Christoph Eschenbach from the 90s. You know I discovered a wonderful recording by Simonov with the LSO, an old recording (Yuri Ivanovich was from the Petersburg school). I must say that recently, the top recording that I have listened to are by Kubelik, but it is Abbado's with the Lucerne Festival Orchestra that created a deep, and great impression on me. It seems to be the very best interpretation of Mahler and the peak of this cosmos attained by him. I didn't want to offend (any other conductor) but it is these which appeal to me most of all in my twenty-five years of association with Mahler.
GT: In training the TNSO, what methods do you use? Do you prepare a concert by sectional rehearsals?
AS: I began with this at the very beginning.
GT: Did you have to replace musicians?
AS: I can do this because my contract here is for one year only, so I say to them if my contract is for just one year, why then does your contract last for five years, or for a lifetime? It's a justified approach because if I had a long contract then someone complains then what happens? Until someone dies, then they cannot be replaced. How does this happen? It was not simple, but my colleagues supported me in restructuring our new administration. I already said that I didn't just get a grant from the President, but also a quite new system which was agreed and signed off. It's great organizational work, the type of which Gergiev, and Temirkanov who knew how it was structured after many years found an ideal means which Gergiev himself achieved at the Mariinsky theatre, appointing the artistic director and chief conductor in the one person. Why? Without digressing, I came here to be the director who replaced someone who didn't not only not love music, but had a responsibility and a contract, and who ruled over everything, bossing everyone. He didn't understand anything, and this all left its consequences. It was like every day, we began drinking tea, and discussed what needed to be done, and after lunch he told me what couldn't be done. So you try to do something and then told you can't do it. He is the director; my boss and he says you go and do it because he knows better. My sons knew more than he does, although he was my same age. There begins a process whereby I freed myself from this director, the State Orchestra became a self-supporting structure, and we we're not tied to the Philharmonic or anyone.
GT: What about the Ministry of Culture?
AS: We have a Ministry of Culture and am in their jurisdiction, but they don't interfere because we work effectively. We are independent in our structure, and we are financed by the Republic but are self-supporting and do what we wish without relying on official sanction. I managed to do this without going along and asking for money, how do you do this with a structure in place, one has to create a self-supporting system with artistic freedom. In our first season, we played all of Beethoven, the Rite of Spring, and arranged music festivals. Gradually it began to work, and after three years we recorded Tatar music, Alexander Tchaikovsky's First Symphony, and then with Matsuev, it wasn't simple, but it became successful.
GT: How do you prepare a new programme? Do you listen to other recordings, do you study the composer's biography, his life? Consider different editions of scores?
AS: I read and study. Not always the biographies, many composers are already known to me. Regarding contemporary music, I look at YouTube, and on the internet, you can get all this information there.
GT: You have spoken about performing Bruckner here are you preparing anything next season?
AS: It is too soon for it, I'm not hurrying to do this – it's a long-term project over twenty years, one first must know the music, one needs to listen a great deal; I live in the countryside, I have to feel and listen to the music, you can't know everything by heart, but you must study everything anew.
GT: In your work with the TNSO have you tried to get a special sound quality for the orchestra?
AS: Ah, yes, so people would recognize it as the Tatar orchestra!
GT: But Svetlanov's orchestra had a special sound, the Concertgebouw has its recognizable sound.
AS: I work on this every day. But to create a special sound one would have to create a perfect sound, like a sculptor working with his chisel every day. As much as I try to perfect myself, one has to look that the Concertgebouw was created over 100 years ago, the Vienna Philharmonic 200 years ago, and Moscow and Svetlanov have a long history of tradition. The old conductors have all disappeared, but of course to create an orchestra playing together, with accuracy of tone, and the ability to play unlike any other, is achievable only in the course of a decade, roughly speaking, after many premieres, there will be a result after so much time. I hope very much so.
GT: Russian orchestras are famous for their strings, but your orchestra has an all-round excellence.
AS: I aspire to create a super orchestra. There is no limit to perfection. Specifically I am trying to do this. I am delving deeper and deeper into the score and the music, I try to prepare the orchestra not just to play the notes but to care for their sound, not like yesterday, but better than before.
GT: What composers attract you in coming seasons, what about modern music, and perhaps neglected composers? Mosolov and Popov and several others like Roslavets who were popular in the 1920s here and in Germany were banned until the 1980s.
AS: I don't have any neglected composers and if I forgot about them then it's because they didn't write good music. I don't think these composers you mentioned are really forgotten, thanks to perestroika they were restored, they were real geniuses, I haven't myself played any Gubaidulina, as yet, but am looking at playing these composers in the very near future.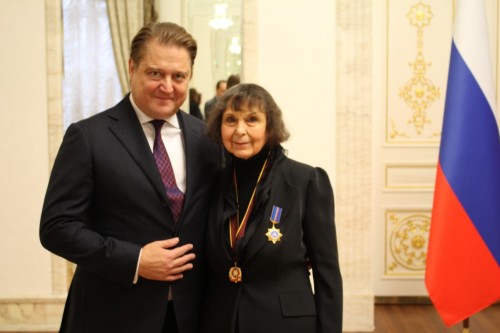 GT: Sofia Gubaidulina was born and started her career here
AS: I invited her here for her 80th jubilee and she gave her blessing to the festival (in her name) and last year when she was 85 years old. Really she is a person who belongs to the world, to the whole universe. She is from Tatarstan but like Gia Kancheli, whom I adore, who is Georgian (who has been here as well), they belong to the world.
GT: You began your career performing Mozart's Così fan tutte, do you continue to have an interest in opera?
AS: Of course, I have worked with many different singers, Hibla Gerzmava, Sumi Jo, Montserrat Caballé, and when I was a student, with Elena Obratszova, and with Hovorostovsky. This season we played Tchaikovsky's Iolanta in concert, I love opera and the human voice. Shostakovich's 14th Symphony has voices with orchestra, all my close friends are singers and hope to work more with them, this orchestra is well equipped for opera. Gergiev managed to take his orchestra out of the pit and turn them into a symphony orchestra, by playing Musorgsky with Gorchakova, and he continues to progress with them. This next season I am going to do Mahler's Eighth, and later Das Lied von der Erde. I love working with voices.
GT: You have a very good relationship with Denis Matsuev, and I know you have worked successfully with Valentina Lisitsa, do you always find it easy to develop a collaboration with soloists?
AS: I don't think it depends on me in any way! If a wise man meets his friends then it is one thing, but I look at this philosophically, some say oh I want to work with him, or I more prefer with him; life brings with it some unbelievable values, everyone has different preferences, everyone is different at work in one aspect, but I have never found anyone with whom I couldn't find mutual contact.
GT: How do you find audiences in Kazan and elsewhere, I noticed in Moscow and St Petersburg a lot of young people, in your concerts with Matsuev that I attended in April, there were many young people, and many young women too, however in the UK audiences are mostly elderly. How do you attract young people to classical music?
AS: When I came here I suggested to schools to give a free concert for young students and teachers, we did this self-promotion in our first years and we worked completely for free, travelling to schools, colleges, shopping centres, factories, to the huge Kamaz plant and the shipbuilding yards. You know what it is like with thousands of workers in a yard listening to your music! I like to make music more popular, for instance when we gave the first performance of Mahler's Sixth here, we invited students for a free concert before the main concert, they were the first to hear Mahler here in Kazan and its very important to attract new people, it's a distinct form of work and I treat it in the same way as with group and general rehearsals.
GT: Would you consider taking up a conducting appointment in another country sharing this with the TNSO?
AS: If it was a good orchestra, I would be happy to work with them. Why not? A conductor is like an ambassador, like a link in this great chain of great culture in life. One wants to work with the best musicians. If I am invited, already I have the experience of working with many orchestras in Italy, and Germany, so I am willing.
GT: Do you ever consider teaching apart from conducting?
AS: Of course, I tried to teach at the Conservatoire for half a year, but teaching is not for me.
GT: Mravinsky didn't have any success as a teacher, Sergei Roldugin, when he was Rector of the St Petersburg Conservatoire, told me Mravinsky was his most important teacher rather than his cello professor because of what he learned from his rehearsals at the Philharmonic, and teaching him about music.
AS: Yes, Mravinsky only had one pupil, Serov. Any conductor who stands at the rostrum needs to say something as I have stood before this orchestra for eight years, perhaps they may consider me as their teacher.
GT: Your recordings of Shostakovich concertos and symphonies issued on Melodiya are outstanding, but it is your interpretation which also is outstanding, especially the symphonies which we know well such as the Fifth and Tenth for example. There are differences between musicologists about how we judge Shostakovich; whether we believe the Volkhov Testimony, or that of Shostakovich being the loyal Soviet citizen. Many consider the ending of Shostakovich's Fifth …
AS: The tempo?  
GT: Yes, with his NYPO in Moscow in 1959 Bernstein took the finale very slowly as if emphasising the bombastic nature.
AS: Shostakovich wasn't like that. The somewhat Pioneer ending, very slow, is difficult for trumpets.
GT: But the ending is as if he, the composer is the hero who has lived through adversity celebrates overcoming death.
AS: Yes, yes, of course, I agree with you.
GT: What is your next recording project?
AS: I want to do all Tchaikovsky's orchestral music. I want to do this for my jubilee year, these are preparatory ideas, but I want to do all the concertos, all the symphonies, just as we did with Shostakovich, and maybe all the overtures and fantasies.  I very much want to do this. Also I want to do all of Mahler, then all by Beethoven, and then Bruckner.
GT: Recordings can be good marketing, Mariss Jansons began with the Oslo Philharmonic recording of Tchaikovsky's Fifth which became so highly praised that he recorded all Tchaikovsky's symphonies. Today this cycle is among the best rated. It was important in that he and his orchestra became popular world-wide.
AS: No one knows how or why, it's the correct path, everything else is art.
GT: How do you see the present state of classical music here in Tatarstan and Russia generally?
AS: Optimistically. No matter what goes on in here Kazan, or elsewhere, in Moscow or St Petersburg everything is similar, everyone wants to protect and promote classical music. Recently, Gergiev, Matsuev, and Domingo all performed at the World Cup Opening gala concert, and President Putin sees this and considers it fashionable. We don't see anything false or artificial in Russia because we look at art with optimism, that's how I feel, and we cannot have it any other way.
GT: Despite all the problems we have experienced in recent years between East and West over sanctions, the Ukraine and Syria, it seems music can help people understand each other better.
AS: When politicians stop talking to each other, then the musicians can help bridge the gap.
Gregor Tassie
Sladkovsky will be taking his orchestra to the La Roque d'Anthéron Festival in France on 26-27 July 2018 for more information click here.