Germany Puccini, Tosca: Orchestra, Chorus and Kinderchor of the Deutsche Oper / Pier Giorgio Morandi (conductor), Deutsche Oper Berlin, 4.10.2018. (JMI)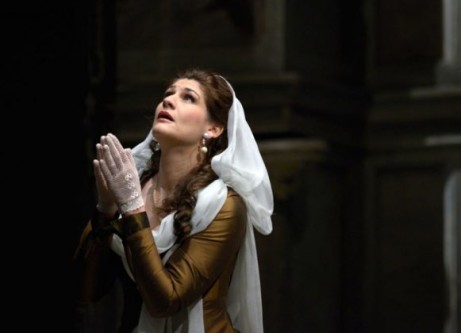 Cast:
Tosca – Anja Harteros
Cavaradossi – Marcelo Álvarez
Scarpia – Erwin Schrott
Sacristan – Seth Carico
Angelotti – Byung Gil Kim
Spoletta – James Kryshak
Sciarrone – Paul-Anthony Keightley
Jailer – Dong-Hwan Lee
Shepherd –Lola Violetta Haberstock
Production:
Director- Boleslaw Barlog (original), Gerlinde Pelkowski (revival)
Sets and Costumes – Filippo Sanjust
This performance of Tosca was remarkable, and especially with regard to the cast, where the protagonist in particular stood out. The musical direction was appropriate, and the staging is one of the most classic and traditional that can still be seen in an opera house.
The Deutsche Oper has mounted the Boleslaw Barlog production no less than 393 times. Nothing has changed from the last time I saw it, and here's what I wrote two years ago (review click here).
Conductor Pier Giorgio Morandi led an effective and generally correct performance, although there were some excesses of sound from the pit. The Deutsche Oper Orchestra and Chorus were both exemplary.
Once again Floria Tosca was played by Anja Harteros, whom I consider to be the best possible performer of this role today. I have had the chance to hear her sing the part several times, and I always enjoy her interpretation. Harteros really has no rival as Tosca, and she has made an indelible impression on those of us who have enjoyed her previous performances. Once again, her interpretation was splendid, although it did not reach the level attained right here in her debut in the part almost six years ago; or in those unforgettable performances in Munich, where she was joined by Jonas Kaufmann and Bryn Terfel under the baton of Kirill Petrenko.
Marcelo Álvarez as Cavaradossi was somewhat disappointing, at least as far as his singing is concerned. His voice is still very beautiful though somewhat darker than before, and his vocal suitability to the character is unquestionable. However, his interpretation was superficial. There was a lack of elegance in his phrasing, especially when he had to hit the high notes which were always done in forte. This was particularly striking in Act I, with a 'Recondita armonia' that held little interest. He was at his best in the final act, both in his great aria and in the arioso 'O dolci mani', but I remember much brighter performances from him.
Scarpia was sung by Erwin Schrott, who gave a convincing interpretation. I had just seen him at Teatro Real as Méphistophélès in Gounod's Faust, and the fact is that today Scarpia is a better fit for him.
In the secondary characters, Seth Carico was a correct Sacristan, while  Korean Byung Gil Kim was too light as Angelotti. James Kryshak as Spoletta exaggerated on stage and was sometimes inaudible. Paul-Anthony Keightley's Sciarrone was nicely done, as was the Jailer of Dong-Hwang Lee, but Lola Violetta Haberstock as the Shepherd had a rather small voice.
José M. Irurzun