United States Tilson Thomas, Beethoven: Isabel Leonard (narrator), San Francisco Symphony / Michael Tilson Thomas (conductor), Davies Symphony Hall, San Francisco, 15.11.2018. (HS)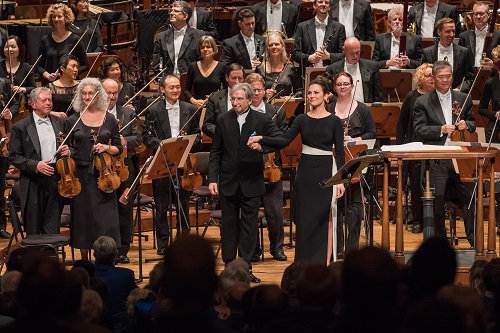 Tilson Thomas — From The Diary of Anne Frank
Beethoven — Symphony No.3, Eroica
It seems odd that, in his 24th year as music director of the San Francisco Symphony, Michael Tilson Thomas had not yet introduced local audiences to From the Diary of Anne Frank, his 1990 symphonic 'melodrama'. That oversight was remedied in a strangely awkward concert Thursday afternoon in Davies Symphony Hall.
Anne Frank benefited from pure and compelling narration by Isabel Leonard. The mezzo-soprano, who just finished a successful run as the title character in Nico Muhly's Marnie at the Metropolitan Opera in New York, delivered the words of the Jewish teenager in hiding from the Nazis in World War II Netherlands. Leonard found the emotional resonance in the written phrases and musical rhythms in the narrative.
The 45-minute piece was written for, and with, the actress Audrey Hepburn, who gave its debut in 1990. She was an ambassador for UNICEF at the time, and performed the newly minted work at the United Nations. As Frank's contemporary who lived in the Netherlands with her Dutch-born mother when Hitler's army occupied the country, Hepburn identified with Frank, and worked with Tilson Thomas to select the passages from the diary to compile the narration.
Leonard conveyed a goodly part of the winsome beauty and sincerity that we remember of Hepburn. She breathed life into the words that Tilson Thomas's music expanded upon, sometimes redundantly or obviously but always with impressive instrumental color. In four movements, the scene is set with a sweet, nearly carefree spirit and whole sections reminiscent of the gangs' music in Bernstein's West Side Story. But as the narration conjured the effects of war outside the walls of the building where Anne's family hid, the tone grew increasingly dissonant.
A quieter third section took cues from ecstatic passages on the miracles of nature seen from the attic. The bubbling up of hormones in spring led to increasingly voluptuous Romantic writing. The epilogue began with the line, 'I want to go on living after my death'. The music spun the Jewish Kaddish (the prayer for the dead) and themes associated with Anne and 'Kitty', the imaginary friend to whom she wrote the diary, into an expressive elegy.
It was all quite lovely, if a bit pat for the wrenching emotions the book calls up on its own.
It's a puzzle why Tilson Thomas programmed Beethoven's Eroica Symphony to complete the concert. Was it meant to exemplify music for a hero? Whatever, the resulting performance was the antithesis of heroic. The conductor set relaxed tempos and shied away from any sort of emphatic climaxes. He pulled his punches, smoothing over Beethoven's hard edges, resulting in something limp and decidedly lacking in valor or boldness.
Harvey Steiman