United Kingdom J.S. Bach, Mendelssohn: Jennifer Mitchell (soprano), Margaret (Peg) Lisi (mezzo-soprano), Michael Jankosky (tenor), San Francisco Symphony Chorus/Ragnar Bohlin (director), San Francisco Symphony / Andras Schiff (piano, conductor). Davies Symphony Hall, San Francisco, 14.2.2019. (HS)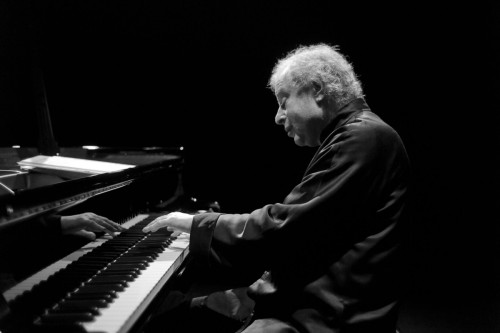 J.S. Bach — Keyboard Concertos No.3 in D major and No.4 in A major; Orchestral Suite No.3
Mendelssohn — Lobgesang
Andras Schiff's recitals in San Francisco have always found inner depths in the most well-trodden music — whether it's Bach, Schubert or Schumann — without being showy about it. Thursday afternoon's outing of Bach and Mendelssohn, the first of three performances with the San Francisco Symphony, hit the mark with grace and expression missing from past conducting here.
The concert brought sunlight to a rainy week. Literally. After the two-hour, 40-minute afternoon at Davies Symphony Hall, as the audience floated out of the building on a musical high, the storms that had been lashing California all week subsided (temporarily) to reveal clear, sunny air. A better metaphor would be hard to find.
Conducting J.S. Bach from a mellow-sounding Bösendorfer grand piano yielded two elegantly shaped keyboard concertos and a superbly refined of the third orchestral suite that contains the familiar 'Air for a G String'. But the highlight was Mendelssohn's Lobgesang — part symphony, part religious cantata — which acquired a sort of majesty in its 70-minute span. As an aside, the string sections' principals (and many of the second and third chairs) took the day off for these performances, the first of this work in the orchestra's long history. No matter. Especially in the Mendelssohn, the bench players came through with exactly the kind of controlled, incisive playing that Schiff requested.
Mendelssohn had Beethoven's Ninth Symphony in mind – at least, in form – when he wrote this extravagant piece for an 1840 festival in Leipzig. Like the Ninth, it starts with three orchestral movements, finishing with soloists and chorus. But instead of a secular call for brotherhood, as Beethoven wrote, Mendelssohn segued into a 40-minute cantata centered on a phrase from Psalm 150, 'Everything that has breath praise the Lord'.
Schiff drew smooth-edged water colors from the ensemble in the instrumental portions, punctuated by a motto emphatically stated by three trombones, which turns out to be the setting for the psalm phrase above. There was never a sense of hurrying to get to the cantata, which arrived with a chorus reminiscent of Handel that signaled an upturn in intensity. The Symphony Chorus sounded marvelous.
The soloists, singers active locally below the radar of the major vocal organizations, handled their parts with aplomb. Soprano Jennifer Mitchell, a regular with the Gilbert and Sullivan company Lamplighters Music Theater, deployed a sweet lyric high soprano (with occasional moments of unsure articulation). Mezzo-soprano Margaret (Peg) Lisi, who has taken lead roles in smaller opera companies, offered a polished mid-range and attention to the text. Tenor Michael Jankosky, a regular chorister at San Francisco Opera and Philharmonia Baroque, delivered his role with a welcome sweetness.
But it was the sum of the parts, welded together by Schiff's sense of pace and carefully turned phrases, that made the piece come to life.
That same attention to phrasing brought a freshness to the more familiar Bach in the first half, especially in the Orchestral Suite No.3. Led by principal trumpet Mark Inouye, a trio of piccolo trumpets sprinkled bright glitter over the sprightly overture. The Air emerged with clarity and impeccable pace, alert without any sense of hurry. The gavottes and bourées gleamed with rhythmic vitality, and quick final gigue put a perfect cap on the first half.
Schiff's choice of a Bösendorfer made for a mellow, somewhat bottom-heavy balance in the Keyboard Concertos Nos. 3 and 4. That was perfect for slow movements, which came off as dreamy and elegant. But even with his usual disdain for pedals, Schiff did not quite achieve the crisp, rhythmic flair needed by the faster outer movements. No matter. The results never felt forced, as Bach's endless reservoir of ideas spilled out unhindered by anything extraneous.
Harvey Steiman